Top Best Japanese Electric Guitars
Now the world of guitars is replete with a huge number of different models, from light to heavy. If you are reading this guide, then you are probably one of those guitarists who understand that lighter guitars put less strain on the back and shoulders, so they can simply be played longer (which is very important if you are playing on stage). However, many manufacturers sacrifice sound quality or necessary features in order to make guitars lighter, which is why many guitarists prefer to go with standard models.
Of course, weight can have a direct impact on both the playability and sound of a musical instrument. That's why it's important to choose your guitar carefully, especially if you're looking for a lighter model. However, the market now also offers a huge number of guitars that are not only lightweight, but also provide decent sound for a reasonable price. It's also worth noting that more often than not, lighter guitars have a particular subtle sound that you might also like.
Top Best Japanese Electric Guitars
The guitar market is replete with a huge number of Japanese brands that have established themselves as the best guitar manufacturers in the world. Below you can explore the top 5 of the best of them and choose the one that will suit your taste, from classic sound to metal.
Here are our top picks: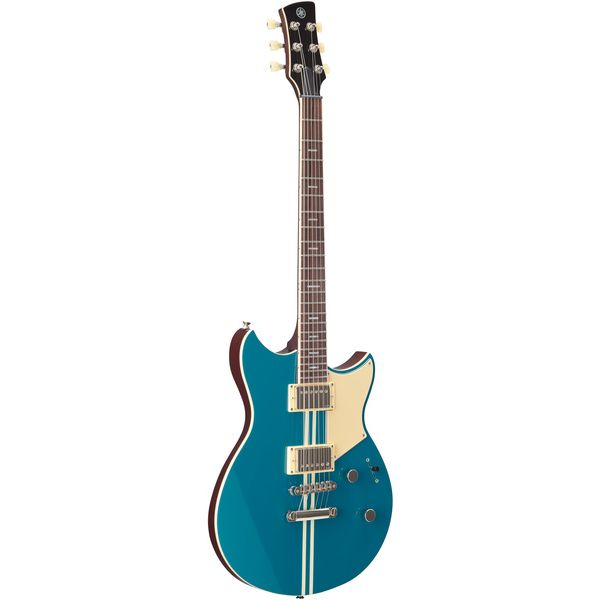 1)Yamaha
Whether you're new to the world of guitar or an experienced player, you're more likely to have heard of a brand like Yamaha at least once. It is primarily known for its incredible value to Japan, as its founder oversaw the production of Western musical instruments in Japan.
For a long time, this brand was considered a staple of music education programs and was originally called Nippon Gakki. The brand was renamed Yamaha in 1987 in honor of the fact that it has existed for 100 years.
It is important to note that Yamaha as a guitar brand is quite underestimated, since most people know Yamaha as a synthesizer manufacturer.
However, as a guitarist, you should know that this guitar company offers high quality guitars at affordable prices. This includes such a model as the Yamaha A5M-ARE – an electro-acoustic model that has the sound of vintage guitars, and costs less than $1000.
In other words, Yamaha is a good, quality and underrated guitar brand that deserves your attention, especially if you want to get a model at an affordable price.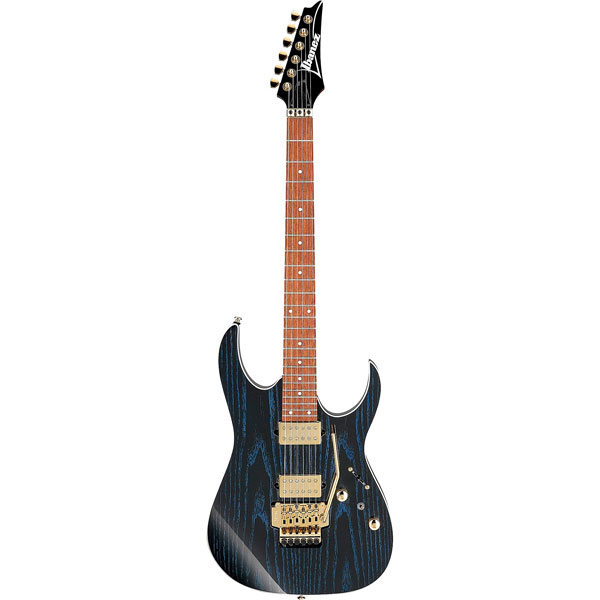 2) Ibanez
Of course, our top japanese-made electric guitars would not be complete if we did not mention such a famous brand as Ibanez. First of all, it is worth noting that ibanez is one of the most famous guitar brands since the 1950s.
It is known for maximum playability, beautiful appearance and good build quality. This brand was founded in 1957 and still offers electric, bass and acoustic guitars to this day. Moreover, it is worth noting that it was one of the first guitar brands to mass-produce seven-string and eight-string guitars.
Thus, if you are looking for one of these models, ibanez is exactly what you need. Among other things, you will be surprised to know that this particular company was the leader in sales of imported guitars not only in the US, but also in Europe.
In addition to guitars, ibanez provides a large number of accessories, effects, amplifiers and other things for the guitar. Of course, electric guitars are the best-selling goods of the Ibanez.
If we talk about the best guitar brands in the world, then Ibanez will undoubtedly be at the top. Not only is he popular among metalheads, but he is gaining popularity even among newcomers. The distinguishing factors of this brand are power, precision and performance.
What's more, the ibanez catalog includes guitars in a variety of shapes and sizes to suit every budget. Thus, you can choose a musical instrument from a few hundred dollars to thousands of dollars.
Also, if you want to buy yourself the same guitar as your idols, then you should know that a huge number of musicians preferred the ibanez.
These include Steve Vai, Joe Satriani, Tim Henson and others. In the 1980s, this brand became especially popular as it began to offer unique models. Now one of the most popular Ibanez series is RG. So, if you are looking for the best Japanese guitar available, the Ibanez will most likely be your choice.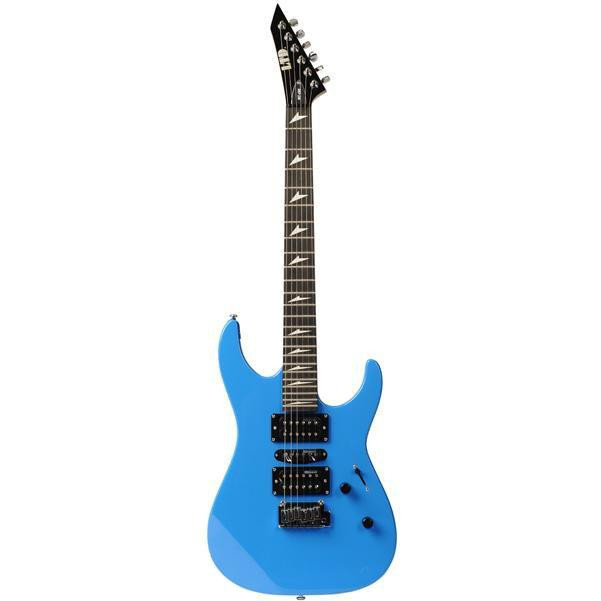 3)ESP
If you're still wondering what are the best lightweight electric guitars, then you should definitely check out the Gibson SG Standard. This is the most classic guitar on this list and made famous by AC/DC. If you love vintage rock sounds this guitar will be your absolute favourite, but it will also help you get a heavy sound when you need it.
All SG series guitars are famous for their punchy sound. In addition, they are quite easy to operate and have a fast sound. Another great feature to look out for is the volume and tone knob, which gives you even more control over the tone of the guitar.
Also, this feature is even more useful if you often use both pickups at once. As already mentioned, the Gibson SG Standard has a reasonably good sound, but it is at its best when being played through distortion. That is why the sound of this guitar is much tighter than one would expect from such a relatively light model.
The weight of this guitar is 7lbs, but despite this, it is still quite light and extremely comfortable. So, SG is an undoubted classic with vintage sound and beautiful appearance, which will not leave anyone indifferent.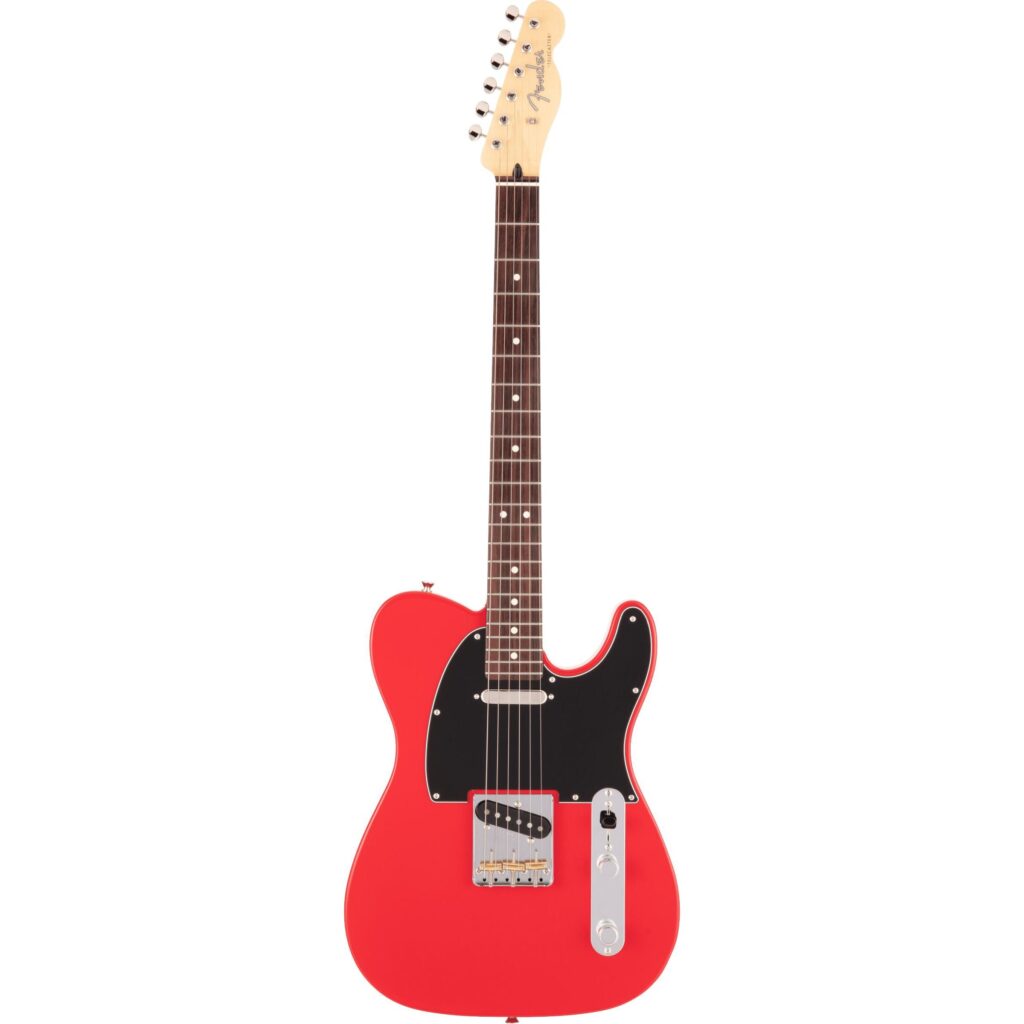 4)Fender Japan
Even if you have nothing to do with music and choose a musical instrument for a loved one as a gift, you have heard about Fender at least once in your life. It was this brand that captured the guitar market back in the 1950s and was the first to produce guitars for rock and roll.
Fender Japan is a brand co-created by Yamato Gakki, Fender Musical Instrument Corporation and Kanda Shokai. They started working together way back in 1982, their main goal was to produce Fender instruments for the Japanese market.
First of all, this brand is known for its signature Fender Mustang Curt Cobain model, which at one time simply conquered the music market. If you want to consider other options, then we advise you to pay attention to such models as Fender Japan TL52-22, Fender Japan ST62FR and Fender Japan ST-STD. Thus, this guitar brand includes a huge range of electric guitars, telecasters, strats, acoustic guitars and more.
It is also worth noting that despite the fact that this brand is called a rock and roll brand, it is also suitable for other guitar styles such as jazz, rhythm and blues, country and others. Also, this company has a catalog of various musical instruments that will suit a guitarist of any level, from beginner to professional.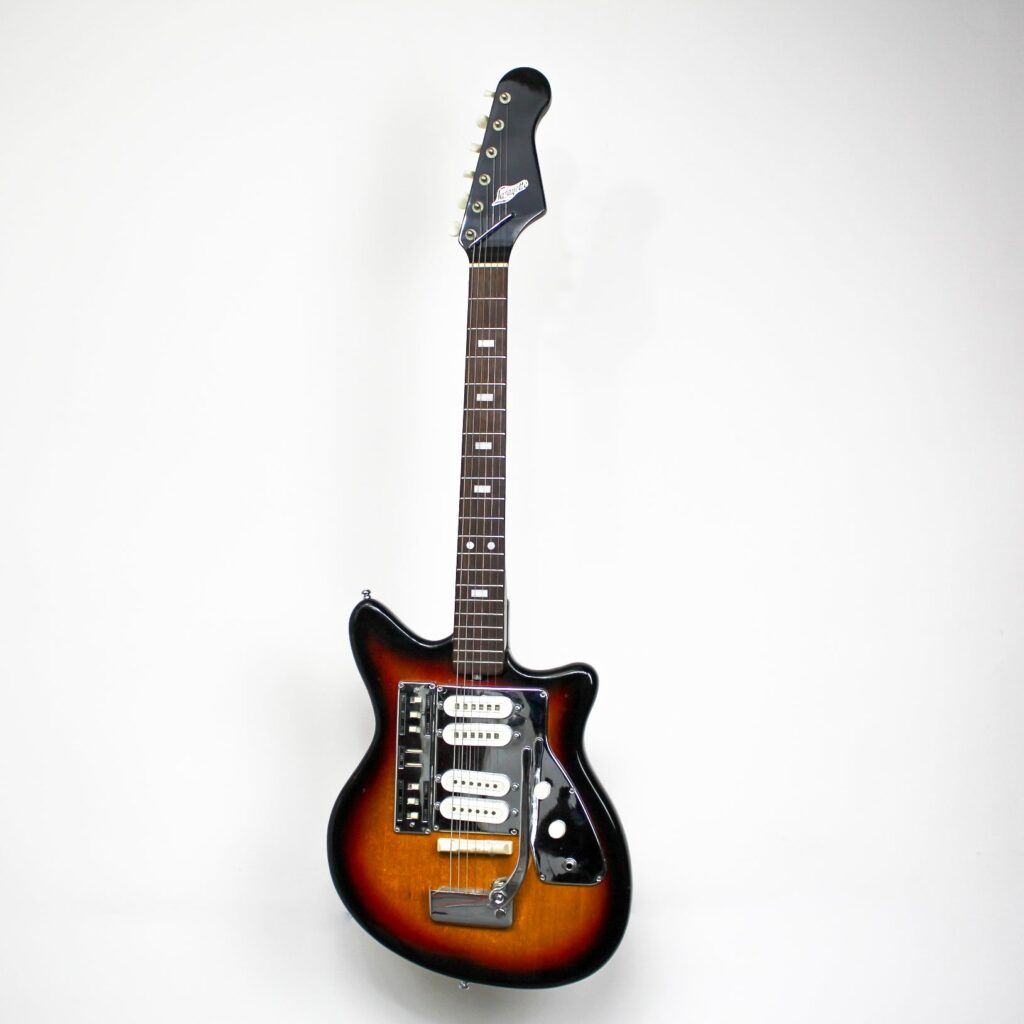 5. Guyatone
Guyatone was founded 87 years ago and still offers some of the highest quality Japanese guitars on the market. While Guyatone specializes in electric guitars, it also makes effects pedals and guitar amplifiers.
It is important to mention that Guyatone is one of the first guitar makers in the world, since it started making it back in 1933. In 1940, the production of this company stopped due to the fact that its founder was drafted into the Japanese army, but in 1950 the company returned to the market and began to produce standard electric guitars.
It was at that time that her most popular series, such as EG and LG, appeared. The brand also operates under other names such as Coronado, Crestwood, Futurama, Howard and so on.
Like many other brands on this list, Guyatone offers a wide range of guitars for beginners to experienced virtuosos.
For so many years on the market, it has adapted to all the needs of guitarists of any level, age and level. Thus, if you want to buy guitars from one of the oldest guitar brands in the world – we advise you to pay attention to Guyatone.
Japan is the country that has produced a huge number of truly unique guitar brands that are still popular not only in this country, but throughout the world. At the moment, there are about 20 incredibly high-quality Japanese guitar brands that are worthy of your attention. While we've highlighted the top 5 in this article, you can still explore Japanese brands such as Greco Guitars, Fernandes Guitars, Fujigen, Teisco, Tokai, Matsumoku and Morris. Pay attention to the characteristics of specific models in order to find the most suitable offer for you and your needs.