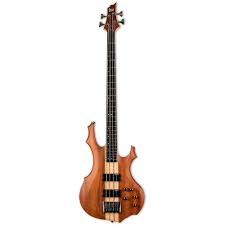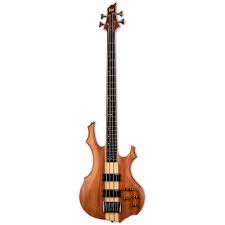 ESP LTD F-4E Mahogany Natural Satin Electric Bass Guitar: A Comprehensive Review
The world of electric bass guitars is filled with a myriad of options, each promising unique features and a distinctive sound. Among these, the ESP LTD F-4E Mahogany Natural Satin Electric Bass Guitar stands out for its design, performance, and quality. This comprehensive review will delve into the specifics of this instrument, exploring it from the viewpoint of both professionals and beginners.
Design And Aesthetics
The ESP LTD F-4E is a visually stunning instrument, thanks to its natural satin finish that beautifully highlights the grain of the mahogany body. The double cutaway shape not only adds to the aesthetics but also provides easy access to the higher frets. The ebony top further enhances the overall look, giving the guitar a sophisticated appearance that is sure to turn heads on stage.
Construction And Materials
When it comes to construction, the ESP LTD F-4E scores high. It features a neck-through-body construction, which is known to provide superior sustain and resonance compared to bolt-on designs. The body is made of contoured mahogany, a wood known for its warm and full-bodied tone.
The neck, a five-piece blend of maple and mahogany, is designed with an extra-thin "U" contour for comfortable playability. The 35-inch scale length is another thoughtful touch, making it easier for bass players of all sizes to play across the entire fingerboard.
The fingerboard itself is made of ebony, a dense wood that provides a bright and crisp tone. It has a radius of 400mm, offering a balanced feel for both chord and solo playing.
Performance And Sound
The ESP LTD F-4E shines in terms of performance. Its long scale and neck-through construction contribute to a strong, clear tone with excellent sustain. The mahogany body imparts a rich warmth to the sound, while the ebony fingerboard adds brightness and clarity.
Professionals who have used the ESP LTD F-4E praise its versatile sound that can adapt to various music genres. From the deep and punchy tones required for rock and metal to the bright and articulate sounds needed for jazz and funk, this bass guitar delivers.
However, beginners might find the wide range of tonal possibilities a bit overwhelming at first. The learning curve can be steep, but the effort is rewarding. The ESP LTD F-4E is a bass that can grow with the player, making it an excellent long-term investment for those serious about their music.
Final Verdict
In conclusion, the ESP LTD F-4E Mahogany Natural Satin Electric Bass Guitar is a well-crafted instrument that offers a great blend of aesthetics, playability, and sound. Its high-quality materials and construction result in a reliable and durable bass that can withstand the rigors of regular playing and touring.
Professionals will appreciate the versatility and tonal range of the ESP LTD F-4E, while beginners will find it a worthy instrument to hone their skills on. Despite its higher price point compared to entry-level basses, this model offers real value for money considering its features and performance.
Whether you're a seasoned professional or a beginner eager to explore the world of bass guitars, the ESP LTD F-4E is a worthy contender to consider. Its combination of style, sound, and substance truly makes it stand out in the crowded market of electric bass guitars.
Remember, choosing a musical instrument is a personal journey. While reviews and specifications can guide you, nothing beats the experience of trying out the instrument yourself. So if you have the chance, give the ESP LTD F-4E a strum. You might just find your perfect bass guitar.