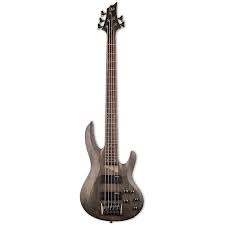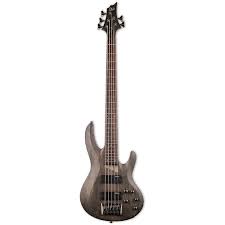 ESP LTD B-204SM See Thru Black Satin Electric Bass Guitar: The Perfect Blend of Aesthetics and Performance
Introduction
The ESP LTD B-204SM See Thru Black Satin Electric Bass Guitar is a testament to the blend of beauty, craftsmanship, and performance. This electric bass guitar is not just an instrument, but a piece of art that stands out in the crowd with its spalted maple top on an ash body and a striking see-thru black satin finish.
Design and Build Quality
ESP has always been known for their attention to detail and quality construction, and the B-204SM is no exception. The ash body provides a bright and focused sound, while the satin-finished spalted maple top adds a touch of elegance to its overall look. The five-piece maple/jatoba neck, with a thin U profile, ensures excellent playing feel and a snappy response. The roasted jatoba fingerboard further adds to the aesthetic appeal of this bass guitar.
The B-204SM offers an extra-thin U-shaped 5-piece maple/jatoba neck that enhances the playing experience. The bolt-on neck construction ensures stability and contributes to the guitar's punchy, dynamic tone. A string-thru design and active electronics are additional features that make this guitar a preferred choice among both beginners and professionals.
Sound Quality
When it comes to sound, the ESP LTD B-204SM delivers beyond expectations. The ash body yields a bright and punchy tone, perfect for a variety of genres, from rock to jazz. The active electronics provide a wide range of tone-shaping options, allowing you to tweak your sound to your liking.
The ESP LTD B-204SM Electric Bass Guitar is known for its bright-sounding ash body with a beautiful spalted maple top. The combination of these materials results in a focused and dynamic tone. The active pickups add versatility to the sound, making it suitable for a wide range of musical styles.
Playability
The playability of the ESP LTD B-204SM is impressive. The thin U-shaped neck, combined with the roasted jatoba fingerboard, ensures a comfortable and smooth playing experience. Whether you're a beginner learning your first riffs or a professional performing on stage, this bass guitar won't disappoint.
The B-204SM also comes with a bolt-on five-piece maple/jatoba neck with a Thin U profile that gives it a snappy response and accurate intonation. This means that whether you're playing slow ballads or fast-paced rock songs, this bass guitar will keep up with you.
Professional and Beginner Viewpoints
From a professional's viewpoint, the ESP LTD B-204SM is a versatile instrument that can handle a wide variety of music styles. Its bright and focused tone, combined with the active electronics, allows for a broad spectrum of sound possibilities. The high-quality construction and attention to detail make it a reliable instrument for stage performances and studio recordings.
On the other hand, beginners would appreciate the comfortable playability of the B-204SM. The thin U-shaped neck and the roasted jatoba fingerboard make it easy for novice players to learn and practice their skills. Moreover, the stunning aesthetics of the guitar would undoubtedly inspire beginners to pick it up and play.
Conclusion
In conclusion, the ESP LTD B-204SM See Thru Black Satin Electric Bass Guitar is a remarkable instrument that combines aesthetics, performance, and comfort. It is a testament to ESP's commitment to quality and detail. Whether you're a professional musician looking for a versatile instrument or a beginner looking for a comfortable and inspiring guitar to start your journey, the B-204SM is a fantastic choice. Its beautiful design, coupled with its impressive sound and playability, makes it stand out as one of the best electric bass guitars in its price range.