Top Best Electric Guitars For Women
For a long time there was a rather ridiculous stereotype that claimed that the electric guitar, like all rock music, was intended for men. However, of course, this is nothing more than a myth, since now a huge number of women masterfully play the guitar. Moreover, this stereotype is wrong, since women, on a par with men, can succeed in any musical genre. Moreover, more than half of the buyers of such a famous brand as Fender are women, and the statistics are constantly growing.
However, despite the fact that both men and women are equally trained to play the guitar, it is still important to take into account some physiological characteristics in order to select the most suitable musical instrument. As you know, women most often have smaller hands, smaller height, weight, and so on than men. This is what is crucial when choosing a guitar, as it will directly affect the comfort when playing. So, if you are a woman who wants to learn how to play the guitar or you already play but want to get a new model, this top of the best guitars for women is exactly what you need. Here we have taken into account all the physiological features and offer you the most suitable options that will be as comfortable as possible for you.
Top Best Best Electric Guitars For Women
Since every woman has a different budget and preferences regarding the musical style and appearance of the guitar, we tried to offer you the most diverse options for every taste and budget.
Here are our top picks: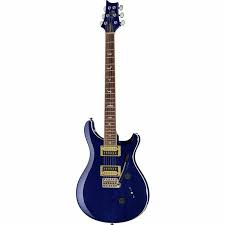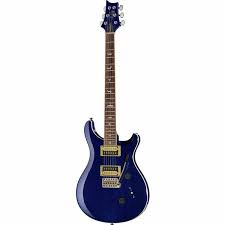 1)PRS SE Standard 24
If you are not a beginner, then at least once in your life you have heard about PRS. One of the brand's most famous creations is the Custom 24.
However, since this is a professional guitar, it is priced accordingly, while the Standard 24 is a great solution for those musicians whose budget is limited. Basically, this model has the basic design of the Custom 24, but costs less, only $499. However, what are the differences?
First of all, it is worth noting that, unlike Standard, Custom has contoured edges and nut materials are also different. It's also important to mention that the Standard is lighter, which will be an advantage for standing players.
Also because of its weight, we included this guitar in our best electric guitars for women list – its design is simply more convenient for smaller players, teenagers and women. Among other things, it should be said that this is a guitar that is more suitable for entry-level players, and not for professionals.
PRS SE Standard 24 has the double-cut mahogany solid body and the rosewood fingerboard and maple neck are smooth. This way you can get soft and comfortable access to all 24 frets. So, if you are a woman and just starting to learn electric guitar and want to get an inexpensive instrument – PRS SE Standard 24 will be your best choice.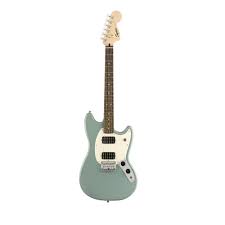 2) Squier by Fender Bullet Mustang
Our top best electric guitars for ladies continues with another good model from one of the most famous guitar brands – Fender Bullet Mustang.
It is important to note that this guitar is often underestimated and preferred over other models, although it is an excellent example of value for money. If you're a beginner, you should know that the Fender Bullet Mustang is of reasonably good quality, far superior to most beginner guitars.
Overall build with the neck and hardware quality will make you feel like a real musician. Moreover, her appearance is also no less stunning. The body is made of poplar, and also this guitar has a maple neck and laurel fretboard.
However, what makes this guitar a good choice for women? First of all, it is a short scale which means the neck will be more comfortable for small hands. In addition, the design of the guitar is quite comfortable and is not massive and heavy, which will also be an advantage for women, especially those who play standing up.
So, if you want to choose the first electric guitar for women, then this model will exceed your expectations. Not only does it look good and sound good, but it also stays tuned for a long period of time.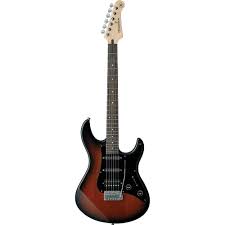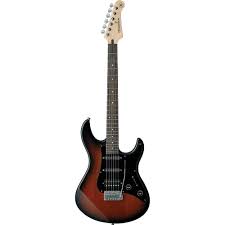 3)Yamaha Pacifica PAC012DLX
If you are not only looking for the best electric guitar for women, but also the best model for a beginner, then the Yamaha Pacifica PAC012DLX is exactly what you need.
With a price tag of just $210, this model is likely to be the best entry-level deal you can find on the market. However, what is unique about this guitar? First of all, I would like to draw your attention to her flat neck, which is ideal for both training and quick play. Such a neck will help you comfortably practice changing chords, which is very important at the initial stage.
In addition, the controls are also as simple as possible, so a beginner does not have to spend a lot of time to figure them out. Yamaha Pacifica PAC012DLX has simple tone and volume dials.
However, with a price as low as $210, this guitar has its drawbacks, the main one being pickups, which are stock and cheap, so you can forget about good articulation. However, for an entry-level guitar, this guitar will be more than enough, and with such a low price, every musician can afford to buy this model.
4)Taylor Baby Mahogany BT2
If you're looking for the best acoustic electric guitars for ladies, then the $379 Taylor Baby Mahogany BT2 is the one for you. First of all, this is a durable guitar with very good quality, so you won't have to change the instrument for a long time.
The body of this model is completely made of mahogany, which already speaks of a warm decent sound. However, the sound can also be brighter and richer.
It will be a good choice for women or children due to its 3/4 size, so it is also often purchased by travelers. However, despite the size, the guitar does not lose its sound quality and offers alternative tunings.
So, if you're looking for a small acoustic guitar that's easy to carry and great for women, the Taylor Baby Mahogany BT2 is your best bet.

5)Fender Player Stratocaster
Whether you're a beginner or a seasoned virtuoso, you've probably heard of the guitar brand Fender many times over. This company was founded back in 1946 and is still one of the most popular guitar manufacturers in the world.
The Stratocaster was introduced in 1954 and is a legend in guitar culture. That's why we included the Fender Player Stratocaster in our top list – it includes everything from a sleek, contoured body to a bright, unique sound.
Let's talk about some of the features of this guitar. First of all, it has a modern C neck profile with a 9.5" radius and jumbo frets, which will make your game as comfortable as possible.
It is also impossible not to pay attention to the iconic Alnico 5 pickups, thanks to which this guitar has its characteristic snap, chime and punch. Alder body, on the other hand, delivers the purest warm tone that is classic and timeless. So, if you want to go back to guitar history and choose your own cultures, buy a Fender Player Stratocaster.

6)Ibanez S Series S521
Ibanez is another legendary guitar brand famous not only for its quality but also for its unique sound, and the S521 is one of the brand's oldest models. And it is the S series that is best suited for girls or guitarists with small hands. Let's see why.
First and foremost, Ibanez were the first on the market to invent the ultra-thin Wizard III necks, which are ideal for those who like fast guitar solos or precisely small hands.
The necks have 24 jumbo frets which are extremely comfortable, especially for beginners. Moreover, the body of this guitar is also quite thin, which is important for women who find it difficult to carry a large guitar weight.
It is also important to note that despite this, the guitar does not lose any of its sound. It is important to mention that the Ibanez S Series S521 has exceptional sustain, making it versatile for both pop and rock.
This model is the epitome of elegance, beauty and good sound at a decent price. If you choose the Ibanez S Series S521 as your first electric guitar, you won't regret it.
Conclusion
Now the guitar market is overflowing with offerings, from guitars for people with large hands to guitars for women, children, travelers and so on. Pay attention to the key features that matter to you and choose the guitar that best suits your wants and needs. We hope that our top was useful to you, and you were able to choose the best guitar for you or your woman. Good luck!hope you liked our top best electric guitars for jazz and you were able to choose a model that will help you bring the best jazz masterpieces to life.