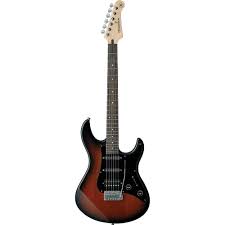 Yamaha Pacifica PAC012DLX: A Detailed Review
The Yamaha Pacifica series has been a popular choice among guitarists for decades, and with good reason. Known for their versatility, playability, and affordability, these guitars have become a staple in the collections of both beginners and seasoned players alike. In this review, we'll take a deep dive into one of the most popular models in the series, the Yamaha Pacifica PAC012DLX. We'll cover everything from its design and build quality to its sound and performance.
Design and Build Quality
The Yamaha Pacifica PAC012DLX is a solid-bodied electric guitar with a sleek and comfortable double-cutaway design. The body is made of Agathis, a lightweight tonewood that offers a balanced sound and is relatively easy on the wallet. The guitar comes in a variety of finishes, including Black, Metallic Blue, and Metallic Red, allowing players to choose a look that best suits their personal style.
The neck of the PAC012DLX is constructed from Maple and features a smooth, satin finish. This makes for a comfortable playing experience, as your hand can easily glide up and down the neck without any stickiness or resistance. The fingerboard is made of Rosewood, which not only adds warmth and depth to the guitar's tone, but also provides a comfortable surface for your fingers. With 22 medium-jumbo frets and dot inlays, navigating the fingerboard is a breeze.
Yamaha has equipped the Pacifica PAC012DLX with reliable hardware, including a vintage-style tremolo bridge, die-cast tuning machines, and a synthetic bone nut. These components work together to provide stable tuning and excellent intonation, ensuring that the guitar sounds its best at all times.
Electronics and Pickups
One of the standout features of the Yamaha Pacifica PAC012DLX is its versatile pickup configuration. The guitar is equipped with two single-coil pickups in the neck and middle positions, as well as a humbucker in the bridge position. This HSS (humbucker-single-single) configuration allows for a wide range of tonal options, making the PAC012DLX suitable for many different styles of music.
The single-coil pickups deliver a bright and clear sound, perfect for clean tones and sparkling chords. The bridge humbucker, on the other hand, provides a thicker, more powerful sound that is ideal for overdriven and distorted tones. With the five-way pickup selector switch, you can easily access all of these sounds and blend them together to craft your ideal tone.
In addition to the pickup selector switch, the PAC012DLX also features a master volume control and a master tone control, giving you even more control over your sound. These controls are responsive and smooth, allowing for subtle adjustments that can make a big difference in your overall tone.
Playability
One of the key selling points of the Yamaha Pacifica series is its playability, and the PAC012DLX is no exception. The guitar's slim neck profile and comfortable body shape make it easy to hold and play for extended periods of time. The double-cutaway design allows for easy access to the upper frets, making it great for lead playing and soloing.
The PAC012DLX also boasts a flat 13.75-inch fingerboard radius, which allows for easy string bending and facilitates fast playing. The medium-jumbo frets are well-dressed and evenly spaced, ensuring that notes ring out clearly and without any buzzing.
Sound and Performance
The Yamaha Pacifica PAC012DLX truly shines when it comes to its sound and performance. Its versatile pickup configuration means that it can handle a wide variety of styles, from clean and crisp to heavy and distorted. The single-coil pickups offer impressive clarity and definition, while the bridge humbucker delivers a powerful, punchy sound that's perfect for rock and metal.
The guitar's Agathis body, Maple neck, and Rosewood fingerboard contribute to its balanced tonality, offering a mix of warmth, brightness, and sustain that can suit many different playing styles. The vintage-style tremolo bridge also adds an extra layer of sonic versatility, allowing for expressive pitch bends and vibrato effects.
Final Thoughts
The Yamaha Pacifica PAC012DLX is an excellent choice for guitarists of all skill levels who are looking for a versatile and affordable instrument. Its comfortable playability, wide range of tonal options, and reliable build quality make it a standout option in its price range. Whether you're a beginner just starting out or a seasoned player looking for a reliable workhorse guitar, the PAC012DLX is definitely worth considering.