Top Best Electric Guitars For Punk Rock
Punk rock has always been about breaking the rules. It is because of this that many novice guitarists think that it does not matter at all which instrument to choose for the performance of a given musical genre, but this is not at all the case. Moreover, people who listen to punk imagine musicians with dilapidated guitars that are about to fall apart in their hands. Do you still think that punk guitarists tape their guitars together and continue to play an instrument that doesn't sound at all? We hasten to please you, this is nothing more than a myth.
However, if punk rock is music that breaks the rules, why would you want to read any guide when you can pick the first guitar you find? However, in reality, a good punk guitar must meet at least several criteria – bright appearance, reliability and typical punk sound. Our top 5 best punk guitars are what you need if you don't know how to choose the right punk guitar for you.
Top Best Electric Guitars For Punk Rock
Here are our top picks:
1)Gibson SG Tribute
So, our top best electric guitars for punk rock will be opened by the guitar that sets the standard for all punk music – the legendary Gibson SG Tribute. The legendary Ian MacKaye played it in both Fugazi and Minor Threat for many years.
This guitar has a huge number of advantages, from simple 3-way switching to reliability (especially if you travel a lot). Thus, the Gibson SG Tribute remains the most basic punk guitar choice to this day.
First of all, I would like to note its mahogany body, maple neck and rosewood fretboard. In addition, she is equipped with a complementing set of Alnico II packin' 490R and 490T humbuckers.
The Gibson SG Tribute is therefore ideal for intense staccatoed power chord playing. Speaking of the pickups, they are set using Gibson's familiar setup: a three way switching system and two sets of volume and tone controls.
If you want to know about hardware, you'll be surprised to find a nickel plated vintage deluxe tundra and a Nashville Tune-O-Matic bridge. Thus, if you are looking for a classic punk guitar that will not leave anyone indifferent, then the Gibson SG Tribute is exactly what you need.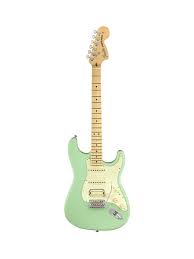 2)Fender American Performer Stratocaster HSS
If you're looking for a guitar that matches the energy of punk songs, then you should definitely look into the Fender American Performer Stratocaster HSS.
It is ideal for those musicians who want to get the most of the live sound and versatility that is so important for punk. Moreover, if you are looking for the best electric guitars for blink 182 type music, then you should definitely buy this particular model, since it was used not only by Blink-182, but also by Green Day.
It's also important to mention that the Fender American Performer Stratocaster HSS is known for its bright and punchy tone, which will help you get the most out of punk music.
Moreover, this guitar is one of the most affordable in all the Fender lines, however, it is also equipped with the HSS pickup configuration, which has two single coil pickups and a humbucker. This is what gives you incredible sonic versatility, from classic to aggressive tones.
Needless to say, the Stratocaster is a legendary guitar that can handle just about any genre of music. However, the world's punk stars choose it, which means you can get everything you need with the Fender American Performer Stratocaster HSS.
3)Reverend Super Rev
This guitar is similar to the classic models of the 70s, as it does not try to be refined and has a fairly loud and sharp sound. The thick tones of the Reverend Super Rev make this guitar not only ideal for punk rock, but also for other heavy music genres.
This model is equipped with a single Pailhammer Alnico Grande humbucker, which is designed to give you the fattest round sound that is perfect for punk. In addition, the guitar sounds quite loud and clear, which will be a good addition for both rehearsals and stage performances.
Also, we would like to note the presence of a bass contour know, which is inherent in almost all Reverend guitars, which makes the single-pickup configuration as versatile as possible.
Another unique feature of Reverend Super Rev is that both her body and neck are made from korina. It is this wood that has excellent responsiveness and is lighter than mahogany, which is also a great advantage for those who like to play standing up.
4)LTD EC-1000 EverTune BB
If you're looking for the ultimate in durability and comfort, then from the best punk electric guitars list, the LTD EC-1000 EverTune BB is your favorite. First of all, I would like to note its EverTune bridge, thanks to which the guitar remains tuned for a long period of time, regardless of the conditions in which you play it.
Another distinguishing feature is the EMG pickups which not only provide a bright and punchy sound, but also thick growl characteristic of punk music. Although it will take you some time to get used to this bridge, it will be worth it as it will be nearly impossible to make it out of tune.
Not to mention, the LTD EC-1000 EverTune BB is a guitar that was inspired by the Les Paul, yet designed to offer guitarists the ultimate in performance. This was achieved thanks to the satin mahogany neck-through construction with ebony fingerboard.
Thus, playing on it is not only easy, but also as comfortable as possible. It is also worth noting that the LTD EC-1000 EverTune BB has a shorter scale length which is 24.75". The EMG pickups offer the midrange and growl we've been talking about.
So, if you're into metalcore or punk music styles and want a long-lasting guitar with a heavy sound, then there's nothing better than the LTD EC-1000 EverTune BB.
5)Eastwood Hi-Flyer Phase 4
Most likely you have ever heard of the Univox Hi-Flier guitar – the model played by such celebrities as Kurt Cobain, Lee Ronaldo and others. So, the Eastwood Hi-Flyer Phase 4 is based on this legendary model, and offers you not only good looks, but also decent sound.
Thus, if you want to get a guitar that is as close as possible to the one that all these legends held in their hands, the Eastwood Hi-Flyer Phase 4 is your best choice.
First of all, I would like to note that this model is incredibly light due to its double-cut basswood body.
In addition, the Eastwood Hi-Flyer Phase 4 has a very thin maple neck, which makes playing the guitar as comfortable as possible for both beginners and professionals. Also this neck was built for maximum speed so if you want to learn the fastest guitar solos then this is the one for you.
Also note that this guitar has two Phase 4 Humbuckers. On a clean channel they offer jangly tones, but if you love distortion you will be surprised by the rich and tight sound.
Speaking of controls, the Eastwood Hi-Flyer Phase 4 has a three-way switching system, and also knobs for tone and volume. In addition to all this, this model also uses a Mintech wrap-around style hardtail bridge.
Is It Difficult to Play Punk on an Electric Guitar?
There is no definite answer to this question, because everything largely depends on the level of complexity of the songs you have chosen, the guitar you have chosen, physiological characteristics and other things. However, despite all this, if you really love punk, no one and nothing can stop you on the path of mastering this musical style.electric guitars for large hands has been helpful and you have found a model that can meet your needs and desires.
Which Guitar Should You Choose From This Guide?
While we've created this top based on specs that are perfect for punk music, we can't say which guitar is best for you, as it really depends on your individual preferences. Do you want an aggressive look or more classic? Do you like a growling sound or do you just prefer a bright, rich sound? Pay attention to everything that is important to you in a guitar, and then you will get an answer to the question of which model you should choose.
What to Look for When Choosing an Electric Guitar for Punk?
When choosing a guitar for punk rock, pay attention to pickups. Punk calls for a more ringing and punchy sound, so single coil pickups are your best bet. You can also check out the P90 pickup which makes it sound more growl and grit. Also, don't forget about the scale length, as a shorter scale will make it sound a little softer. Another point is the neck shape and here you'd better pay attention to the D-shaped necks. Regarding the bridge, fixed ones offer better tuning stability, but this does not mean that you should give preference to them, instead of, for example, floating tremolo-style bridges.