Top Best Electric Guitars For Fingerstyle Or Strumming
Whether you're an experienced guitarist or a beginner, chances are you're familiar with the popular fingerstyle technique. It can be quite difficult for beginners, and just as importantly, not every guitar is suitable for this technique. It involves using the right hand to pluck the individual strings. Most often this technique is used in blues music, but recently many pop artists are also adopting it for acoustic songs.
That is why, if you decide to master fingerpicking, most likely you need the right musical instrument to help you acquire this skill as quickly as possible. Today we're going to take a look at the best Fingerstyle electric guitars to help you find the one that's perfect for your needs. After studying the guitar market, we have identified five models that will be the best options for you.
Top Best Electric Guitars For Fingerstyle Or Strumming
Here are our top picks: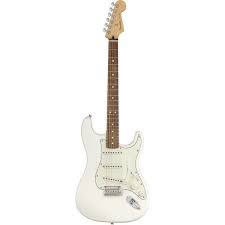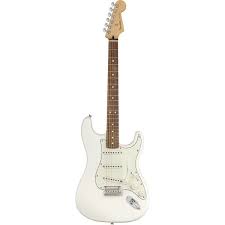 1)Fender Player Stratocaster
Our list of the best fingerstyle electric guitars will start with a unique model that has brought a huge number of players into the world of rock and roll. She is the inspiration and model of choice for the world's celebrities, and this is the Fender Player Stratocaster.
This guitar is a slightly modified model of a vintage Strat and features true Strat single-coil pickups, bent-steel saddles and a synchronized tremolo bridge.
First of all, we would like to say that such a guitar is suitable for most musical genres, from pop music to rock and roll, but it will also be ideal because of Fingerstyle. Its timbre is suitable for this technique, so you will not notice how you spend several hours playing this guitar.
Moreover, it should be noted that the Player series has a set of unique features that will be appreciated not only by beginners, but also by professionals. These include 2-point synchronized tremolo with bent steel saddles, Fender-designed pickups, alder body wood and Alnico 5 magnets. Also the Fender Player Stratocaster has a large neck with a 9.5 radius.
Thus, the Fender Player Stratocaster combines all the features that are ideal for any purpose, from home rehearsals to performance on stage. This guitar has a classic tone, versatile sound and easy playability.
It is versatile and provides not only the well-known inimitable Fender sound, but also inimitable style. The Fender Player Stratocaster is a good professional guitar at an affordable price.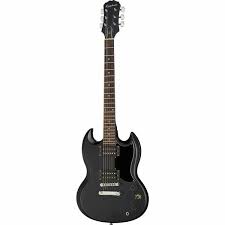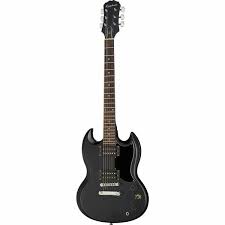 2)Epiphone SG Special VE Electric Guitar
Another model that should definitely be on our list of best electric guitars for fingerstyle is the Epiphone SG Special VE Electric Guitar. It is worth mentioning that it was developed back in 1961 and is still popular in the world of rock and roll.
Moreover, it is still one of the most beloved instruments among famous rock performers. It is ideal for those people who are looking for not only good sound, but also a bright personality with an inimitable appearance. It has unusual beveled edges, solid body and long upper cutaway, which makes it inimitable in combination with a classic but at the same time fresh sound.
Speaking of features, the Epiphone SG Special VE Electric Guitar has a poplar top and a mahogany body. The rosewood fingerboard is dot-inlaid, and the bridge has 6 adjustable saddles. The guitar also features a mahogany bolt-on neck and a slim 24.75" profile making it a great fingerstyle pick.
Another plus of this guitar is that it has a double cutaway which will also be an advantage for fingerpicking. Both the thin neck and the double neckline make the playing process much more comfortable.
The weight of this guitar should also be noted, as it is incredibly light but at the same time durable, which provides not only good sustain, but also resonance. Electronically, this model has open-coil humbuckers with ceramic magnets and a vintage worn finish.
In addition, the guitar has Epiphone hardware. Although the Epiphone SG Special VE Electric Guitar is better known as a rock guitar, it will be a good quality option for fingerstyle as well.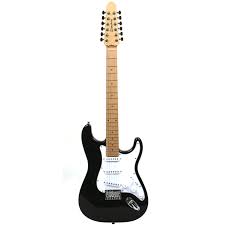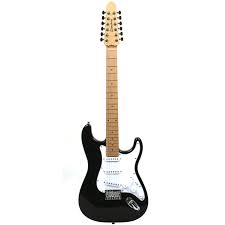 3) Starshine 12 String Fill Size Electric Guitar
If you want to buy a musical instrument that will surprise everyone not only with its sound, but also with its appearance, you need to pay attention to Starshine 12 String Fill Size Electric Guitar.
First of all, we would like to note its sound, which is not only bright, but also full and rich. This guitar is perfect for the Fingerstyle due to its unique features and choir-like sound. However, of course, it is not suitable for everyone.
The build quality and sound of this model are also good. It has a unique ringing tone that is different from all six-string models on the market, which you can take into account.
What's more, its neck is also very smooth and ideal for fast playing and fingerpicking, as this electric guitar was built for maximum comfort. In addition to all this, the coil tap design also gives you access to incredible tonal rage.
Another thing to note about the Starshine 12 String Fill Size Electric Guitar is its power and reliability. The neck provides the guitar with maximum durability and also acts as an acoustic resonance enhancement device.
So the humbuckers can provide you with a rare retro sound. Thus, Starshine 12 String Fill Size Electric Guitar has a beautiful appearance, unique sound, power and reliability.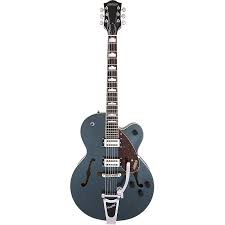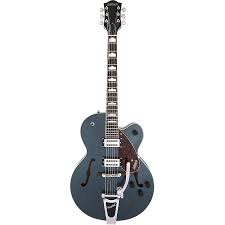 4)Gretsch Streamliner Hollow Body
This model is considered jazz, but now more and more musicians use it in various musical styles, as it has a stunning look and unique sound. Gretsch Streamliner Hollow Body is designed with innovative technology and Gretsch signature style.
It has a nice modern sound, updated electronics and quality woods, making it robust and resonant. I would also like to point out that this model has a Bigsby B60 tailpiece which is great for pitch bending and produces exceptional vibration. However, what makes the Gretsch Streamliner Hollow Body suitable for fingerstyle?
First of all, we would like to note her hollow body and slim neck, which is very important for this technique. In addition, this model has a resonant tone that provides a classic, relaxing sound suitable for T-shirt, country, jazz, blues and other musical styles.
What's more, it has a somewhat acoustic sound due to the body style and shape. And, since it has a relaxed string tension, it's great for a technique like fingerpicking.
We would also like to note that the Gretsch Streamliner Hollow Body has a vintage yet sharp tone that is perfect for fingerstyle. The body is as smooth as possible and the neck is comfortable, so you can play this instrument for hours.
So, if you are looking for a unique instrument with a solid body and vintage sound, suitable for fingerstyle – Gretsch Streamliner Hollow Body is exactly what you need.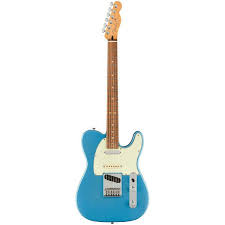 5) Fender Deluxe Nashville Telecaster Electric Guitar
Rounding out our list of the best fingerstyle electric guitars is another unique model that blends the traditional with the modern, the Fender Nashville Telecaster.
If you haven't heard of this model before, you should know that it takes its name from Nashville, Tennessee, which is the birthplace of country music. If you love this musical style – buy this model without hesitation.
The Fender Nashville Telecaster is truly incredible as it is designed specifically for finger play as it focuses on a specific country tone. However, at the same time, we want to say that no matter what style you play, Fender always includes everything necessary for professional performance in his instruments.
First of all, we would like to note the comfortable body, which is made of resonant alder, so it is light and comfortable. This guitar also features a maple neck that will make your playing as enjoyable as possible.
This model also has two vintage style noiseless fender Tele pickups as the neck and bridge pickup, and also a third vintage Strat pickup in the middle. This is what makes the Fender Nashville Telecaster so versatile. What's more, the neck of this guitar is made for Fingerstyle, as Fender makes some of the best electric guitars, and the thin neck is exactly what you need to develop this technique.
The Fender Nashville Telecaster is an incredible musical instrument best suited for professional musicians looking for a unique country sound. However, even if you are a beginner looking for a Fingerstyle guitar, rest assured that this model will not disappoint you.