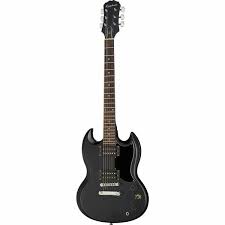 Epiphone SG Special VE Electric Guitar: A Comprehensive Review
In the world of electric guitars, few models are as iconic and instantly recognizable as the Gibson SG. With its distinctive double-horned body shape and powerful sound, the SG has been a favorite among rock legends such as Angus Young, Tony Iommi, and Derek Trucks. However, for many aspiring musicians, the high price tag of a Gibson SG can be a significant barrier to entry. Enter the Epiphone SG Special VE, an affordable alternative that offers the look and feel of the legendary SG without breaking the bank. In this comprehensive review, we will explore the features, sound quality, and overall performance of the Epiphone SG Special VE to help you decide if this guitar is the right choice for your musical journey.
Introduction to Epiphone
Epiphone is a well-respected manufacturer of guitars, basses, and other stringed instruments, with a history dating back to 1873. Originally founded in Greece, the company eventually relocated to the United States and was acquired by Gibson in 1957. Today, Epiphone operates as a subsidiary of Gibson, producing more budget-friendly versions of popular Gibson models such as the Les Paul, ES-335, and SG.
Overview of the Epiphone SG Special VE
The Epiphone SG Special VE is an entry-level electric guitar designed to provide players with the classic look and feel of a Gibson SG at a fraction of the cost. This instrument features a solid poplar body with a mahogany veneer, a bolt-on mahogany neck, and a 22-fret rosewood fingerboard. The guitar is equipped with a set of two open-coil humbucking pickups, a Tune-O-Matic bridge, and a stopbar tailpiece. It is available in several vintage-style finishes, including Vintage Sunburst, Cherry, and Ebony.
Construction and Design
The body of the Epiphone SG Special VE is crafted from solid poplar, a lightweight and resonant wood that offers a well-balanced tonal response. The guitar's mahogany veneer adds a touch of visual warmth and depth to the instrument, enhancing its vintage aesthetic. The bolt-on mahogany neck features a slim taper "D" profile, providing a comfortable playing experience even for those with smaller hands or less experience. The 22-fret rosewood fingerboard has a 12-inch radius, allowing for smooth bends and easy chording.
In terms of hardware, the Epiphone SG Special VE features a Tune-O-Matic bridge and stopbar tailpiece, a popular combination that provides excellent tuning stability and intonation. The guitar is also equipped with die-cast tuning machines, ensuring that your strings stay in tune even during aggressive playing. The two open-coil humbucking pickups are controlled via a three-way pickup selector switch, along with individual volume and tone controls for each pickup.
Sound and Performance
The sound of the Epiphone SG Special VE is characterized by its powerful, punchy tone and impressive sustain, thanks in part to its solid poplar body and humbucking pickups. These pickups are designed to deliver the classic humbucker sound, with plenty of warmth, thickness, and harmonic richness. The neck pickup offers a smooth, rounded tone that is perfect for clean rhythm work and bluesy leads, while the bridge pickup has a more aggressive, biting quality that lends itself well to rock and metal styles.
One of the standout features of the Epiphone SG Special VE is its versatility. While the guitar's design and tonal character make it an obvious choice for rock and blues players, it can also be effectively used in jazz, country, and even funk settings. Experimenting with different pickup configurations, volume and tone settings, and playing techniques can yield a wide range of tonal possibilities, making this guitar a valuable addition to any musician's collection.
Pros and Cons
Pros:
Iconic design and classic SG look
Affordable price point, making it accessible to beginners and budget-conscious players
Versatile sound suitable for various musical styles
Lightweight and comfortable to play
Cons:
Some players may prefer a set-neck construction for increased sustain
Entry-level pickups may not satisfy more experienced players or those seeking a specific tone
Conclusion
The Epiphone SG Special VE is an excellent option for musicians seeking the iconic look and feel of a Gibson SG without the high price tag. With its solid construction, versatile tonal range, and comfortable playability, this guitar offers great value for both beginners and more experienced players on a budget. While some players may wish to upgrade the pickups or other hardware components down the line, the Epiphone SG Special VE provides a solid foundation upon which to build your own personalized instrument. If you're in the market for an affordable yet reliable electric guitar with a rich history and unmistakable style, the Epiphone SG Special VE is definitely worth considering.