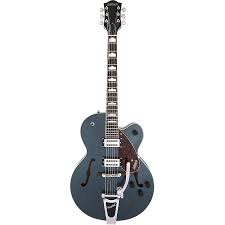 Gretsch Streamliner Hollow Body Electric Guitar Review
The Gretsch Streamliner Hollow Body Electric Guitar is a fantastic instrument that offers a unique blend of vintage aesthetics, modern playability, and incredible sound at an affordable price. In this review, we will dive deep into the features, performance, and overall value of this stunning guitar, which has quickly become a favorite among musicians worldwide.
Design and Aesthetics
The Gretsch Streamliner Hollow Body Electric Guitar is a beautiful instrument that draws inspiration from the classic hollow body guitars of the 1950s and '60s. With its large, double-cutaway body, arched laminated maple top, and stylish f-holes, the Streamliner is a true work of art.
The guitar's body is bound with aged white binding, which adds to its vintage appeal, while the rosewood fingerboard is adorned with pearloid block inlays, giving it a touch of elegance. The headstock features the iconic Gretsch logo and a set of die-cast tuners, ensuring stable tuning and smooth operation.
Available in various finishes, including Village Amber, Single Barrel Stain, and Phantom Metallic, the Streamliner looks as good as it sounds. Its eye-catching design is sure to turn heads on stage and off.
Construction and Playability
Gretsch has always been known for its high-quality craftsmanship, and the Streamliner is no exception. The guitar's laminated maple body provides excellent resonance and warmth, while the nato neck offers stability and a comfortable playing experience.
The Streamliner's thin "U" shaped neck profile caters to a wide range of players, making it easy to navigate up and down the fretboard. The medium jumbo frets are well-dressed and ensure smooth playability, while the 12″ fingerboard radius provides a modern feel and effortless string bending.
One of the standout features of the Streamliner is its Adjusto-Matic bridge, which allows for precise intonation adjustments and excellent tuning stability. The Bigsby-licensed B60 vibrato tailpiece adds a touch of vintage charm and provides smooth, expressive vibrato effects.
Electronics and Sound
The heart of the Gretsch Streamliner Hollow Body Electric Guitar lies in its electronics. The guitar comes equipped with two Broad'Tron BT-2S humbucking pickups, designed to deliver powerful, balanced tones with plenty of warmth and clarity.
The pickups are controlled by a three-way toggle switch, allowing you to select between the neck, bridge, or both pickups simultaneously. The master volume and tone controls, as well as individual volume controls for each pickup, provide a wide range of sonic possibilities.
The Streamliner's versatile sound makes it suitable for various music styles, from jazz and blues to rockabilly and country. The hollow body construction adds depth and resonance to the guitar's tone, while the Broad'Tron pickups ensure that your sound remains clear and articulate even when using high levels of gain or distortion.
With its responsive dynamics and harmonic richness, the Streamliner is an excellent choice for both rhythm and lead playing. The guitar's natural acoustic properties also make it ideal for fingerpicking and other more delicate playing techniques.
Performance and Value
When it comes to performance, the Gretsch Streamliner Hollow Body Electric Guitar truly shines. Its comfortable playability, combined with its powerful and versatile sound, makes it an excellent choice for both live performances and studio recording sessions.
The Bigsby vibrato tailpiece adds an extra layer of expressiveness to your playing, allowing you to create lush, shimmering chords and soaring lead lines with ease. Meanwhile, the guitar's excellent tuning stability ensures that you can focus on your performance without having to worry about constantly retuning.
One of the most impressive aspects of the Streamliner is its affordability. Despite its high-quality construction, premium features, and incredible sound, the guitar is priced competitively, making it accessible to a wide range of musicians.
In conclusion, the Gretsch Streamliner Hollow Body Electric Guitar is an outstanding instrument that offers unbeatable value for money. With its beautiful design, exceptional playability, and versatile sound, the Streamliner is a worthy addition to any guitarist's collection. Whether you're a seasoned professional or a beginner looking for your first hollow body guitar, the Gretsch Streamliner is sure to impress.