Top Best Guitar Amps With Headphone Jack
Both novice musicians and professionals most often face the same problem, namely the volume of the guitar. Most of us have a busy lifestyle, which is why it is most often practiced to play the guitar at the wrong time for this. For example, many people prefer to play late at night or even at night, which can lead to quarrels with family, significant other or even neighbors. Of course, not every neighbor or child will want to listen to you play at night, so this can be a problem if you don't have any other time to practice. However, the good news is that you still have the opportunity to get decent sound without harming your loved ones, and that's guitar amps with headphone jack. This includes both mini headphone amps for guitar and regular amps that just have a headphone jack.
So, with guitar amps with headphone jacks, you can practice mindlessly while still enjoying great tones, cool sound effects, and even being able to record. Thus, if you need to play the guitar silently or you are on the road – this is exactly what you need.
Below we have presented you the top 5 best guitar amps with headphone jack and mini headphone amps for guitar, thanks to which you can definitely find exactly what you need!
Top Best Guitar Amps With Headphone Jack
Here are our top picks: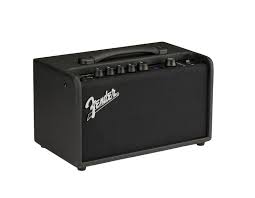 1)Fender Mustang LT (Mustang LT series)
Surely you know that Fender is one of the most famous guitar brands that is known for its quality, sound and reliability. And the Fender Mustang LT, in turn, focuses on tube amplifiers (which Fender is also known for).
So these are the sounds that are modeled into the digital preamp of the Fender Mustang LT. It's also important to note that on this amplifier, the headphone jack is located on the top panel next to the normal controls. Moreover, note that this is 1/8 jack instead of 1/4.
So, if you like more vintage Fender-style tones, then the Fender Mustang LT could be a great solution for you. What's more, this amp is also quite affordable as it costs around $180.
It's also worth noting that you can buy adapters that will turn your headphone jack into a 1/4″ headphone jack, which can come in handy (depending on which headphone jack you're using). The Fender Mustang LT is great for basic recording, vintage tones and comfortable practice, especially if you're in a small room.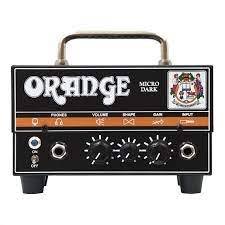 2)Orange Micro Dark Hybrid Head
Orange Micro Dark Hybrid Head can also be safely attributed to our top guitar practice amps with headphone jacks. First of all, we would like to note that it is an amp head with tubes in preamp, which means that you will need to hook it up to a speaker cab if you want to hear it in open air.
As for the headphone jack, it is located on the front panel and has 1/4 output. Moreover, it is impossible not to mention that the Orange Micro Dark Hybrid Head is one of the most popular options on the market among guitar amps for headphones. It has a simple setup with a single-band EQ, volume and gain knob and is ideal for smaller setups.
So, if you're looking for a simpler headphone jack amp that's easy to transport, then the Orange Micro Dark Hybrid Head is the way to go.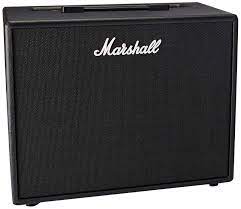 3) Marshall Code 50 (Code series)
Best of all, you've also heard of Marshall amps at least once, which is why the Marshall Code 50 is also on our list of the best guitar amps with headphone out.
Marshall has a huge number of amps that are still popular, but this series allows you to choose from different preamp and amp models with the best performance. Despite the digital sound, the sound quality will pleasantly surprise you, and warm tones will remind you of the unforgettable sound of Marshall.
Speaking of headphones, this amp has an eight inch jack on the top panel, which is convenient enough to give you easy access (it's located right next to the on and off switch).
So, if you love Marshall sound then the Marshall Code 50 is a great option that also gives you the option to plug in headphones. What's more, in terms of tone, this amp is one of the best on the market, especially for people who need a headphone jack, who work in large rooms and often record music.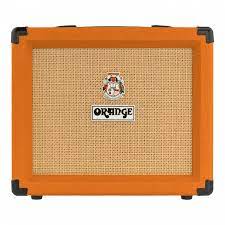 4)Orange Crush 20 RT (Crush Series)
Orange Crush 20 RT – a small solid state amp with an onboard tuner, should definitely be included in our top of the best guitar amps with headphone output. It has a headphone jack right in the top panel for maximum convenience. It has a quarter inch jack so if you have a small size headphone this will be perfect for you and if you are using 1/8 you will need an adapter.
It's important to note that Orange Crush 20 RT doesn't have effects or modeling, it still has two channels, so you can choose between a clean and dirty option. Thus, if effects are not important to you, then Orange Crush 20 RT is exactly what you need.
5) Fender Mustang Micro
Our top will be completed with one of the best headphone amps for guitar – Fender Mustang Micro which you can not only use as an audio interface but also get a huge selection of effects.
It should be noted that the Fender Mustang Micro has 12 amp models that give guitarists a huge selection of different tones that can be used both in rehearsals and on recording. Speaking of effects, you'll be amazed that you can use both Classic Fender spring reverb and spacious stereo delays.
The Fender Mustang Micro also has 4 colored LEDs on the side that will inform you about your amp, effect, EQ and effects settings. This way you can adjust both the time for delay effects and the amount of reverb.
What's more, this little amp has a battery life of over 4 hours which is incredibly handy if you need to rehearse on the go and don't have access to a power outlet. So, if you're looking for a pocket guitar amp with a headphone jack, you won't find anything better on the market than the Fender Mustang Micro.
Is There a Quality Difference Between Amps With 1/8 and 1/4 Jacks?
Before buying, many novice guitarists wonder if there is a difference between whether the amp has a 1/4 or 1/8 headphone jack. However, there is no difference, and the sound quality does not suffer in any way. The only difference between the two jacks is that one is for smaller headphones and the other is for larger headphones.
However, many pros prefer to use a 1/4 jack, as you can simply use an adapter to downsize to 1/8 if needed. However, as already mentioned, no matter which headphone jack you choose, the sound quality will not suffer.
Which Headphones Should You Use When Playing Electric Guitar?
If you want an outsider's opinion, then we would suggest you to buy studio headphones that fit comfortably on your ears and head, as they will allow you to spend more time and get a better professional sound. However, if you don't have the budget to buy good quality headphones, smaller headphones are also a good option if you need to rehearse at home or on the go. In other words, when choosing headphones, be guided by your own preferences and your financial situation, but large studio headphones with the larger ear pads will be the most suitable option.
It will be quite difficult to answer this question unambiguously, even if you ask a professional about it. The fact is that speaking headphones, their choice is based on the individual preferences of each person. Thus, someone prefers small headphones, someone is more comfortable with large comfortable headphones for maximum sound quality.
In today's top, we reviewed the 5 best guitar amps with headphone jack, thanks to which you can now rehearse without any problems at any time convenient for you, and also answered frequently asked questions. Based on your tastes and your headphone jack to choose the most suitable amp for you. Good luck!