Top Best Dean Bass Guitars
The bass guitar is an instrument that never gets old, which is why more and more musicians strive to master it year after year. Whether you're just starting out or an experienced bass player, chances are you've heard of a company like Dean. This is a well-known brand that produces budget and mid-range electric guitars and basses. As such, most of their products are sold at affordable prices, which is why more and more people are interested in Dean Edge bass guitars. What's more, Dean can compete with much more established brands in terms of the quality and value of their tools.
In recent years, the company has continued to forge ahead and create its own guitar pickups, which sets it apart from other entry-level competitors. Moreover, it allows them to reduce costs and at the same time improve the quality of their products. Today we are going to take a look at the best dean electric bass guitars on the market right now. We will look at both budget models and mid-range guitars so that you can choose exactly what you need.
Since Dean is already a brand that has proven its worth with great language and affordable prices, we want to introduce you to the company and the bass guitar industry before moving on to the top best bass guitars from this brand.
Dean Bass Guitars
You probably don't know, but this brand has been making bass guitars for over 40 years. Thus, they carried out a large number of experiments and improved the production process as much as possible. First of all, we would like to note that their bass guitars are finely tuned for modern bass players and focus on the sharp sound that is best suited for rock.
Perhaps the most famous series of Dean basses is the Edge. However, since the brand also makes entry-level basses, they have several lines for both beginners and professional players. They also have some unique offerings, such as the 12-string bass.
Top Best Dean Bass Guitars
SAs already mentioned, this company is most suitable for beginner guitarists or musicians with a limited budget. Even though Dean guitars don't have a lot of features, they are quite efficient and have a nice design. Below we look at the best of them:
Here are our top picks: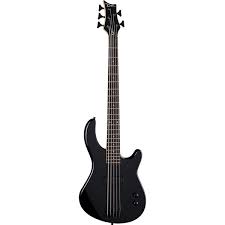 1)Dean Edge 09 5-String Bass
As already mentioned, Dean Edge basses are very popular among beginners and offer an excellent balance between performance, features and price. At the moment, the Dean Edge 09 5-String Bass is one of the best cheap dean bass guitars you can buy right now.
Like many other entry-level guitars, this model features a basswood body and a basswood top. Most likely you know that basswood is a cheap and light wood that enhances low frequencies. The neck is made from a higher-standard one-piece maple neck which has a fast C-shape profile.
Also it has a rosewood fretboard and pearl dot inlays. In addition, it should be noted that this bass guitar has a double-cutaway shape and 35" scale (with 24 medium jumbo frets), so it has good string tension and a rough, powerful sound.
Speaking of hardware of Dean Edge 09 5-String Bass, the first thing to note is a vintage-style Flush Bridge with five adjustable saddles (one for each string). This bridge makes the strings easier on your fingers, so it's great for beginners.
Another great feature of this model is that it has a single soap-bar pickup, which is a rarity for cheap bass guitars. Also, there's only a single tone and a single volume knob.
This model is an excellent bass guitar for beginners. However, it is best suited for genres such as rock, metal, and more. So, if you are looking for a good model from this brand that is suitable for heavy music styles, Dean Edge 09 5-String Bass is what you need.
2)Dean Custom Zone Bass
If you're looking for a bass guitar that will grab everyone's attention forever, look no further than the Dean Custom Zone Bass. If you are not familiar with this model, you should know that these are ships in either nuclear green or fluorescent pink.
As such, there is not a single bass guitar on the market that even comes close to the look and feel of the Dean Custom Zone Bass.
First of all, we want to note that this model has the same smooth curves as the Edge. The Dean Custom Zone Bass also has a basswood body, maple neck, a maple fretboard and has a 34" scale. It's also worth mentioning that the guitar has 20 frets with black block dot inlays.
Speaking about the electronics of this model, it should be said that it has 2 split-coil pickups with black hardware. So while playing you will get a unique groovy sound.
Although this model is more versatile than the previous one, it is still best suited for heavy music genres. So, if you wanted to get a unique extravagant dean guitars bass, check out the Dean Custom Zone Bass.
3) Dean Evo
If you're looking for one of the early dean bass guitars perfect for a beginner, we'll definitely check out the Dean Evo. This model is as light and comfortable as possible for beginners, as it is a small mahogany 30" scale bass.
The neck design is also simpler, faster and more comfortable than the classic Edge version. Thus, among the cheepest dean bass guitars for beginners, Dean Evo is the undoubted favorite.
We also want to draw your attention to the fact that this model has a dual DMT humbucker setup, so you get a lot of the noise-free output needed for all modern rock genres. In addition, this guitar base is made of mahogany, which produces an excellent mid tone.
Both the design and the feel of this guitar are great for beginners, and the price is extremely attractive and affordable even if you're buying your first bass guitar. Dean Evo is your best choice for a beginner.
4)Dean Edge Pro
If you were looking for one of the deans bass guitars that would be a great versatile choice, then you have found it – Dean Edge Pro. This model is also a five-string bass guitar, which has an average price. Dean Edge Pro is made from mahogany, maple and walnut.
The fretboard is a 3-piece construction made of ebony and maple. We would also like to mention that the build quality is premium, so you can be sure that this guitar will serve you for years to come. The design of this model greatly improves resonance and creates a tight low-end.
Mentioning the Dean Edge Pro, one cannot fail to mention its sound. The 5-strings Dean Edge Pro has a fat and powerful sound that also has a lot of clarity on the mids, round highs, and defined low-end. Moreover, it should be noted that the sound is modern, warm and rich, so playing an acquired musical instrument is a pleasure.
Electronically speaking, this model features two DMT-designed active humbucker pickups with a 3-band EQ for plenty of versatility. The sound covers as much ground as there are genres in today's music.
The sound of this model covers a huge number of genres, so no matter what musical direction you choose, Dean Edge Pro will cope with all your needs.
5) Dean Edge Select
The Dean Edge Select is similar in many ways to the Dean Edge Pro, but its construction materials are significantly different. The body of this model is made of ash, burled poplar and maple center.
We also want to mention the fretboard with a 3-piece construction made of Pau Ferro and maple. And the neck of this model is made of walnut. It is this wood that significantly improves stability and warmth, and also gives the bass a superb and elegant finish that will not leave anyone indifferent.
The construction of this model is also premium, and the sound it produces is richer than any other Dean bass.
In principle, it is worth mentioning that the Edge Select series is designed to satisfy even the most demanding musicians. If you play this bass guitar at least once, you will see for yourself the quality and value of this instrument.
Other features you should be aware of include a HiMass bridge and the same DTM active humbucker pickups with a 3-band EQ. However, while the Dean Edge Select model is as versatile as possible, it leans more towards classic tones than modern rock.