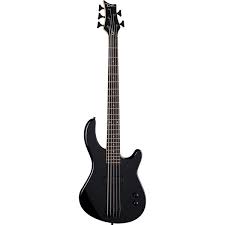 Dean Edge 09 5-String Bass: A Comprehensive Review
The world of bass guitars is as diverse and rich as the music they help create. Among the various options available, the Dean Edge 09 5-String Bass stands out as an affordable and accessible option for both beginners and seasoned players alike. This review will dive into the ins and outs of this bass guitar to give you a clear picture of what it offers.
Design and Build
The first thing that strikes you about the Dean Edge 09 5-String Bass is its sleek design. The body is made from basswood, a commonly used material in budget-friendly guitars due to its balanced tonal qualities and light weight. The body contours are ergonomically designed for comfort during long playing sessions, which is a significant advantage for beginners.
The neck is made from maple, a sturdy wood that can withstand the tension of the extra string. It has a C-shaped profile and a 35″ scale length. The longer scale length helps maintain proper tension on the low B string, ensuring it doesn't sound flabby or undefined. The fretboard is made from walnut and adorned with pearl dot inlays, contributing to the overall aesthetic appeal of the guitar.
Hardware and Electronics
The Dean Edge 09 5-String Bass features die-cast tuners and black hardware, adding to its sleek appearance. The bridge is a traditional adjustable style, allowing for easy intonation and action adjustments.
In terms of electronics, the Dean Edge 09 5-String Bass comes equipped with a single DMT Design humbucker pickup located near the bridge. While this may seem minimalistic, it delivers a surprisingly robust and punchy sound that works well for various music genres. The controls are quite straightforward, with only volume and tone knobs, making it easy for beginners to navigate.
Playability and Sound
One of the most critical aspects of any guitar, let alone a bass guitar, is its playability. The Dean Edge 09 5-String Bass shines in this aspect. The satin-finished neck feels smooth under the fingers, promoting fast and easy movement across the fretboard. However, the wider neck might pose a challenge for players with smaller hands or those transitioning from a four-string bass.
The low B string adds a new dimension to the bass' sound, extending its range and versatility. The sound of the Dean Edge 09 5-String Bass is impressive for its price point. The DMT Design humbucker pickup delivers a punchy and robust tone, suitable for rock, metal, jazz, and more. The basswood body contributes a warm and balanced tone, while the maple neck adds brightness and clarity.
Value for Money
Considering its features, quality, and performance, the Dean Edge 09 5-String Bass offers excellent value for money. It's one of the most affordable five-string bass guitars on the market, making it a great option for beginners looking to explore the world of five-string basses without breaking the bank.
Conclusion
The Dean Edge 09 5-String Bass is a fantastic entry-level instrument for those venturing into five-string bass territory. Its comfortable design, simple controls, versatile sound, and affordable price make it a worthy option to consider. While it may not match up to higher-end models in terms of features and sound quality, it holds its ground pretty well for its price point. Whether you're a beginner looking to dip your toes into the world of five-string basses or a seasoned player on a budget, the Dean Edge 09 5-String Bass is worth checking out.