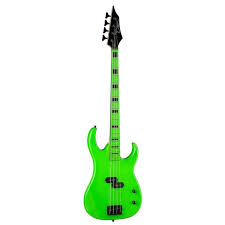 Dean Custom Zone Bass: A Thorough Review
In the world of bass guitars, the Dean Custom Zone Bass stands out as a unique and vibrant instrument that commands attention. Known for its striking neon colors and sleek design, this bass guitar is anything but ordinary. This review will explore the features, sound, and overall performance of the Dean Custom Zone Bass.
Design and Build
The Dean Custom Zone Bass sports a solid body made of basswood, a common choice for budget-friendly guitars due to its balanced tonal qualities and light weight. The standout feature of this bass is undoubtedly its design. Available in neon green and neon pink, it's a bold statement piece that's sure to turn heads on stage.
The maple neck, painted to match the body, has a C-shaped profile and a scale length of 34″, making it comfortable and easy to play. The fretboard is also made from maple and features black block inlays that add to the instrument's overall aesthetic appeal.
Hardware and Electronics
The Dean Custom Zone Bass comes equipped with black hardware that contrasts beautifully with the neon body. It features sealed die-cast tuners and an adjustable bridge, allowing for easy intonation and action adjustments.
When it comes to electronics, the Dean Custom Zone Bass keeps things simple with a single DMT Design split-coil pickup located in the middle position. Although this may seem minimalistic, it provides a warm, rich tone that can be shaped to fit various music genres. The controls are straightforward, with two knobs for volume and tone adjustment.
Playability and Sound
The Dean Custom Zone Bass scores high points in terms of playability. The satin-finished neck feels smooth under the fingers, promoting fast and easy movement across the fretboard. The basswood body is lightweight, reducing fatigue during long playing sessions.
The sound of the Dean Custom Zone Bass is surprisingly versatile for a bass at this price point. The DMT Design split-coil pickup produces a classic bass tone, full and punchy with a good balance between lows, mids, and highs. The basswood body contributes to a warm and balanced tone, while the maple neck adds brightness and clarity. Whether you're playing rock, funk, blues, or pop, this bass can handle it all.
Value for Money
Considering its features, quality, and performance, the Dean Custom Zone Bass offers excellent value for money. It's a reasonably priced bass guitar that doesn't compromise on sound or playability. While its bold design might not be for everyone, it's a perfect fit for players who want to stand out on stage.
Conclusion
Overall, the Dean Custom Zone Bass is a unique and reliable instrument that delivers in terms of sound, playability, and visual appeal. Its eye-catching design, combined with its versatile sound and comfortable playability, makes it a great choice for beginners and experienced players alike. If you're looking for a bass guitar that breaks the mold and commands attention, the Dean Custom Zone Bass is worth checking out.