Top Best Cheap Bass Guitars
Finding the right bass guitar can be quite tedious as there are so many things to remember. What musical style do you prefer? Which design do you like the most? What characteristics would you like to see in your guitar? How many strings do you need? Moreover, the market for bass guitars is as diverse as possible, so it will be quite difficult to study it on your own, even if you have been playing the guitar for several years. In case if you are a beginner musician, you will undoubtedly need help, since among the huge number of options it is quite difficult to find a quality model.
If your budget is limited, then the task becomes even more difficult. Not only do you need to choose a quality instrument that meets your desires and needs, but also an inexpensive model that will embody all the features you need. Want to explore the best budget bass guitars? In that case, our top is exactly what you need. We have analyzed the market of musical instruments and carefully studied the cheap bass guitars that are worthy of your attention. Here you will learn about the top cheap bass guitars that sound great, and choose the model that suits you best.
Top Best Cheap Bass Guitars
Here are our top picks: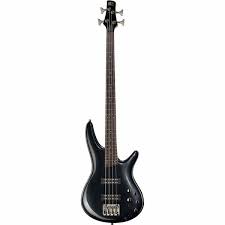 1)Ibanez SR300E
Body: Nyatoh
Neck: 5pc Maple/Walnut
Fingerboard: Jatoba
Pickups: PowerSpan Dual Coil (passive)
Scale: 34"
We decided to start our top good cheap bass guitars with a model that can cover a huge amount of possibilities in terms of musical styles. The Ibanez SR300E is an incredible model from a popular brand that often ranks at the top of cheap but good bass guitars as it is in the sub-$500 price range. Most likely you have heard about Ibanez at least once and know that this brand is a guarantee of quality.
If you're a fan of music styles like rock and metal, then you'll love the high output PowerSpan Dual Coil humbuckers that produce a trendy sound while maintaining note clarity.
However, we also want to draw your attention to the fact that with just one touch of a button, you can switch these pickups into single coil mode in order to get a more traditional sound and old school tones. What's more, the Ibanez SR300E also features a low-end enhanced single coil mode for amplifying bass frequencies. On top of that, you'll also get active EQ, so you can really play any tone you want.
We also rated the Ibanez SR300E as one of the best inexpensive bass guitars, as it has a very nice, sleek and lightweight body that makes playing as comfortable as possible, even if you prefer to practice standing up.
Apart from this, the guitar also has cutouts that allow you to comfortably access any fret on the fingerboard. It is impossible not to pay attention to the hardware, which is also of really good quality. This way you get a stable tuning as well as good intonation and resonance.
However, we would also like to draw your attention to the fact that this instrument is more modern, so if you were looking for a classic bass, the Ibanez SR300E might not be the best choice for you. However, in terms of tone, the guitar will certainly not disappoint you. So, if you are looking for one of the best affordable electric bass guitars, the Ibanez SR300E is sure to be your go-to.
2)Squier Classic Vibe '60s P-Bass
Body: Popular
Neck: Maple
Fingerboard: Indian Laurel
Pickups: Fender Designed Alnico Split Single-Coil
Scale: 34"
Speaking of inexpensive bass guitars, one cannot fail to mention at least one guitar from Squier. Most likely you know that this brand is a subsidiary of Fender, so they offer good quality at an affordable price. If you've been interested in Fender guitars before, you've most likely heard of the legendary Precision.
If you've always wanted to experience the classic sound of this model, then the Squier Classic Vibe '60s P-Bass is one of the best cheap good quality bass guitars you can find on the market.
This model will give you a sufficiently deep, warm and juicy tone, which will be especially distinct at mid frequencies.
If you are a fan of rock, funk, pop or country music, then this model will especially appeal to you due to its incredible sound, suitable for most musical styles. The Squier Classic Vibe Precision has a single pickup, with a volume and tone knob, which can also change the sound to a great extent.
Speaking of Squier, one can't help but notice the build quality which is fantastic. This model really creates the ultimate old-school atmosphere and offers you a unique, unmistakable sound.
So, if you are looking to get one of the cheap electric bass guitars, then the Squier Classic Vibe '60s P-Bass model is sure to be a great option for you.
3)Sterling SUB Ray4
Body: Basswood
Neck: Maple
Fingerboard: Hard Maple
Pickups: Ceramic Humbucker
Scale: 34"
Another one of the best budget bass guitars we would like to present to you is the Sterling SUB Ray4, a cheaper version of the Music Man Sterling. This model's only humbucker produces incredible bass tones, so you can play any musical style, from funk to rock.
So with this good affordable bass guitar you can really play a wide range of tones. On top of that, we also couldn't help but notice the on-board active EQ, which is great for tone shaping, allowing you to experiment with both high and low frequencies.
The slim neck profile will also impress you as it gives you easy access to all frets and suits almost any playing style. The Sterling SUB Ray4 has everything a bass player needs, regardless of preference. Interested in purchasing one of the top 10 budget electric bass guitars? Be sure to check out this model.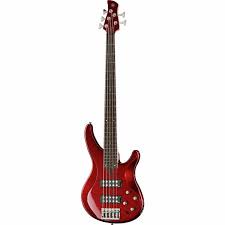 4)Yamaha TRBX 305
Body: Mahogany
Neck: 5-Piece Maple / Mahogany
Fingerboard: Rosewood
Pickups: Yamaha Ceramic HU
Scale: 34"
You probably know that Yamaha is one of the most popular musical instrument brands. It has been on the market for many decades and offers players quality durable guitars. However, the brand also makes great inexpensive bass guitars, so if you've always wanted a Yamaha instrument, the TRBX 305 is the best choice.
In addition, if you were looking for cheap bass guitars 4 strings, then this model will also suit you, since it is available in both 4 or 5 string formats. The Yamaha TRBX 305 has a mahogany body and curves in just the right places to make this instrument extremely comfortable for long playing sessions. Whether you prefer to practice sitting or standing, the slim neck profile is perfect for a variety of playing styles.
We would also like to note that this model is equipped with ceramic magnet-equipped pickups, which provide the most pure and deep sound and is suitable for most musical styles.
Whether you're looking for an overdriven bass tone or a clean sound, the Yamaha TRBX 305 does both. So, if you're looking for one of the best budget bass guitars that can handle a variety of genres, the Yamaha TRBX 305 is the perfect instrument for you.
5) Epiphone Thunderbird E1
Body: Mahogany
Neck: Maple
Fingerboard: Rosewood
Pickups: TB Plus Humbucker
Scale: 34"
The last of the best quality lowest price bass guitars that we present to you today is a true rock legend. It is the analogue of this model that many rock guitarists around the world prefer, so if you are a fan of this musical genre and are looking for one of the best bass guitars on a budget, you cannot pass by the Epiphone Thunderbird E1.
First of all, we would like to mention humbuckers, which will help you get great sound both clean and overdriven. In addition, you can not ignore the location of the second pickup in the middle (rather than closer to the neck), which also saves you from a dirty tone. In other words, the Epiphone Thunderbird E1 is one of those good cheap electric bass guitars that will surprise you with its versatility.
Moreover, this model not only sounds incredible, but also looks great, so if the appearance of a guitar is important to you, then undoubtedly Epiphone Thunderbird E1 should be your favorite among top cheap bass guitars.
The offset body makes this model recognizable and helps it stand out from the hundreds of other basses on the market. The Epiphone Thunderbird E1 is also known for its build quality, so despite being classified as cheap good bass guitars, it will last a long time.
Conclusion
Whether you're looking for cheap bass guitars with amps or best under $100 bass guitars, choosing the right instrument can be tricky. It is important to pay attention to the characteristics, as well as focus on your own desires and needs. We hope with our top best bass guitars for price, you found what you were looking for.