Top Best Bass Guitars With Thin Necks
You probably know that when it comes to specificity and size, bass guitars can be incredibly different. Now the market is replete with a huge number of options suitable for different people and their physiological characteristics. Many people have different body types and needs, so now you can literally find a model for every taste.
So, whether you are a beginner who is looking for an instrument to learn this or that musical style as quickly as possible, or a professional musician who wants to get a new model, it is very important to pay attention to my age, physique, features and skill level. A lot of beginner bass players, and especially children, get confused about mastering a full-size bass and realize that they are not interested simply because it is not convenient to play it. No wonder, since this bass was designed for the adult player! The same can be said about an adult who has small hands and tries to rehearse on a full-sized instrument. Why, when there are thinest bass guitars?
What Are the Benefits of Think Neck Bass Guitars?
If you know a little about thin neck bass guitars, then you understand that they have many advantages for a certain category of musicians. Below we will look at the main ones:
Note access. You probably know that a thinner neck will allow you to move from one note to another much more comfortably. This way you can use more complex bass lines without stretching your fingers too much. Also, if you like bass solos, then a thin neck guitar would be a great option for you.
Comfort. You probably also know that the bass guitar is one of the most difficult instruments to master. That is why it is important to minimize pain and discomfort during the game. Now there are a huge number of models with shorter scale or lightweight body on the market, which helps guitarists to avoid pain and achieve maximum comfort while playing.
However, do not forget that a bass guitar with a thin neck can be a salvation for some people, and a punishment for others. Thus, if you are a tall player with long fingers and large hands, then you will have too little room to play, and this guitar will most likely cause you discomfort. However, if you are short, have small hands with stubby fingers, or are buying a guitar for a child or beginner, a thin neck model might be a good option.
Top Best High End Bass Guitars
Here are our top picks:
1)StingRay Ray4 Bass Guitar
We decided to start our top bass guitars with thin necks with a model that not only has good quality, but is affordable for most guitar players – StingRay Ray4 Bass Guitar. First of all, we wanted to note that the case is made of sturdy basswood.
The guitar also features a Jatoba fretboard and a smooth neck built with long-lasting maple material, which means you can rehearse with maximum comfort even if you have small hands. If guitar design is important to you, then StingRay won't disappoint you either, as you can choose from a variety of vibrant colors – black, blue, white, brown, and ruby red.
Speaking of the Sterling by Music Man StingRay Ray4 Bass Guitar, we would also like to mention its size – 45 inches x 1.5 inches x 13.5 inches, which means that this model is somewhat larger than traditional Ibanez basses.
However, the weight of this guitar is roughly the same at 9 pounds. Because of the material, the body of the guitar provides a hardtail bridge system that offers maximum comfort and convenience for beginning players. It should be noted that Sterling brand guitars are much more compact than other brands.
The neck of these models is also smaller, so it is much easier to grip. So, if you are an aspiring musician or a guitarist dreaming of a thin neck due to small hands or other preferences, then the Sterling by Music Man StingRay Ray4 Bass Guitar might be a great option for you.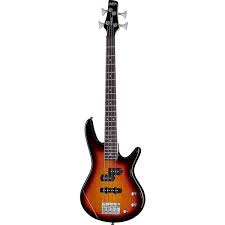 2)Ibanez GSRM20BS Bass Guitar
Whether you've been playing bass for a day or 10 years, you've 100% heard of a brand like Ibanez. This company is famous for its quality and durability of musical instruments, and the GSRM20BS is no exception.
We classify this model as the thinest bass guitars because it has a skinny neck, which is also lightweight, which is an ideal option for guitarists with small hands. It is this neck shape that allows you to comfortably grasp it and rehearse with comfort.
Talking about other characteristics of this model, it is worth noting that the Ibanez GSRM20BS Bass Guitar weighs only 6.9 pounds, and also has a surprisingly thin body – 39 inches x 11.5 inches x 2.3 inches.
In addition, its scale is shorter too, and is only 28.6 inches. It is this compact size that makes the guitar as convenient and comfortable for musicians with small hands as possible.
In addition, all Ibanez guitars, including the GSRM20BS, are made from the highest quality materials, so your guitar will last a long time, even if you play and travel a lot.
3) Fender Geddy Lee Signature Jazz Bass
Another guitar brand that we couldn't help but include in our list of the best thin neck bass guitars is Fender, which is also known around the world for good and quality instruments.
The Fender Geddy Lee Signature Jazz Bass is an incredible bass guitar that has a narrow neck and lighter weight which is great for small hands, beginners or shorter people.
Speaking of dimensions, the guitar measures 45 inches x 5 inches x 15 inches. Thus, this guitar is somewhat larger than the other models on our list, but at the same time, it is smaller than the standard bass guitar size.
Also Fender Geddy Lee Signature Jazz Bass is single-coiled and features a Leo Quan Badass II guitar bridge. In addition, we wanted to pay special attention to both smooth neck and the fretboard, which are made of high-quality maple material.
However, the guitar is affordable. So, speaking about high-quality and affordable slim neck bass guitars, one cannot pass by the Fender Geddy Lee Signature Jazz Bass.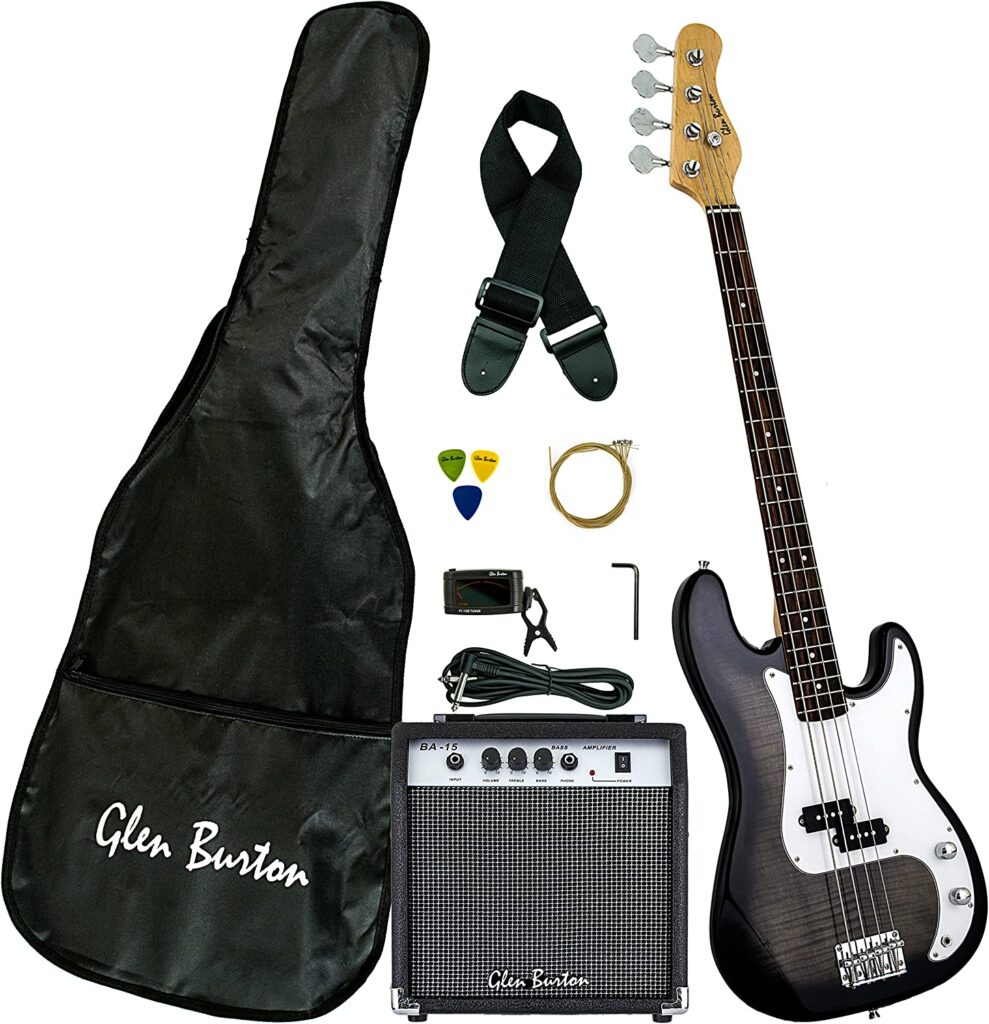 4)Glen Burton GB150BCO-BK Electric Bass Guitar Bundle
We couldn't help but add the Glen Burton GB150BCO-BK to our top bass guitars with small neck as this model comes with some extras that a beginner musician needs. If you purchase this model, you will receive a bundle with a bag, a strap, an amplifier, and a cable.
Also we should note that this model is a full-sized bass guitar, but it is still lighter than standard bass guitars as it weighs 18 pounds. Even though the guitar is made of solid wood, the model is still much lighter than standard basses.
In addition, the Glen Burton GB150BCO-BK Electric Bass Guitar Bundle has a narrower neck than the typical electric bass guitar. So, this model is one of the best bass guitars for beginners with thin necks that you can find on the market.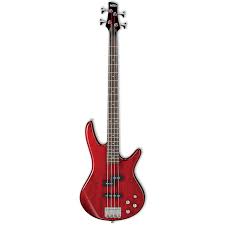 5)Ibanez GSR200TR Bass Guitar
The last of our list of bass guitars with ultra thin necks that we want to introduce you to is the GSR200TR Bass Guitar, another guitar from the Ibanez brand. The Ibanez GSR200TR Bass Guitar features a maple neck for maximum playing comfort. In addition, you have the opportunity to choose among 5 different distinct colors.
Speaking of this model's body, it weighs only 9 pounds and measures 40 inches x 3 inches x 12 inches. In addition, the Ibanez GSR200TR Bass Guitar has medium-sized frets and a thin neck that is easy and comfortable to hold.
Thus, whether you are a beginner guitarist or an experienced musician, this model will not disappoint you. In addition, this Ibanez model has an incredible sound and an affordable price, which makes it one of the best thin neck bass guitars for small hands.
Conclusion
The market now has huge thin bass guitars in all shapes and sizes, but finding the right one for you can be quite difficult. First of all, pay attention to its size, so that you can not only comfortably hold the bass, but also rehearse both sitting and standing. Also pay attention to the features you want to see in your instrument, the number of strings and the design, which can also be different.
We hope our list of the best bass guitars with small necks was useful for you and you found a model that meets all your desires and needs. Good luck!