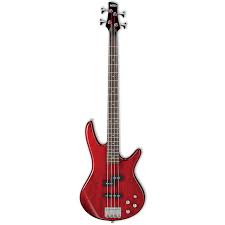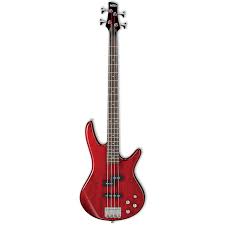 An In-Depth Review of the Ibanez GSR200TR Electric Bass Guitar
The Ibanez GSR200TR Electric Bass Guitar is an instrument that exemplifies the perfect blend of style, performance, and affordability. With its sleek and elegant design coupled with an impressive sound quality, it has managed to carve out a niche for itself in the world of bass guitars.
Right off the bat, the visual appeal of the GSR200TR is striking. The transparent red finish gives it a unique, vibrant look that is sure to grab attention. The guitar's body is made from mahogany, providing a robust structure that can withstand regular use while still maintaining its stunning appearance.
When it comes to playability, the GSR200TR doesn't disappoint. Its smooth rosewood fretboard and medium-sized frets make it comfortable for both beginners and experienced players. The neck, crafted from maple, is thinner than most traditional bass guitars, making it easier to navigate for those with smaller hands or those who prefer a faster playing style.
The hardware of the Ibanez GSR200TR is another area where this bass guitar shines. It comes equipped with two pickups – a split-coil Precision Bass-style pickup at the middle and a single-coil Jazz Bass-style pickup at the bridge. This combination provides a wide array of tonal possibilities, allowing players to effortlessly switch between mellow, rounded tones and more aggressive, punchy sounds.
One of the standout features of the GSR200TR is its Phat II active bass boost. This feature offers an additional low-end power, perfect for those moments when you want to add some extra thump to your sound. It's also worth noting that despite being an active system, battery life is surprisingly long-lasting, so you won't find yourself constantly needing to replace batteries.
As for the sound, the Ibanez GSR200TR truly excels. It delivers a warm, full-bodied tone that can easily fill a room. Whether you're playing slap bass, fingerstyle, or with a pick, the GSR200TR responds beautifully, offering a clear, well-defined sound that can cater to various musical genres.
In terms of value, the Ibanez GSR200TR offers a lot for its price point. It's a high-quality instrument that doesn't break the bank, making it an excellent choice for those on a budget or beginners looking for their first bass guitar. However, even more seasoned players will appreciate the GSR200TR's versatility and performance.
Of course, no product is without its flaws. Some users have reported needing to adjust the action upon receiving the guitar, as it can be a bit high. Additionally, while the lightweight nature of the GSR200TR is generally a plus, some players might prefer a heavier instrument for a more substantial feel.
In conclusion, the Ibanez GSR200TR Electric Bass Guitar is a fantastic instrument that marries aesthetics, functionality, and affordability. It's a versatile bass guitar that can adapt to various playing styles and genres, making it a worthy addition to any musician's collection. Whether you're a novice picking up your first instrument or a veteran looking to add to your arsenal, the GSR200TR is a choice you won't regret.