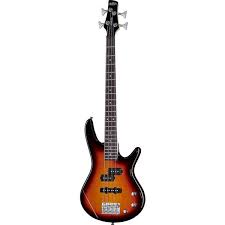 Unveiling the Majesty of the Ibanez GSRM20BS Electric Bass
The world of electric bass guitars is a vast, varied landscape filled with instruments that cater to every taste, playing style, and genre. Amidst this diverse field, one name that consistently stands out is Ibanez. Known for their innovative designs, superior craftsmanship, and a keen understanding of musicians' needs, Ibanez has produced some of the most iconic guitars in music history. Among these notable creations, the Ibanez GSRM20BS Electric Bass holds a special place. This review aims to delve into the intricacies of this remarkable instrument and why it's a must-have for any serious bassist.
Design and Build Quality
The Ibanez GSRM20BS Electric Bass, part of the brand's acclaimed Mikro series, is a testament to Ibanez's commitment to quality and aesthetic appeal. The bass comes in a beautiful brown sunburst finish that exudes a vintage charm, coupled with a sleek, compact design that makes it an eye-catching addition to any musician's collection.
The bass features a shorter-than-average 28.6″ scale length, which is perfect for younger players or anyone who prefers a more compact instrument. Despite its smaller size, it packs a punch when it comes to sound quality, thanks to the well-crafted agathis body and maple neck that provide excellent resonance and sustain.
Playability and Comfort
One of the key selling points of the Ibanez GSRM20BS is its playability. The slim, comfortable neck profile and the compact body make it easy to handle, especially for those with smaller hands or beginners still getting used to the instrument. The shorter scale length also reduces string tension, making it easier to press down on the strings and achieve clean notes.
The fretboard, made from treated New Zealand pine, is smooth and fast, allowing for speedy runs and complex fingerings. The medium frets are well-dressed, ensuring no sharp edges that could interfere with your playing comfort.
Sound Quality
When it comes to sound, the GSRM20BS does not disappoint. It features dual Ibanez-designed pickups – a split-coil neck pickup and a single-coil bridge pickup. This combination offers a wide range of tones, from deep, rumbling lows to bright, punchy highs.
The bass also includes a two-band EQ, allowing you to tweak your sound to suit different playing styles and genres. Whether you're laying down a funky groove, driving a hard rock rhythm, or exploring the melodic possibilities of the bass, the GSRM20BS delivers a tonal versatility that can handle it all.
Durability and Reliability
Ibanez instruments are known for their durability, and the GSRM20BS is no exception. The solid construction, quality materials, and meticulous attention to detail ensure that this bass can withstand the rigors of regular playing, whether at home, in the studio, or on stage.
The hardware, including the B10 bridge and die-cast tuners, is robust and reliable, providing stable tuning and intonation. With proper care and maintenance, the GSRM20BS is an instrument that you can count on for years to come.
Value for Money
Considering its high-quality construction, superb playability, and impressive sound, the Ibanez GSRM20BS offers excellent value for money. It's an affordable instrument that doesn't compromise on quality, making it a great choice for beginners looking for their first bass, as well as seasoned players seeking a reliable backup or travel bass.
Conclusion
In conclusion, the Ibanez GSRM20BS Electric Bass is a formidable instrument that punches well above its weight class. Its compact size, comfortable playability, and versatile sound make it a joy to play, while its robust build and attractive design make it a worthy addition to any bass collection. Whether you're a beginner venturing into the exciting world of bass guitar or a seasoned pro looking for a reliable workhorse, the GSRM20BS is a choice you won't regret.