Best Acoustic-Electric Guitars For Beginners
Thinking about buying an electric acoustic guitar? Most likely, this is a rather joyful event for you, as the new tool opens up new opportunities and perspectives. The sound of an acoustic guitar warms with its warmth and is an indispensable co-creator of comfort for guitarists, and the added electronics make the guitar suitable for stage performances as well. It is also worth noting that the presence of electronics in your guitar will be a definite advantage if you plan to record your guitar. Thus, an electro-acoustic guitar is a kind of balance between a comfortable cozy sound and a bright electric sound.
When choosing an instrument, it is important to remember that the guitar should first of all be of high quality and easy to play. Moreover, it should look good and sound right for the style you choose, as each genre has its own characteristics. Of course, not all electro-acoustic guitars are the same, and each has its own characteristics that are important to pay attention to. If you are a beginner, then it will be quite difficult for you to see the details and choose the rules of a musical instrument on your own, so our top best beginner acoustic electric guitars is exactly what will help you dispel doubts and choose the right instrument.
Best Acoustic-Electric Guitars For Beginners
Here are our top picks: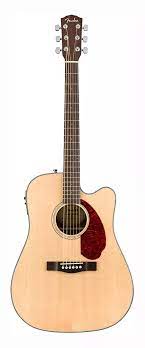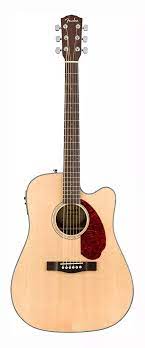 1)Fender CD 140SCE
Even if you're new to the world of guitars, you've no doubt heard of the guitar brand Fender. It has long been associated with people with a guarantee of quality, and this model, in addition, is very affordable.
So if you have a budget of $400 or less to buy a guitar, then the Fender CD 140SCE will be your absolute favorite (if your budget is even smaller, you can also look at the cheaper Fender CD-60CE).
This electric acoustic guitar is of good quality and has a nice natural sound, which is why it ended up in our best acoustic/electric guitars for beginners to intermediate.
This guitar is good enough for those players who are just starting out and have not yet decided on the musical style that suits them the most, as it is quite versatile. You can play both acoustic and plugged-in, giving you more sonic possibilities to experiment with.
This guitar has a single cutaway dreadnought body style and a solid mahogany top to give you a decent tone. It is also equipped with Frishman Presys electronics, which will also give you the opportunity to experiment with more electronic sounds. If you are a beginner and don't know which electric acoustic guitar to choose as your first guitar, the Fender CD 140SCE is exactly what you need.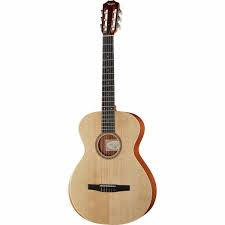 2) Taylor Academy Series 12e
If you wanted to know the answer to the question of what is the best electric acoustic guitars for beginners, then the Taylor Academy Series 12e would undoubtedly be our favorite.
It's more expensive than most competitors, but the $800 price tag is still affordable for any level of musician. However, in terms of playability, performance and comfort, this is the number one guitar for beginners, which will not only have good quality, but also a decent sound.
Taylor designed the guitar in such a way that it is ideal for the player who is just starting out. The slim neck profile provides a comfortable grip, and an arm rest creates accessibility for literally everyone.
It is impossible not to pay attention to the shorter scale and low action, which is ideal for a beginner. This model has solid Sitka spruce top and back and sides made of layered sapele.
The neck is maple and the fingerboard is ebony and contains 20 frets. Speaking of electronics, this is a perfectly built-in Taylor ES-B that would be great for live performance as well. The Taylor Academy Series 12e is the perfect first guitar at an affordable price that won't leave any beginner indifferent.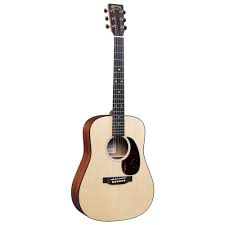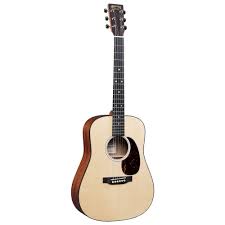 3)Martin DJr-10E
Our list of best begginner electric acoustic guitars would also be incomplete without the Martin DJr-10E – a guitar that, in addition to a beautiful design, has a number of significant advantages.
First of all, I would like to say that Martin is a world famous brand that offers a smaller guitar size without deforming the sound. The user-friendly design of the tool is well suited for beginners who need a lot of practice. Moreover, it is worth noting that the Martin DJr-10E is a perfect example of value for money, as it costs only $600 but still offers everything a beginner needs and even more.
The first thing that distinguishes this model from its competitors is the highest sound quality, which is one of the most important factors when choosing a musical instrument.
Also, the construction of the guitar is quite durable, so the instrument stays in tune for a long time. This is very important for beginners, who at first obviously do not want to mess with tuning every few days.
Most likely this guitar will not offer the best sound quality when amplied, but for a beginner this is not important, because it is unlikely that after a couple of guitar lessons he will decide to put together his own concert. However, the Fishman's built-in electronics still provide good sound in the home and provide plenty of volume.
So, if you are looking for a compact guitar for a beginner player, then you should definitely pay attention to the Martin DJr-10E, if only because of its pleasant sound and beautiful appearance.

4)Ibanez PF Series PF15ECE
This guitar is one of the most affordable on our list at just $200, so if your budget for a new electric guitar is low, this is the best option the market has to offer.
First of all, it is worth noting that this is a full-size guitar, which is not always suitable for a child or young player. However, Ibanez is one of the top guitar brands in the world, so they have gone to great lengths to make this guitar as comfortable to play as possible.
What's more, the Ibanez PF Series PF15ECE is sure to last you a long time as its construction makes the guitar resistant to climate and environmental effects.
This guitar features a spruce top and mahogany back and sides for a warm and pleasant acoustic sound. Thus, it will always delight you with a worthy slightly vintage sound.
Speaking of electronics, the guitar is equipped with a Fishman Sonicore pickup so you can also experiment with electric sounds. The Ibanez PF Series PF15ECE is one of the best choices if you want a good quality full size guitar right from the start and the price of this model is a nice addition to your decision.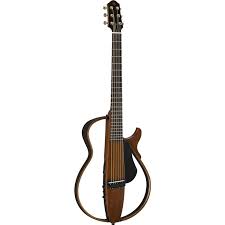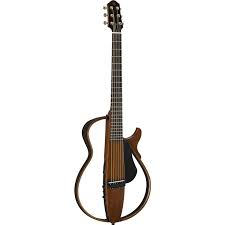 5)Yamaha SLG200S Silent Guitar
Rounding out our best beginner acoustic/electric guitars list is the no less legendary Yamaha SLG200S Silent Guitar, which will amaze you not only with its appearance, but also with its unique sound.
If you want to buy a guitar that will attract attention and collect enthusiastic exclamations, then this model is exactly what you need. Its appearance is truly unique and will attract you to spend more time with the instrument.
The first, and perhaps the most noticeable difference between this guitar and all those listed is its bodiless design. However, it carries not only a decorative function, but also makes this musical instrument 80% quieter than a traditional acoustic guitar.
This will be a great advantage for those who want to exercise at any time of the day and not disturb their parents, partner or neighbors.
The $700 price tag is likely to be a bit high for a beginner, but if you have the money, trust us, it's worth it. It has an incredibly beautiful translucent black finish that can no longer attract attention.
Also, it will be an ideal tool if you travel often, as its design is quite light. What's more, the investment in this guitar is worth it as you can use it throughout your career, even when you become a virtuoso guitarist, as the sound quality is decent enough.
The Yamaha SLG200S Silent Guitar is a versatile guitar that is extremely easy to transport and store, and quiet enough to practice at any time of the day. Moreover, if you are looking for an interesting design, then it will definitely be your best choice.
Conclusion
Choosing your first guitar is never an easy task, especially if you are a beginner and don't know what features to look for and what style of music you prefer. However, any of our Top 5 Acoustic Electric Guitars would be a great place to start your musical journey. us the most pleasure. We hope you liked our top best electric guitars for jazz and you were able to choose a model that will help you bring the best jazz masterpieces to life.