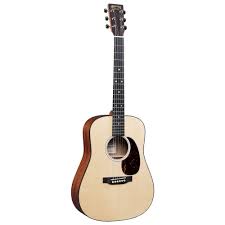 Martin DJr-10E Guitar Review: The Perfect Acoustic-Electric for Every Player
The guitar world has been graced with countless exceptional instruments over the years, but few can match the quality and prestige of a Martin. Known for their exquisite craftsmanship and unparalleled sound, Martin guitars have long been the go-to choice for musicians of all levels. One such gem in their lineup is the Martin DJr-10E, an acoustic-electric guitar that packs a punch despite its smaller size. In this comprehensive review, we will explore the ins and outs of the DJr-10E, discussing its features, playability, and sound to help you decide if it's the right guitar for you.
Design and Features
The Martin DJr-10E is a part of the company's Road Series, which focuses on offering affordable, high-quality guitars for gigging musicians and those constantly on the move. It sports a 14-fret dreadnought junior body shape, making it slightly smaller than a standard dreadnought. This compact size makes it an excellent choice for younger players or those who prefer a more comfortable playing experience.
The top of the DJr-10E is made from solid Sitka spruce, which is known for its broad dynamic range and excellent projection. The back and sides are crafted from sapele, a tonewood with similar properties to mahogany. This combination provides a well-balanced sound with a warm and rich tone.
The neck is constructed from select hardwood and features a high-performance taper, making it comfortable to play for extended periods. The fingerboard and bridge are made from FSC-certified Richlite, an eco-friendly alternative to ebony that offers excellent durability and feel. The guitar also features a hand-rubbed natural oil finish, giving it a sleek and modern appearance.
One of the standout features of the DJr-10E is its Fishman Sonitone electronics, which allow you to plug into an amplifier or PA system for amplified performances. The preamp is discreetly mounted inside the soundhole, with easy-to-access volume and tone controls. This setup ensures that the guitar maintains its natural acoustic sound when amplified, without the need for any external pickups or microphones.
Playability
The smaller body size of the Martin DJr-10E makes it incredibly comfortable to play, especially for those with smaller hands or who struggle with larger dreadnought guitars. The high-performance neck taper also contributes to the guitar's playability, making it easy to navigate the fretboard and perform complex chord shapes.
The action on the DJr-10E is set up perfectly out of the box, with no buzzing or dead spots. This allows for smooth and effortless playing, whether you're strumming chords or picking out intricate melodies. The Richlite fingerboard feels fantastic under the fingers, providing a smooth and fast playing surface.
Sound
The Martin DJr-10E truly shines when it comes to sound quality. The solid Sitka spruce top and sapele back and sides create a well-balanced tone with a warm and rich character. The guitar projects surprisingly well for its size, offering plenty of volume and sustain.
The bass response is tight and focused, while the midrange is clear and defined. The treble frequencies are crisp and articulate, allowing for excellent note separation and clarity. The guitar's overall tonal balance makes it suitable for a wide variety of playing styles, from fingerpicking to flatpicking and everything in between.
When plugged in, the Fishman Sonitone electronics do an excellent job of preserving the guitar's natural acoustic sound. The preamp provides a clean and transparent signal, with no harshness or artificial coloring. The volume and tone controls allow for easy adjustments on the fly, ensuring that your amplified sound is always dialed in perfectly.
Pros and Cons
Pros:
Compact and comfortable body size
High-quality craftsmanship and materials
Excellent playability with a smooth neck and low action
Well-balanced and rich acoustic sound
Fishman Sonitone electronics for amplified performances
Cons:
Some players may prefer the sound and feel of a larger dreadnought guitar
Richlite fingerboard may not be to everyone's taste, although it is an eco-friendly alternative to ebony
Conclusion
The Martin DJr-10E is an exceptional acoustic-electric guitar that offers outstanding playability, sound, and craftsmanship at an affordable price point. Its smaller body size makes it comfortable to play for extended periods, while its solid Sitka spruce top and sapele back and sides provide a well-balanced and rich tone. The Fishman Sonitone electronics ensure that the guitar's natural sound is preserved when amplified, making it perfect for gigging musicians or those who need a versatile instrument for both practice and performance.
Whether you're a beginner looking for a high-quality guitar to start your musical journey, or a seasoned pro searching for a reliable workhorse, the Martin DJr-10E is sure to impress. With its combination of comfort, sound, and quality, this guitar is a fantastic choice for players of all levels and styles.