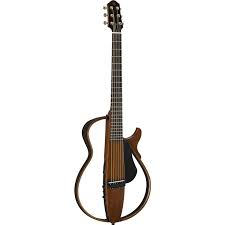 Yamaha SLG200S Silent Guitar Review: The Ultimate Practice and Performance Instrument
As a guitarist, you know how important it is to have a quality instrument that's not only easy to play but also sounds great. This is especially true when you're practicing or performing in situations where noise levels need to be kept at a minimum. Enter the Yamaha SLG200S Silent Guitar – a unique, innovative instrument designed to provide the best of both worlds: excellent playability and superb sound while being nearly silent. In this in-depth review, we'll cover everything you need to know about this extraordinary guitar and why it might just be the perfect addition to your collection.
Design and Construction
The first thing you'll notice about the Yamaha SLG200S is its striking design. The guitar features a sleek, modern appearance that's sure to turn heads wherever you go. The body is made from a combination of mahogany and rosewood, which not only gives it a beautiful aesthetic but also contributes to the overall tone and resonance of the instrument.
One of the most distinctive features of the SLG200S is its collapsible frame, which makes it incredibly portable and easy to store. The detachable top section can be easily removed and reattached, allowing you to pack the guitar into a compact carrying case for travel or storage. This is particularly useful for musicians on the go or those with limited space at home.
The neck of the SLG200S is constructed from mahogany and features a slim, comfortable profile that's perfect for players of all skill levels. The fingerboard is made from rosewood and boasts 22 frets, offering a full range of notes to explore. The guitar also features die-cast tuners, ensuring stable tuning and smooth operation.
Sound and Electronics
While the Yamaha SLG200S may look like a futuristic piece of art, it's still very much a guitar at heart. The instrument is equipped with Yamaha's proprietary SRT (Studio Response Technology) system, which uses advanced digital signal processing to simulate the natural acoustic properties of a traditional guitar. This means that you can enjoy rich, full-bodied tones without the need for an external amplifier or speaker.
The SLG200S features a piezo pickup located under the saddle, which captures the vibrations of the strings and sends them to the SRT system for processing. The result is a highly realistic, dynamic sound that can be tailored to your preferences using the onboard controls. These include a master volume control, a blend knob for adjusting the balance between the direct string sound and the SRT-processed signal, and a three-band EQ for shaping your tone.
Additionally, the SLG200S offers a built-in tuner, making it easy to keep your instrument in tune at all times. There's also an auxiliary input, allowing you to connect an MP3 player or other audio device to play along with your favorite tracks.
Playability and Comfort
The Yamaha SLG200S has been designed with the player in mind, offering excellent playability and comfort. The slim neck profile makes it easy to navigate the fretboard, while the lightweight body ensures that you won't experience any fatigue during long practice sessions or performances.
One of the standout features of this silent guitar is its near-silent operation. When played unplugged, the SLG200S produces very little sound – perfect for practicing in apartments, hotel rooms, or other situations where you need to keep noise levels down. However, when you plug in headphones or connect the guitar to an amplifier, you'll be treated to a rich, full sound that rivals that of a traditional acoustic guitar.
Pros and Cons
Pros
Innovative design and construction
Excellent playability and comfort
Near-silent operation
High-quality sound and versatile electronics
Portable and easy to store
Cons
May not be suitable for those who prefer the look and feel of a traditional acoustic guitar
Slightly higher price point compared to other practice guitars
Conclusion
The Yamaha SLG200S Silent Guitar is an exceptional instrument that offers a unique combination of design, playability, and sound quality. Its near-silent operation makes it perfect for practicing in noise-sensitive environments, while its advanced electronics ensure a satisfying playing experience. If you're looking for a versatile, great-sounding guitar that's easy to transport and store, the SLG200S is well worth considering. Whether you're a beginner or a seasoned pro, this innovative instrument is sure to become a favorite in your collection.