TOP Best Acoustic Guitar Amps
The acoustic guitar has a unique and inimitable sound, which is why most musicians prefer this particular instrument. However, while an acoustic guitar sounds great, the volume may not be enough. For example, if you're playing in front of an audience or in a large group, chances are an amplifier can be a great option to help your guitar really sound.
Of course, you can also use an amplifier for electric guitar, but now the market is huge, so you can also find an amplifier completely designed for acoustic guitar. In our guide you can find top acoustic guitar amps that will suit your desires and needs.
What to Look for When Choosing The Best Acoustic Guitar Amps?
As already mentioned, you can also use a regular electric guitar amp, but this is not the same. Unlike conventional amplifiers, acoustic players don't need anything to shape their entire tone. However, often people buy an electric guitar because it sounds great even without amps. So, instead of shaping the tone, you need an amplifier that can store the existing tone and make it louder (while maintaining the sound). In the world of acoustic guitars, the key is simplicity and clarity of tone.
Among other things, acoustic guitar amplifiers also differ in shape, since each of these amplifiers is a combo, which means that the speaker is built into the device. This will be a great advantage for any acoustic musician as he does not have to carry around a huge amount of equipment.
When talking about the power that the best small acoustic guitar amps should have, it is worth considering the specific situation. If I do not plan to perform on stage yet, prefer a simple home rehearsal, then an amplifier with a power of no more than 20-30 watts will be more than enough. However, if you are planning to perform in small or medium venues, we recommend that you buy amplifiers of 50-60 watts or more. It is also worth noting that top rated acoustic guitar amps have a set of built-in effects, such as compression, modulation, reverb, and so on.
Top Best Acoustic Guitar Amps
Now, after you have learned what points you should pay attention to, we would like to present you the best inexpensive acoustic guitar amps on the market at the moment: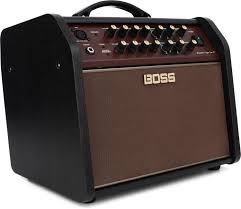 1) Boss Acoustic Singer Live LT
Price: $399
Output: 60W
Number of channels: 2
Speaker: 1x 6.5″ woofer 1x 1″ high-frequency tweeter
Weight: 10.2kg/22.5lbs
Dimensions (h/w/d) : 13.2" x 14.4" x 10.69"
Key Features: Bi-amp design for vocals and guitar, discrete analogue inputs, independent 3-band EQ for each channel, Mic Channel effects (Enhance, delay, echo, reverb), Guitar Channel effects (delay, chorus, reverb), phase switch, notch filter, tilt-back cabinet, aux in w/level control, XLR DI jack and phones/recording output, USB, Boss FS-6 footswitch
If you have ever looked at acoustic guitar amps reviews, you have probably noticed such an amplifier as the Boss Acoustic Singer Live LT.
It is important to note that the Acoustic Singer series is very popular due to its bi-amp format and excellent design. Moreover, the Boss Acoustic Singer Live LT is an excellent example of value for money. Thus, if you want to know the answer to the question of who makes the best acoustic guitar amps, then definitely pay attention to Boss.
Boss Acoustic Singer Live LT was first introduced to the market in 2017 and already then won the title of one of the best rated acoustic guitar amps. The current version of this amplifier, released in 2020, has less to say and a more affordable price.
It also has all the features that make it ideal not only for rehearsals at home, but also for live performances. For example, look out for a vocal enhance feature that adds charm to your voice. Apart from this, you will also be able to get an echo, delay and reverb.
What's more, you can effortlessly change your acoustic tone with a trio of acoustic responses. Not to mention, the guitar channel has anti-feedback control, and also chorus, delay and reverb while both have their own 3-band EQs.
2) Fender Acoustic SFX
Price: $899
Output: 160W (2x 80W stereo)
Number of channels: 2
Speaker: 8″ speaker, 6″ side-radiating speaker, 1″ compression driver horn
Weight: 11.3kg/25lbs
Dimensions (h/w/d): 19.5" x 17.5" x 10.5"
Key Features: 2 x XLR-1/4″ combo inputs (instrument or microphone), 16V phantom power on mic input, XLR out, headphones out, Reverb, Delay, Chorus, Vibratone, Stereo Field Expansion technology, footswitch (sold separately)
No top acoustic guitar practice amps is complete without at least one amp from a well-known brand like Fender. First of all, we would like to note that the Fender Acoustic SFX is somewhat different from other amplifiers due to its retro modernist appearance. Thus, it will perfectly complement your interior and look good no matter where you perform.
However, the Fender Acoustic SFX makes it to our best guitar amps for accoustic list for a reason. It differs from other two-channel amplifiers thanks to Stereo Field Expansion tech.
It has 2 channels with combo inputs that can be used with a 1/4" instrument Jack or an XLR microphone input. In addition, the Fender Acoustic SFX has a three-band EQ, reverb, effects level, volume and phase control. What's more, you can also take advantage of effects such as stereo chorus and a digital Fender Vibratone effect.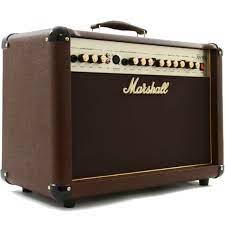 3) Marshall AS50D Acoustic
Price: $349
Output: 50W
Number of channels: 2
Speaker: 2 x 8″ Celestion, 1 x tweeter
Weight: 16kg/35lbs
Dimensions (h/w/d): 16.3" x 21.7" x 10"
Key Features: Independent 2-band EQ per channel, chorus, reverb, phase, anti-feedback sweep and notch filter, effects loop, DI out, line out, 2x 1/4" instrument inputs, 1x aux-in, 1x XLR, footswitch
Another amp that should definitely be on our list of best amps for an acoustic guitar is the Marshall AS50D Acoustic, an amp ready for both home rehearsals and stage performances. This amp is two channel and has independent bass and treble controls for both of them. Among other things, it also has a dedicated DI/line out for going straight to the PA.
Marshall AS50D Acoustic will also be one of the best affordable accoustic guitar amps for those who like to use multiple acoustic effects. Since the reverb in this amp is global, you will be able to pan the reverb and the balance of the parallel effects loop to either channel.
4) VOX VX50AG Acoustic
Price: $229
Output: 50W
Number of channels: 2
Speaker: 1×8" coaxial, 1x tweeter
Weight: 4.1kg/9lbs
Dimensions (h/w/d): 9.63" x 12.56" x 8.81"
Key Features: Nutube preamp, chorus, reverb, independent 3-band EQ per channel, volume with clipping warning, headphones and line out, aux in, phase switch on instrument channel, phantom power on mic
The VOX VX50AG Acoustic is the best acoustic guitar amps under 500 at just $229, but it won't disappoint you with both sound and looks.
First of all, we would like to note that it is quite light, and also has independent three-band EQs for both channels. Also VOX VX50AG Acoustic is equipped with chorus and reverb on the dial for a quick splash.
However, this amplifier belongs to accoutic guitar best rated amps primarily due to the Nutube preamp which operates like a triode valve but also can be applied in small devices. The VOX VX50AG also articulates nicely and is loud enough to make your tone as bright as possible.
5) AER Compact 60 MkIV
Price: $1,199
Output: 60W
Number of channels: 2
Speaker: 1x 8″ twin-cone
Weight: 7.1kg/15.6lbs
Dimensions (h/w/d): 10.20" x 12.80" x 9.25"
Key Features: 3-band EQ (Channel 1), 2-Band EQ (Channel 2), Color switch for mid-cut/treble-boost filter, digital fx (2x reverb, chorus, delay), headphones/line/DI out , external effects loop, 48V/9V phantom power, footswitch
Last on our best sounding acoustic guitar amps list is the AER Compact 60 MkIV, which could also be included in the small acoustic guitar amps list due to its light weight.
It is the most expensive on our list and is considered a favorite of professional musicians for its clear transparent sound, performance and reliability. Also, thanks to the power of 50 watts, you can use it both at home and at concerts.
Speaking of specific features that make it one of the best rated pratice acoustic guitar amps is the color switch that can cut the low-miss and boost the highs.
Moreover, transparency is still its main advantage. Also note that the AER Compact 60 MkIV is equipped with an auxiliary input with level control, a pre/post FX switch and 9V phantom power on channel 1.