TOP Best Beginner Amps For Electric Guitars
All great musicians have been beginners at some point and didn't know what guitar or amp to pick for practice. However, an important addition is that in their time there were not so many different options, so they learned from what they have. However, now the market is replete with various models, so it is quite difficult for a beginner to choose the most suitable amplifier for himself. If you are a beginner who is looking for the best beginner electric guitar amps, then we understand how difficult it is for you, since you have no idea what characteristics to focus on. However, we are here to help!
First of all, we would like to draw your attention to the small and medium size amplifiers, as they will be the best guitar amps for beginners. At the initial stage, you will not need a huge monster for performances for concerts, so a small model for practicing at home will be enough. In addition, the amplifier must have a high-quality sound. If you are just starting out in the world of music, then you should know that a good amplifier is more important than a good guitar, as it is what makes it sound. That is why the best beginner guitar amps should have good sound, versatility and a compact size for playing at home.
Top Best Beginner Amps For Electric Guitars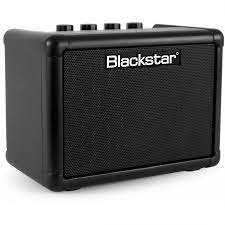 1) Blackstar Fly 3 Bluetooth
The model that opens our top guitar amps for beginners is the Blackstar Fly 3 Bluetooth. We started with this because Blackstar is one of the most popular amp manufacturers on the market that not only sound good but also looks good.
First of all, we would like to note that this amplifier weighs less than 1 kg, but at the same time provides amazing volume thanks to its 3 inch speaker. As such, it's light enough to be moved around and has a volume that's more than enough for rehearsals at home.
Other than that, the Blackstar Fly 3 Bluetooth is a good guitar amps for beginners as it has two channels to ensure you can alternate between rich and subtle sounds. It is also impossible not to pay attention to the presence of the delay effect, which helps to significantly round the sound.
Another integral part of this model is bluetooth, which will allow you to jam with your favorite tracks, which will surely become a new favorite hobby for any beginner.
Thus, Blackstar Fly 3 Bluetooth is one of the best electric guitar amps for beginners as it is small and light, offers good sound volume and Bluetooth is more than enough.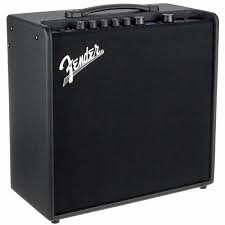 2) Fender Mustang LT50
No top entry level guitar amps would be complete without an amp from Fender, a brand that has established itself for many years and still remains one of the best-selling on the market. Although the Fender Mustang LT50 is classified as a single channel, it actually has 20 different amp sounds and a good quality effects package.
Also, if you are looking for a powerful amplifier, then the Fender Mustang LT50 will be one of the best starter guitar amps, as its power is 50 watts, which is enough not only for rehearsals at home, but also for performing at a concert.
Speaking of the Fender Mustang LT50 as an amps for beginner electric guitar, it should be noted that it has delay and modulation effects as well as a 1×12" speaker.
It can take up more space than the previous model since the total weight is almost 9 kg. So, if you are looking for the best inexpensive guitar amps for beginners, then buy Fender – it will definitely not leave you indifferent.
If you are looking for the simplest possible good electric guitar amps for beginners, which is not overloaded with a lot of effects and functions, then Orange Crush 20 is exactly what you were looking for.
It is one of the best starter guitar amps as it uses all analog circuitry and focuses on playing two sounds to the best of its ability. In this way, you will learn a simple clean classical sound, which is ideal to have at the initial stage.
However, do not underestimate the Orange Crush 20. It is still one of the best starting guitar amps as it is extremely versatile and suitable for any genre. It is also worth noting that it has 2 channels – dirty and clean, which can reproduce absolutely everything, from a dirty rock tone to the most simple clean sound.
So, if convenience and simplicity are important to you, then Orange Crush 20 will be your good practice guitar amps for beginners.
4) Boss Katana 50 MKII
Our list of best sounding simple guitar amps would also be incomplete without one amp, which many consider to be one of the world's best modeling amps for beginners, and that is the Boss Katana 50 MKII.
First of all, it is worth noting that it belongs to one of the good beginner guitar amps, as it was created by the Boss brand – one of the most famous in the guitar industry. It cannot be called basic guitar amps as it has 5 different amp voicings and includes 60 different effects, so there is something for everyone.
Moreover, speaking of good starter amps for guitar, Boss Katana 50 MKII has a number of additional features that will not leave you indifferent. These include a USB PC interface that will allow you to record to your computer, and 50 watts of power.
This power is often enough even to perform, so when you decide to put together a group you do not have to buy a new amplifier.
5) VOX VX15 GT
Our top starter electric guitar amps round out an amp that will stand out from everyone else on this list, and that's the VOX VX15 GT. Instead of the standard design offered by other models, it opts for an ultra-lightweight sealed cabinet made of ABS and has a bass-reflex design.
It is because of this that the tone you get from the VOX VX15 GT has the nice tight low end that many aspiring musicians are looking for.
This model has also earned its place in our list of best electric guitar amps for beginners, as it has a fairly large range of built-in sounds, from vintage to metal.
Therefore, no matter what musical style you prefer, the VOX VX15 GT will be good for any of them, as it is as versatile as possible. It has 15 watts of power, which is more than enough for home rehearsals, and 1x 6.5" speaker will provide you with decent sound quality.
So, if you are looking for a beginner guitar amps with effects, then you should definitely pay attention to the VOX VX15 GT as it meets all the needs of a beginner guitarist.
---
What to Look for Before Buying Beginners Electric Guitar Amps?
When it comes to choosing beginner amps for guitar, many beginner guitarists get lost and have no idea what to look for. Of course, when purchasing your first guitar chain, you want the best bang for your buck. That's why it's important to find an amplification that will give you all the sounds you need, be loud enough for rehearsals, give you some effects to experiment with, and look good.
It is important to note that top entry level guitar amps are always brand name amps. They have already shown themselves on the market as reliable and high-quality, so they can be trusted. Our top good beginning guitar amps includes trusted brands that are sure to be a good start for any beginner. However, of course, in order to choose the best basic guitar amp, we advise you to think about your own needs. What size amp is right for you? What sound do you want? Do you need effects and a headphone jack? After analyzing your desires, it will be much easier for you to decide on the best quality starter guitar amps.
How Loud Should My Entry Level Guitar Tube Amp Be?
Of course, if you're a beginner looking for entry level guitar amps, there's no need to buy a loud guitar amp as you won't have anywhere to use it. 100 watt guitar amps are good for gigs, but for home practice, 15-20 watts will suffice. If you are planning to play in the near future and are looking for a budget guitar amps for rock beginner, you can get a model up to 50 watts. We've included a few loud models in our top beginner electric guitar amps in case you're rehearsing with a band, but as mentioned, a little power is enough to play at home.