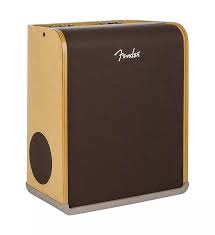 Fender Acoustic SFX: A Comprehensive Review of Its Pros and Cons
If you're a musician who wants to own an amplifier that can deliver excellent sound quality for your acoustic guitar, then you'll want to check out the Fender Acoustic SFX. This amplifier is great for live performances as well as for home practice. It comes packed with an array of features that cater to your exact needs as a player. However, before making your purchase, it's essential to know the pros and cons of this amplifier model. That's what this blog is all about – providing you with a comprehensive Fender Acoustic SFX review.

Design and Build Quality
The Fender Acoustic SFX comes with an elegant design and build quality that beautifully complements your guitar. It has a wood cabinet that not only makes it more aesthetically pleasing but also contributes to the well-rounded tone of the amplifier. The overall construction quality is excellent, with all components fitting nicely together. The dimensions stand at 16.5 x 19.5 x 10.5 inches and weigh around 27 pounds. It may not be as portable as other small-sized amplifiers, but the Fender Acoustic SFX makes it up for its superior built quality.

Sound Quality
The sound quality of the Fender Acoustic SFX is otherworldly, to say the least. It comes packed with a 2-channel preamp that offers plenty of options for tone shaping. This amplifier uses Fender's Stereo Field Expansion technology, which delivers a stereo soundstage that enhances the richness of the music. The 8-inch speakers and the built-in effects (reverb, chorus, delay) leave no stone unturned when it comes to producing top-notch sound quality. Even at high volume, the sound remains crystal clear and free of distortion.

Ease of Use
The Fender Acoustic SFX is one of the most intuitive amplifiers to use in the market. It combines analog controls with a digital display, making it easy to navigate through the options. The knobs provide smooth and precise adjustments to your preferred settings, and the LCD display shows all your settings at a glance. The Fender Acoustic SFX also features an easy-to-use feedback eliminator that isolates any unwanted feedback and keeps your sound intact.

Pros:
– Delivers exceptional sound quality
– Aesthetically pleasing design and top-notch construction quality
– Two-channel preamp with tons of tone-shaping options
– Stereo Field Expansion technology that enhances the richness of the sound
– Easy-to-use interface
– Feedback eliminator that isolates unwanted feedback

Cons:
– Slightly heavier and bulkier than other small-sized amplifiers
– Only comes with a single built-in effects chain
– Quite expensive compared to other amplifier models


Conclusion:

The Fender Acoustic SFX is a top-of-the-range amplifier that sets itself apart in terms of sound quality, design, and built quality. If you're looking for an amplifier that can deliver top-notch sound quality and a broad range of tone-shaping options, the Fender Acoustic SFX is the right choice for you. Despite its small size, the amp packs a powerful punch in performance. It's an investment that you won't regret in the long term.