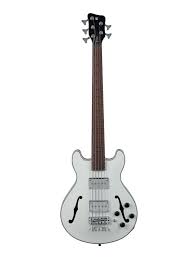 Warwick RockBass Star Bass: A Detailed Review
In the realm of bass guitars, Warwick is a name that's synonymous with quality and innovation. Their RockBass Star Bass series, available in 4 and 5 string variants, is no exception to this rule. Known for its distinctive semi-hollow body design and remarkable tone, the Warwick RockBass Star Bass has been making waves in the music community.
Design and Construction
The Warwick RockBass Star Bass sports a fully hollow maple body that contributes significantly to its unique sound characteristics. Weighing around 9 1/2 pounds, this instrument is comfortable to wear and well-balanced, even for a semi-hollowbody, ensuring that you can perform for hours without any discomfort.
The instrument's medium 32-inch scale length gives your playing an old-school thump that's perfect for genres like jazz and blues. The Star Bass 4, made in Korea, is crafted to compete in the intermediate to upper intermediate section of the market, while the Star Bass 5 offers an extra string for those seeking extended range or different tuning options.
Sound and Performance
When it comes to sound, the Warwick RockBass Star Bass truly shines. Plugged in, the instrument offers a full, responsive tone with warm neck sounds that are perfect for jazz and round rock tones. You can even add fuzz and distortion for more aggressive styles.
The bass is equipped with passive MEC Vintage pickups, offering a bright, clear tone with a deep bass response. The typical growly Warwick tone is very much present, especially with stainless steel strings. This tone may slightly change if you decide to put nickel strings, but the core sound remains robust and rich.
Quality and Value
Warwick basses have long been known for their high-quality construction and excellent value for money. Despite being produced in China, the consumer-level RockBass models are built using less exotic woods and simpler finishes under Warwick's strict quality control measures. This ensures that every instrument maintains the high standard that Warwick is known for.
While Warwick bass guitars can be quite costly, even at the entry-level, they offer exceptional value for the money. The RockBass Star Bass is no different. It's a high-quality instrument that justifies its price tag with superior construction, excellent playability, and an amazing sound.
Conclusion
In conclusion, the Warwick RockBass Star Bass is a versatile instrument that combines a unique design with a fantastic sound. Whether you're a jazz enthusiast or a rock player, the Star Bass has something to offer. It's a superbly made bass that's great for anyone who wants to cut through a big mix. Ready to deliver surprising flexibility courtesy of the pickup-switching, it's an instrument that can adapt to your musical needs.
With Warwick's reputation for quality and the positive reviews this bass has received, the RockBass Star Bass is undeniably worth considering for any bassist looking for a new addition to their collection. Whether you choose the 4-string or the 5-string model, you'll be getting a bass guitar that's constructed with care and designed to deliver an unforgettable playing experience.