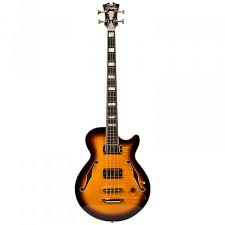 D'Angelico EX-Bass: A Detailed Review
D'Angelico, a name that resonates with luxury and sophistication in the world of guitars, has made a remarkable comeback with its EX-Bass model. The EX-Bass, an exceptional instrument that showcases both style and substance, is making waves among bassists worldwide. This article provides a comprehensive review of the D'Angelico EX-Bass, its features, strengths, and why it might just be the perfect addition to your musical arsenal.
Design and Build
The first impression one gets from the EX-Bass is its beautiful construction. It's a testament to D'Angelico's commitment to quality and detail. The EX-Bass features a laminated flame maple body with 5-ply binding that gives it a sleek finish. The neck of the guitar is a 2-piece hard maple design with a walnut center, giving it a sturdy feel without compromising on comfort. The fingerboard is made out of Indian Rosewood, adding a touch of elegance to the overall design.
Like any hollow body instrument, the EX-Bass does have a bit of neck dive. However, it's very moderate here, and the shorter scale length makes this bass a comfortable, easy-to-play instrument. Furthermore, it plays well with low action and optimal neck relief, ensuring a smooth and effortless playability.
Sound and Performance
When it comes to sound, the EX-Bass doesn't disappoint. It's truly versatile in tone, boasting a traditional wiring design with two volumes and a tone control. The neck position offers the warmth of a vintage '60s bass, while the bridge position adds a bit of bite for a more modern sound. This tonal versatility makes the EX-Bass suitable for a wide range of genres, from pop and rock to blues and jazz.
One of the standout features of the EX-Bass is its ability to crank out a "phat" bass lick on command. This capability can be attributed to its high-quality frets that are tall and show little sign of play wear. The bass is currently set up with 45-100 gauge flatwound strings, which contribute to its bold and rich sound.
Value for Money
The D'Angelico EX-Bass might not be the cheapest bass on the market, but it offers excellent value for money considering its features and performance. Its quality build, smooth playability, and versatile tone make it worth every penny. For those seeking a premium, well-rounded bass guitar, the D'Angelico EX-Bass is undoubtedly a top contender.
Conclusion
In conclusion, the D'Angelico EX-Bass is a well-crafted instrument that delivers on all fronts. Its beautiful design, comfortable playability, and versatile tone make it a worthy addition to any bassist's collection. Whether you're a seasoned professional or an aspiring musician, the EX-Bass offers a playing experience that is as satisfying as it is inspiring. D'Angelico has indeed made a triumphant return with the EX-Bass, continuing their legacy of crafting high-quality, aesthetically pleasing instruments.