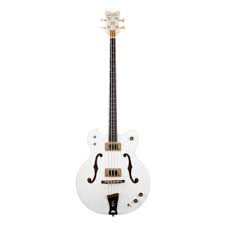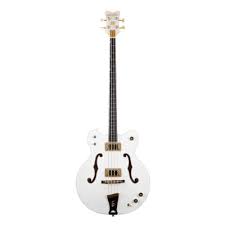 Gretsch G6136LSB White Falcon Electric Bass: A Detailed Review
The Gretsch G6136LSB White Falcon is more than just an electric bass; it's a statement piece that commands attention on stage and in the studio. This top-of-the-line Gretsch bass draws inspiration from the iconic White Falcon guitar, showcasing a double-cutaway body with an arched top and oversized bound F-holes.
Design and Build
The Gretsch G6136LSB White Falcon is a semi-hollow four-stringed bass featuring a laminated maple back, sides, and top. The bass is not light, weighing over 8 pounds, but this weight adds to its robust and sturdy feel. The fit and finish are pristine, and the bass is visually stunning, radiating a vintage charm that's hard to resist.
One unique feature of this model is the belt pad on the back, a cool tribute to the history of Gretsch Countryman guitars. This design not only enhances the aesthetic appeal but also ensures comfort when playing for extended periods.
Playability
The action on the G6136LSB is described as "stellar" and "buttery," with zero fret buzz. The neck is set into the body, ensuring a comfortable grip and easy access to the higher frets. Despite its size, many players find it comfortable to play, even for longer gigs or recording sessions.
There's a lot of controls on this bass, which might be overwhelming for beginners but offers seasoned musicians extensive tonal options. These controls are part of what makes this bass versatile across various music genres.
Sound Quality
With its hollow body design, the Gretsch G6136LSB White Falcon delivers a rich, woody sound with plenty of growls and thumps. The instrument is equipped with twin TV Jones pickups that contribute to its distinct, full-bodied tone.
This bass is capable of delivering an array of tones – from bright and punchy to warm and mellow – making it suitable for a variety of musical styles. Whether you're playing jazz, blues, rock, or country, this bass can handle it all with ease.
Verdict
In conclusion, the Gretsch G6136LSB White Falcon is an impressive bass guitar that stands out in both appearance and performance. It's a big instrument with a big sound to match. While it may not be the best choice for beginners due to its price point and extensive controls, it's perfect for professional musicians seeking a versatile bass that can deliver a wide range of tones.
The Gretsch G6136LSB White Falcon is a testament to Gretsch's commitment to quality and innovation. Its unique combination of vintage aesthetics, excellent playability, and remarkable sound make it a worthy addition to any bassist's collection. If you're looking for a bass guitar that will not only enhance your performance but also turn heads, this could be the instrument for you.