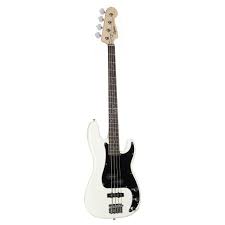 An In-depth Review of the Squier Affinity Series Precision Bass PJ Guitar
The bass guitar is an essential component of any band, providing the rhythmic and harmonic foundation that binds the music together. Among the myriad options available to musicians today, the Squier Affinity Series Precision Bass PJ stands out as a remarkable instrument. It offers a blend of quality, affordability, and versatility that appeals to both beginners and experienced players. Here is a comprehensive review of this exceptional bass guitar.
Design and Construction
The Squier Affinity Series Precision Bass PJ boasts a solid alder body, a wood known for its balanced tone and impressive sustain. The body has a sleek, contoured design that not only looks great but also provides comfort during long playing sessions.
The neck is crafted from maple and features a comfortable "C" shape profile, making it easy for players of all skill levels to navigate the fretboard. The 20-fret Indian laurel fingerboard is smooth and responsive, further enhancing the playability of this instrument.
Sound Quality
When it comes to sound, the Affinity Series Precision Bass PJ truly shines. As the name suggests, this bass guitar features both Precision and Jazz Bass pickups (P/J configuration), offering a wide range of tonal possibilities. The Precision Bass split single-coil pickup delivers a powerful, punchy tone, while the Jazz Bass single-coil pickup provides a bright, articulate sound.
The combination of these two pickups gives this bass guitar a unique sonic character. Whether you're laying down a groove in a funk band, driving a rock rhythm, or providing a jazz accompaniment, the Precision Bass PJ can deliver the desired tone with ease.
Performance
The performance of the Squier Affinity Series Precision Bass PJ is nothing short of impressive. The four-saddle bridge ensures accurate intonation, while the open-gear tuning machines provide excellent tuning stability.
The volume controls for each pickup and the master tone control allow you to shape your sound to suit your musical style. From a growling rock tone to a smooth jazz sound, you can achieve it all with the turn of a knob on this versatile instrument.
Value for Money
Considering the build quality, sound, and performance of the Affinity Series Precision Bass PJ, it offers exceptional value for money. While it may be priced as an entry-level instrument, it delivers a performance that could easily rival some higher-end models. This makes it an excellent choice for beginners looking for their first bass guitar, as well as seasoned players seeking a reliable backup or practice instrument.
Conclusion
In conclusion, the Squier Affinity Series Precision Bass PJ is a fantastic instrument that offers a lot for its modest price. Its beautiful design, quality construction, versatile sound, and impressive performance make it a great choice for any bassist, regardless of skill level or musical preference. Whether you're just starting your musical journey or looking to expand your collection, the Affinity Series Precision Bass PJ is definitely worth considering.