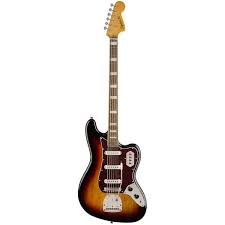 Squire Classic Vibe Bass VI: An Extensive Review
The Squire Classic Vibe Bass VI is a fascinating musical instrument that warrants a comprehensive review. This article will delve into its construction, tone, versatility, ease of use, and cost-effectiveness.
Aesthetic & Construction
The initial impression of any instrument is crucial, and the Squire Classic Vibe Bass VI certainly makes a striking one. This remarkable instrument echoes the vintage charm of the 1960s, with its design harking back to the original Fender Bass VI. It features a poplar body, a wood known for its lightness and resonance, contributing significantly to the instrument's overall comfort and playability. Available in three timeless colors: Sunburst, Black, and Olympic White, it has a visual appeal that matches its tonal quality. The slender "C"-shaped neck design ensures a comfortable grip and easy navigation across the fretboard.
Tone & Sound Quality
Sound quality is the soul of any instrument, and the Squire Classic Vibe Bass VI excels remarkably in this area. With Fender-Designed alnico pickups, the Bass VI produces a tone that is both warm and rich. Its unique 30″ scale length, tuned an octave lower than conventional guitars, gives it a distinctive bass-baritone sound.
Despite its bass-like tuning, the six strings on the Bass VI allow for a broad tonal spectrum, ranging from deep, resonant bass notes to bright, clear treble sounds. The instrument's tonal diversity is further boosted by its inbuilt controls, including a master volume, master tone, and a three-way pickup selector switch. Additionally, each pickup comes with individual on/off switches, adding another dimension to tone shaping.
Versatility
Versatility is a primary selling point of the Squire Classic Vibe Bass VI. It straddles the line between a guitar and a bass, acting as a bridge between these two realms. This makes it a perfect choice for guitarists who want to experiment with bass notes without deviating too far from their familiar territory.
The Bass VI can be employed in multiple musical genres, such as rock, pop, jazz, and blues. Whether you're playing rhythm, lead, or providing a low-end foundation, this instrument is up to the task. Its wide tonal range enables it to fit seamlessly into various musical settings, making it a valuable tool in any musician's kit.
Playability
When it comes to playability, the Squire Classic Vibe Bass VI is a delight to play. The "C"-shaped neck profile and the 9.5″ radius fingerboard ensure smooth and effortless playability, whether you're plucking bass lines or strumming chords. The 30″ scale length might require some adjustment for guitarists, but it opens the door to a new realm of sonic possibilities.
Value for Money
Given its sound quality, versatility, and playability, the Squire Classic Vibe Bass VI provides excellent value for money. It's a sturdy, dependable instrument that offers a unique sound and a broad array of tonal options. While it might not replace a traditional bass or guitar, it serves as an incredible auxiliary instrument for those looking to broaden their musical scope.
Conclusion
The Squire Classic Vibe Bass VI is an extraordinary instrument that amalgamates the best aspects of a guitar and a bass. It sports a vintage-inspired design, a versatile and rich sound, and superior playability. It's an instrument that promotes exploration and creativity, paving the way for new forms of musical expression. For musicians seeking an instrument that goes beyond convention and offers something unique, the Squire Classic Vibe Bass VI is definitely worth considering.