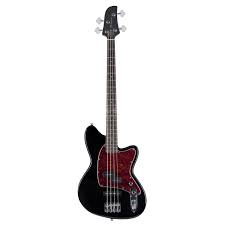 A Comprehensive Review of the Squier Paranormal Jazz Bass '54 Guitar
The Squier Paranormal Jazz Bass '54 is a unique fusion of classic design elements and modern functionality that has won the hearts of bassists worldwide. This instrument is a testament to Squier's commitment to quality, innovation, and affordability, making it a popular choice for both novice and seasoned musicians.
Design and Build
The first thing that strikes you about the Paranormal Jazz Bass '54 is its aesthetic appeal. The bass guitar features a sleek black body with a gold anodized pickguard, lending it a classic yet sophisticated look. The body is constructed from lightweight basswood, ensuring comfort during prolonged play sessions.
The neck of the Paranormal Jazz Bass '54 is made entirely of maple, contributing to its robust tone and enhancing its overall playability. The fretwork is commendable, with no sharp edges or uneven frets, which can often be a problem with budget-friendly instruments.
Sound Quality
When it comes to sound, the Paranormal Jazz Bass '54 stands tall among its peers. Equipped with a duo of Alnico single-coil pickups, this bass guitar delivers the legendary J Bass sound that has been the backbone of countless hit records across genres. From the deep, soulful tones required for R&B to the punchy, rhythmic drive needed for rock, this instrument delivers on all fronts.
The single-coil Alnico pickups and the concentric controls offer a diverse range of tonal possibilities. This versatility makes it an excellent choice for musicians who like to experiment with their sound or play across various genres.
Performance
In terms of performance, the Paranormal Jazz Bass '54 does not disappoint. It offers a smooth and responsive playing experience, thanks to its C-shaped neck profile and narrow 1.5″ nut width. These features make the instrument easy to play, even for those with smaller hands or beginners who are still getting used to handling a bass guitar.
The volume and tone controls are intuitive and provide a wide range of sonic possibilities. This means you can easily dial in your desired tone, whether you're after a warm, mellow sound for jazz or a brighter, more aggressive tone for rock.
Value for Money
Perhaps one of the most appealing aspects of the Paranormal Jazz Bass '54 is its value for money. Despite its quality construction, excellent sound, and impressive performance, the instrument comes with a reasonable price tag. This combination of affordability and quality makes it a popular choice for those looking for a high-quality instrument without breaking the bank.
Conclusion
In conclusion, the Squier Paranormal Jazz Bass '54 is a fantastic instrument that offers a lot for its modest price. Its beautiful design, quality construction, superb sound, and excellent performance make it a great choice for any bassist, regardless of skill level or musical preference. Whether you're a beginner looking for your first bass guitar or a seasoned musician in need of a reliable instrument, the Paranormal Jazz Bass '54 is definitely worth considering.