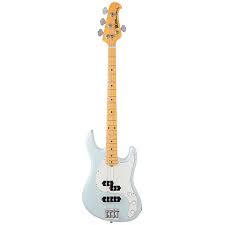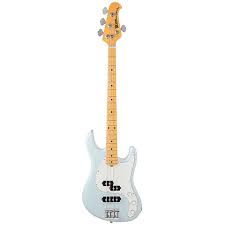 Musicman Caprice Electric Bass: A Review
The Musicman Caprice Electric Bass, part of the Ernie Ball Family Brand, is an instrument crafted with precision and passion. This bass guitar has been receiving rave reviews from professionals and enthusiasts alike, who praise its sound quality, construction, and comfort. It is a testament to the craftsmanship that comes out of the Ernie Ball Music Man factory in San Luis Obispo, California.
Design and Construction
One of the most striking features of the Musicman Caprice Electric Bass is its light weight. Weighing in at around 8 pounds, this bass is easy on the shoulders and comfortable to play for extended periods. Despite its lightweight nature, it retains a well-balanced feel, ensuring that it doesn't tip or wobble while being played.
The body of the Caprice is made from alder, a wood known for its strong, full-bodied sound, and it is coupled with a maple neck. The combination of these materials results in a lively and resonant tone, even when unplugged. When plugged in, the bass becomes punchy and wonderfully vibrant.
The neck of the Caprice is slim and fast, which adds to its vintage appeal. It's perfect for those who prefer a skinny, vintage feel. The edges of the neck are rolled, and the frets are flawlessly finished, providing a comfortable playing experience.
Sound Quality
The Musicman Caprice Electric Bass is a workhorse when it comes to sound. It blends two distinct pickup voicings, offering a variety of tones suitable for any musical environment. This compact offset bass delivers warmth with passive clarity, strength, and depth of tone. Users have reported being highly impressed with the tones delivered when both pickups are fully engaged.
The Caprice exhibits remarkable definition and sustain, making it extremely musical. It holds a tune better than many other instruments, which means once you've tuned it, you can play for hours without worrying about it going off key.
Conclusion
In conclusion, the Musicman Caprice Electric Bass is a beautifully designed instrument that delivers in terms of performance, comfort, and sound quality. It's a gorgeous passive bass that suits a wide range of musical styles and environments. Whether you're a professional musician or a passionate enthusiast, the Caprice offers a blend of vintage feel and modern performance that is sure to impress.
Crafted in the Ernie Ball Music Man factory in San Luis Obispo, California, the Musicman Caprice Electric Bass carries on a legacy of high-quality guitars and basses. Its light weight, perfect balance, and impressive sound make it a standout choice for anyone looking for a reliable, versatile, and enjoyable bass guitar.