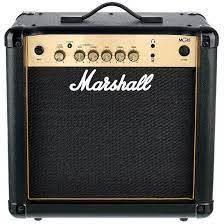 Marshall MG15 Review: Is It Worth the Investment?
Marshall is a name that's synonymous with high-quality guitar amplifiers. Their latest addition to the market, the Marshall MG15, is no exception. Designed for beginners and intermediate guitar players, it's loaded with features at an affordable price tag. In this blog post, we'll take an in-depth look at the Marshall MG15, highlighting its pros and cons to help you determine whether it's worth the investment.

Overview and Design
The Marshall MG15 has a classic design that's very appealing to the eyes. It features a sturdy housing with a stylish black and gold finish. The control panel is simple to use, and it's equipped with a headphone output that allows players to practice in silence.

Sound Quality
One of the most essential aspects of any amplifier is its sound quality, and the MG15 certainly doesn't disappoint. It produces a clean and dynamic sound that's perfect for beginners. Even when cranked up to its maximum level, it keeps the sound clear and doesn't sacrifice tonal quality. However, some users have reported that it's not good for distortion and heavy music.

Power and Versatility
Whether you plan to play at home or in a small venue, the Marshall MG15 has all the power you need. It offers 15-watts of power that can easily fill a room with sound. Additionally, it has a number of onboard effects such as reverb, chorus, and delay, that can be used to experiment with different sounds.
Price
One of the most significant advantages of the Marshall MG15 is its affordable price tag. It's a great value for the money, considering all the features you get with it. You won't find a better amplifier that offers this level of sound quality and versatility at this cost.

Cons:
While the Marshall MG15 has many benefits, it has its fair share of cons as well. The most significant disadvantage to this unit is that it's heavy. It's not the most portable amplifier, making it difficult to take it to gigs or practice. Additionally, some users have reported that its tonal quality could be improved, particularly when compared to higher-end guitar amplifiers.


Conclusion:

In conclusion, the Marshall MG15 is an impressive amplifier that's great for beginners and intermediate players. It produces a clean and dynamic sound that's perfect for a practice session or small gigs. The amplifier's affordable price tag makes it a good value for your money, particularly considering the different features and effects you get with it. However, the MG15's lack of portability and tonal quality issues might be a dealbreaker for some buyers. All in all, if you're in the market for a budget-friendly amplifier with a classic look, the Marshall MG15 is worth considering.