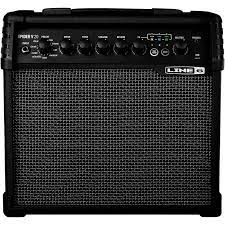 The Ins and Outs of the Line 6 Spider V 20 MKII Amp – A Comprehensive Review
Are you searching for a reliable amplifier that not only sounds fantastic but also has an affordable price tag? If yes, then you might want to take a closer look at the Line 6 Spider V 20 MKII Amp. One of the latest offerings from the brand, this amp boasts upgraded features that cater to the needs of modern musicians, both amateurs and professionals alike. To help you make an informed decision, we've put this amp to the test and prepared a comprehensive review that covers all the pros and cons. Keep reading to find out everything you need to know about the Line 6 Spider V 20 MKII Amp.

Design and usability
The Spider V 20 MKII flaunts an elegant design that incorporates a modern look and feel. It is compact, weighing only 5.2kg, making it lightweight and easy to carry around. The top panel features a plethora of knobs and switches, but the layout is straightforward and easy to understand with minimal time required to learn how to use it. The onboard tuner is incredibly accurate, and the aux input and headphone jack make it a versatile amplifier for practice sessions and gigs. The app compatibility is excellent, and the ability to control the amp through an iOS or Android device is a great added bonus.

Sound Quality
With a 20-watt output, this amp is perfect for small to medium-sized gigs, rehearsals, and recording sessions. It features a range of 78 built-in amps, 23 cabinets, and 101 effects, making it incredibly versatile. In addition to the built-in options, the user can create their custom sounds by tweaking the parameters and saving them for future use. The redesigned speakers provide a clean, crisp, and dynamic sound, which is ideal for a variety of music genres.

Price
The Line 6 Spider V 20 MKII Amp has a reasonable price tag, considering it has all the features of more expensive models. It is currently available for around $179, which is pretty good value for the money.

Pros:
– Lightweight and portable
– Straightforward and easy to use
– Accurate onboard tuner
– Wide range of built-in amps, cabinets, and effects
– The ability to save custom sounds
– Excellent app compatibility
– High-quality speakers that produce great sound

Cons:
– The power cord can be flimsy at times
– The volume knob can be a bit sensitive and might require careful handling
– No XLR output, which is a must-have for direct recording


Conclusion:

All in all, the Line 6 Spider V 20 MKII Amp is an impressive amplifier that caters to the needs of modern musicians. It has a compact, elegant design, is easy to use, and produces excellent quality sound for the price. Though there are some downsides such as the flimsy power cord and sensitive volume knob, these issues are negligible considering the excellent features and affordability of this product. If you are in the market for an amplifier that provides you with excellent value and versatile features, then the Line 6 Spider V 20 MKII amp is an excellent choice.