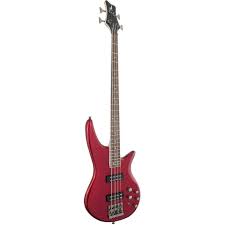 Jackson JS Series Spectra Bass JS3: A Comprehensive Review
The world of bass guitars is filled with countless options, but few stand out as much as the Jackson JS Series Spectra Bass JS3. This instrument is a testament to Jackson's commitment to quality, affordability, and style. This article will delve into the features, performance, and overall value of this bass guitar. We'll also explore the viewpoints of both professionals and beginners who've had a hands-on experience with it.
Design and Build Quality
The JS Series Spectra Bass JS3 boasts a solid poplar body. Known for being one of the softer hardwoods, poplar has been a popular choice for guitar bodies due to its balanced tonal characteristics and lightweight nature. The guitar's Spectra shape is well-weighted and very comfortable, making it easy to handle during long sessions or gigs.
The neck of the JS3 is made of maple, which adds to the overall feel and playability of the instrument. The rounded headstock, unlike the pointed ones found on some basses, adds a unique aesthetic touch while still maintaining a classic appeal.
The Silverburst finish gives the guitar a sleek, modern look, ensuring that it not only sounds good but looks the part too. The bass also comes in other finishes, offering a variety for players to choose from depending on their personal style.
Sound and Performance
When it comes to sound, the JS3 packs a punch. Equipped with active humbucking pickups, this bass produces a powerful, deep, and rich sound that can cater to a wide range of musical styles. The active pickups offer more output than their passive counterparts and provide a clearer, more focused tone that can cut through the mix.
Professionals have noted that the JS3 is a reliable and well-constructed instrument, delivering consistent performance regardless of the setting. Beginners, on the other hand, have found it to be a great practice tool, thanks to its comfortable feel and the quality of sound it delivers for its price point.
User Reviews and Feedback
Users have praised the JS3 for its excellent tuning stability and smooth playability. It has been described as a dream to play, whether you're just getting into bass or you're a seasoned pro looking for a good practice or "throw-around" bass.
One point of interest among users is the neck profile, which some found comfortable and contributing to a nice feel when playing. This reinforces the idea that the JS3 is designed with the player's comfort in mind, a crucial factor especially for those long jamming or practice sessions.
Conclusion
The Jackson JS Series Spectra Bass JS3 is a fantastic entry in the affordable bass market. It combines a solid build, comfortable design, and excellent sound quality in a package that won't break the bank. Whether you're a beginner dipping your toes into the world of bass guitars or a seasoned professional in need of a reliable practice instrument, the JS3 could be just what you're looking for.
Its combination of a poplar body, maple neck, and active humbucking pickups deliver a sound that's rich, powerful, and versatile. Its design ensures comfort during play, and its overall build promises reliability and durability.
In the end, the Jackson JS Series Spectra Bass JS3 offers a great blend of affordability, performance, and style. It's a testament to Jackson's commitment to providing quality instruments that cater to all levels of musicianship, making it a worthy consideration for anyone in the market for a new bass guitar.