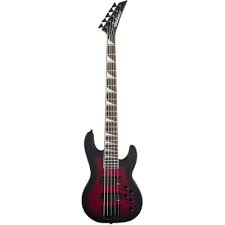 Jackson JS Series Concert Bass JS3VQ 5-String: A Deep Dive into Its Features, Performance, and Value
Introduction
The bass guitar remains a critical instrument in any music ensemble. With its deep tones and rhythmic support, it's an indispensable tool for both beginners and professionals. One such bass guitar that has been making waves in the music industry is the Jackson JS Series Concert Bass JS3VQ 5-String. Known for its resonant sound, stylish design, and affordability, this instrument is well-regarded among both budding and seasoned musicians.
Design and Construction
Elegant and Functional Design
The Jackson JS Series Concert Bass JS3VQ 5-String boasts an aesthetic appeal that is both elegant and contemporary. The instrument features a lightweight poplar body with a quilt maple top, giving it a beautiful finish that catches the eye. This 35" scale model has a fully bound bolt-on neck, providing added strength to the construction.
Five-String Construction
The five-string construction of the JS3VQ offers more range and flexibility for bassists. It allows players to access lower registers without needing to detune, providing a broader sonic palette to work with. It's an excellent option for musicians who want to explore different genres and styles.
Solid Poplar Body
The solid poplar body of the JS3VQ delivers smooth sustain and balanced tone. This wood type is known for its resonance, offering a rich and full-bodied sound that can suit various music styles. The poplar body also contributes to the instrument's lightweight design, making it comfortable to play during long gigs or practice sessions.
Performance and Playability
Quality and Playability
Jackson has a reputation for crafting instruments that offer quality and playability at an incredibly low price, and the JS3VQ is no exception. The bass guitar's design ensures easy playability, with a smooth neck and accessible frets that cater to both beginners and experienced players.
Seismic Sound
The JS3VQ doesn't just look good; it sounds fantastic too. It is designed to deliver seismic sound that can fill up any stage or studio. The five-string setup offers a wide range of tones, from deep lows to crisp highs, providing a versatile sound that can adapt to any musical situation.
Professional and Beginner Viewpoints
Professionals
Many professional bassists appreciate the JS3VQ for its exceptional sound and playability. They laud its five-string construction, which offers more tonal possibilities and flexibility. The sturdy build and high-quality materials used ensure this bass can withstand the rigors of regular gigging and touring.
Beginners
For beginners, the JS3VQ is a great starting point. Its affordable price point doesn't compromise on quality, offering a well-built instrument that can help novice players develop their skills. The easy playability is another plus, with a comfortable neck and accessible frets that won't intimidate those new to the instrument.
Conclusion
In conclusion, the Jackson JS Series Concert Bass JS3VQ 5-String is a remarkable instrument that offers value, performance, and style. Its beautiful design, coupled with its robust sound and playability, makes it an excellent choice for both professionals and beginners. Whether you're just starting your musical journey or looking for a reliable workhorse to add to your collection, the JS3VQ is an investment worth considering.
As always, it's crucial to try out an instrument personally to see if it matches your playing style and preferences. So, when it's safe to do so, head over to your local music store and get your hands on the Jackson JS Series Concert Bass JS3VQ 5-String. You might just find your new favorite bass guitar.