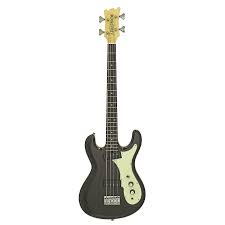 Aria DMB-206 Electric Bass Guitar: A Comprehensive Review
The world of electric bass guitars is vast and varied, with countless models available from a myriad of manufacturers. However, some stand out more than others, and one such standout is the Aria DMB-206 Electric Bass Guitar. This model has been lauded for its unique blend of vintage aesthetics and modern specifications, making it an appealing choice for both professionals and beginners alike.
The Aria Legacy
Aria is a well-established name in the music industry, known for producing high-quality instruments that cater to a wide range of musicians. Their product line is extensive, featuring everything from acoustic guitars to electric basses, each designed with a particular user in mind.
The DMB-206 is no exception. It's part of Aria's Pro II series, a line that pays homage to the company's rich history while also incorporating contemporary features that today's musicians require.
Design and Construction
The Aria DMB-206 is a retro classic short-scale bass guitar that draws inspiration from the Mosrite types of the 1960s. It comes in various finishes, including black and sunburst, offering options to suit different aesthetic preferences.
One of the first things you'll notice about this guitar is its body made from basswood, a material renowned for its balanced sound profile. This tonewood offers a nice mix of warmth and brightness, making it suitable for a variety of music genres.
The neck of the DMB-206 is made from maple, a hardwood known for its durability and stability. It's coupled with a rosewood fingerboard, which adds depth to the overall tone and provides a smooth surface for the fingers to glide over. The guitar features 20 frets with a scale length of 780 mm (30-1/2″), making it a short-scale instrument. This makes it easier to play, especially for beginners or those with smaller hands.
Sound and Playability
The Aria DMB-206 is fitted with two mini humbucker pickups, which are known for their ability to reduce noise and interference, resulting in a cleaner, more focused sound. These pickups, combined with the tonewoods used in the construction of the guitar, result in a versatile tone that can cater to a variety of musical styles.
The controls on the DMB-206 are straightforward, with just a single volume and tone control. This simplicity makes it a great choice for beginners who are still learning the ropes, as it allows them to focus on their playing without getting overwhelmed by too many knobs and switches.
Professional and Beginner Viewpoints
From a professional standpoint, the DMB-206 offers a lot of value. Its solid construction, combined with its versatile tone, makes it a reliable workhorse for gigging musicians. The fact that it's a short-scale instrument also adds to its appeal, as it's easier to transport and can be more comfortable to play during long sets.
Beginners, on the other hand, will appreciate the simplicity of the DMB-206. Its straightforward controls and comfortable playability make it an excellent learning tool. Plus, its vintage-inspired design gives it a cool factor that can be very motivating for new players.
Final Thoughts
In conclusion, the Aria DMB-206 Electric Bass Guitar is a well-crafted instrument that offers a blend of vintage charm and modern functionality. Its solid construction, versatile sound, and ease of use make it a worthy consideration for both professionals and beginners. Whether you're a seasoned pro looking for a reliable gigging instrument or a newbie seeking a stylish and user-friendly bass, the DMB-206 could very well be the perfect fit.
Please note that the information provided in this article is based on online research and does not constitute professional advice. Always try an instrument in person before making a purchase, if possible.