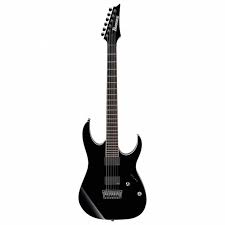 Ibanez Iron Label RGIT20FE Electric Guitar Review
The Ibanez Iron Label RGIT20FE is an electric guitar that has been making waves in the music world. With its unique design and outstanding features, it has quickly become a favorite among guitar enthusiasts. In this in-depth review, we will explore the various aspects of this remarkable instrument, including its construction, sound quality, playability, and more.
Construction and Design
The Ibanez Iron Label RGIT20FE boasts a sleek and modern design, with a distinctive body shape that is both eye-catching and ergonomic. The body is made from a combination of mahogany and ash, providing a perfect balance of weight and resonance. The neck-through construction ensures excellent sustain and stability, while the Nitro Wizard neck profile offers a fast and comfortable playing experience.
The guitar features a 25.5-inch scale length, which is a standard choice for many electric guitars. This scale length provides a good balance of tension and playability, making it suitable for a wide range of musical styles. The fretboard is made from ebony, which is known for its smooth feel and bright tonal characteristics. It is adorned with 24 jumbo frets, which are well-dressed and provide ample space for comfortable finger placement.
One of the standout features of the Ibanez Iron Label RGIT20FE is its striking appearance. The guitar is available in a beautiful Transparent Gray Flat finish, which highlights the natural grain of the wood. The black hardware and minimalist design give it a sleek and sophisticated look that is sure to turn heads on stage or in the studio.
Electronics and Hardware
The Ibanez Iron Label RGIT20FE is equipped with a pair of EMG 60 (neck) and 81 (bridge) active humbucking pickups. These pickups are well-regarded for their high output and clear, articulate sound. They are perfect for a wide range of musical styles, from heavy metal to jazz and everything in between. The guitar also features a 3-way pickup selector switch, allowing you to choose between the neck, bridge, or both pickups for a wide variety of tonal options.
The guitar's hardware is equally impressive. It comes with a Gibraltar Standard II fixed bridge, which provides excellent tuning stability and sustain. The bridge is designed to be low-profile and comfortable, making it easy to palm-mute and perform other techniques. The locking tuners are a welcome addition, ensuring that your guitar stays in tune even during aggressive playing.
Sound Quality
One of the most important aspects of any electric guitar is its sound quality, and the Ibanez Iron Label RGIT20FE does not disappoint. The combination of the mahogany/ash body, neck-through construction, and EMG pickups results in a powerful and versatile tone.
The EMG 60 and 81 pickups are famous for their high output and clarity, making them ideal for heavy metal, hard rock, and other aggressive styles. The guitar's tonal palette is further expanded by the 3-way pickup selector switch, which allows you to access a wide range of sounds, from warm and smooth jazz tones to biting leads and crushing rhythm parts.
The guitar's sustain is also noteworthy, thanks to the neck-through construction and Gibraltar Standard II bridge. This makes it perfect for lead players who need long-lasting notes for solos, as well as rhythm guitarists who require a solid foundation for their chords and riffs.
Playability
The Ibanez Iron Label RGIT20FE is designed with playability in mind, offering a comfortable and effortless playing experience. The Nitro Wizard neck profile is slim and fast, making it easy to navigate the fretboard and perform complex techniques. The ebony fretboard is smooth and responsive, while the jumbo frets provide plenty of space for accurate finger placement.
The guitar's body shape is not only visually striking but also ergonomic, ensuring that it feels comfortable to hold and play for extended periods. The low-profile Gibraltar Standard II bridge and locking tuners also contribute to the guitar's excellent playability, making it a pleasure to perform on.
Conclusion
The Ibanez Iron Label RGIT20FE is an exceptional electric guitar that offers a unique combination of style, performance, and versatility. Its high-quality construction, top-notch electronics, and impressive sound quality make it a standout choice for guitarists of all levels and styles. Whether you are a seasoned professional or an aspiring musician, the Ibanez Iron Label RGIT20FE is an investment that will surely elevate your playing experience.