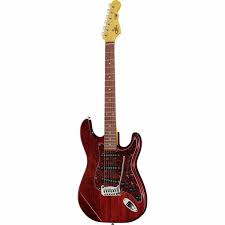 G&L Tribute S-500 Electric Guitar Review
When it comes to electric guitars, the market is saturated with options, making it difficult for musicians to find the perfect instrument that suits their playing style and budget. One such guitar that has captured the attention of players worldwide is the G&L Tribute S-500. This article will provide an in-depth review of this remarkable instrument, discussing its features, build quality, sound, and overall value.
Introduction to G&L Tribute Series
Before diving into the specifics of the Tribute S-500, it's essential to understand its origins. The G&L Tribute Series is a line of high-quality, affordable guitars designed by the legendary Leo Fender, George Fullerton, and Dale Hyatt. These instruments are built to the same exacting standards as their American-made counterparts but are manufactured overseas, making them more accessible to musicians on a budget.
Design and Build Quality
The G&L Tribute S-500 features a classic double-cutaway body shape reminiscent of the iconic Fender Stratocaster. This design allows for easy access to all 22 frets on the rosewood fingerboard, which is mounted on a hard rock maple neck. The body itself is made from solid swamp ash or mahogany (depending on the finish), providing a lightweight yet resonant foundation for the guitar's electronics.
One of the standout features of the S-500 is its Dual-Fulcrum vibrato bridge. This innovative design provides exceptional tuning stability and smooth operation, allowing players to execute everything from subtle vibrato to extreme dive bombs without worrying about going out of tune.
The hardware on the S-500 is also top-notch, with high-quality G&L tuners, a bone nut, and a comfortable 9.5″ fingerboard radius. The guitar's fit and finish are excellent, with smooth fret edges and a well-applied polyurethane finish that showcases the natural beauty of the wood.
Electronics and Sound
The heart of the G&L Tribute S-500 lies in its MFD (Magnetic Field Design) single-coil pickups. These unique pickups were designed by Leo Fender himself and offer a higher output than traditional single-coils while maintaining the clarity and articulation that players love. The result is a versatile, punchy sound that can easily handle a wide range of musical styles.
In addition to the standard volume and tone controls, the S-500 also features a five-way pickup selector switch and a mini-toggle switch known as the PTB (Passive Treble and Bass) system. This allows players to fine-tune their sound by independently controlling the treble and bass frequencies, offering an impressive level of tonal flexibility.
When it comes to sound, the G&L Tribute S-500 does not disappoint. Its swamp ash or mahogany body provides a warm, resonant foundation, while the MFD pickups deliver a clear, powerful tone with excellent note definition. The PTB system allows players to dial in their preferred sound with ease, making the S-500 suitable for anything from pristine clean tones to aggressive overdriven sounds.
Playability
The G&L Tribute S-500 is a joy to play, with a comfortable C-shaped neck profile that fits nicely in the hand. The 9.5″ fingerboard radius and medium jumbo frets make for easy bending and smooth playability across the entire neck. The guitar's double-cutaway design ensures effortless access to the upper frets, allowing for unhindered soloing and intricate chord work.
The Dual-Fulcrum vibrato bridge adds another dimension to the S-500's playability, providing a smooth, stable platform for expressive playing techniques. And with the guitar's excellent tuning stability, players can focus on their performance without worrying about constant retuning.
Value for Money
Considering its high-quality components, exceptional build quality, and versatile sound, the G&L Tribute S-500 offers outstanding value for money. Priced at a fraction of the cost of its American-made counterparts, the S-500 is an excellent option for players seeking a professional-grade instrument without breaking the bank.
Conclusion
The G&L Tribute S-500 is a testament to the innovative spirit of Leo Fender and his commitment to crafting instruments that cater to the needs of musicians. With its top-notch construction, versatile electronics, and comfortable playability, the S-500 is an excellent choice for players of all levels and styles. Whether you're a seasoned professional or just starting your musical journey, the G&L Tribute S-500 is a guitar that deserves serious consideration.