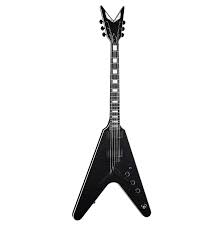 Dean V Stealth Electric Guitar Review
The Dean V Stealth electric guitar is a dream come true for many guitarists, blending classic aesthetics with modern performance capabilities. This striking instrument boasts stealthy features that set it apart from the competition, making it a must-have addition to any guitarist's collection. In this review, we'll dive deep into the design, features, playability, and sound of this remarkable guitar, as well as its value for money.
Design and Aesthetics
The Dean V Stealth is a visually stunning instrument that immediately catches the eye. The sleek black satin finish, combined with the iconic V-shaped body, creates an aggressive and bold appearance that is sure to turn heads on stage. The black chrome hardware and ebony fingerboard add to the overall dark aesthetic, making this guitar a true statement piece.
The guitar's body is constructed from solid mahogany, which provides excellent resonance and sustain. The set-neck design, also made from mahogany, ensures a strong connection between the neck and body, further enhancing the instrument's sustain and tonal quality. The neck itself features a comfortable C-shaped profile, with a 24.75-inch scale length and 22 jumbo frets, allowing for easy playability and effortless bending.
Electronics and Hardware
When it comes to electronics, the Dean V Stealth packs a serious punch. The guitar is equipped with a pair of USA-made DMT (Dean Magnetic Technologies) Time Capsule humbucker pickups. These high-output pickups are designed to capture the biting tone of vintage PAF humbuckers while providing the clarity and power needed for modern playing styles.
The bridge pickup delivers a tight, aggressive sound with plenty of bite, while the neck pickup offers a warm, smooth tone perfect for lead work and solos. The pickups can be controlled using the three-way toggle switch, allowing players to select either pickup individually or combine them for a fuller sound. The guitar also features separate volume controls for each pickup, as well as a master tone control.
The hardware on the Dean V Stealth is equally impressive, with a Tune-O-Matic bridge and string-through-body design providing excellent tuning stability and sustain. The Grover tuners are both reliable and precise, ensuring that your tuning remains rock-solid throughout your playing sessions.
Playability
One of the standout features of the Dean V Stealth is its playability. The guitar's slim C-shaped neck profile and smooth ebony fingerboard make it incredibly comfortable to play, whether you're shredding solos or laying down chunky riffs. The jumbo frets provide ample space for bending and vibrato, ensuring that even the most technical players will feel right at home on this instrument.
The V-shaped body may take some getting used to for players more familiar with traditional body shapes, but the guitar's lightweight design and excellent balance make it surprisingly comfortable to play, both sitting and standing.
Sound
The Dean V Stealth truly shines when it comes to sound. The combination of mahogany construction, high-output DMT Time Capsule pickups, and quality hardware results in a guitar that can deliver everything from searing leads to chunky rhythm tones.
The bridge pickup provides an aggressive, biting tone that's perfect for hard rock and metal, while the neck pickup offers a warmer, smoother sound that's well-suited for blues and jazz. The ability to blend the two pickups using the three-way toggle switch and individual volume controls allows for a wide range of tonal possibilities, making the Dean V Stealth an incredibly versatile instrument.
In clean settings, the guitar delivers a clear, articulate sound with plenty of warmth and depth. When played through a high-gain amp or distortion pedal, the guitar comes alive with a powerful, cutting tone that can easily cut through the mix in a live setting.
Value for Money
Considering the quality of materials, craftsmanship, and electronics, the Dean V Stealth offers excellent value for money. While it may not be the cheapest guitar on the market, its combination of striking aesthetics, versatile sound, and exceptional playability make it a worthy investment for any serious guitarist.