Top Best Peavey Electric Guitar Amps
Finding the right guitar amp can be tricky, especially if you're into a particular genre. The situation becomes even more difficult if you are a beginner and do not understand how to choose guitar amplifiers at all. In fact, there are at least a few great guitar amp manufacturers on the market right now, and there are more and more of them every year. However, it's important to note that some companies make the best amps for specific musical genres, and Peavey is the brand you should choose if you're into heavy music, from rock to metal.
If you want to know why you should buy the Peavey and not the famous Marshall, for example, then we would like to clarify that the Marshall does a good job with metal, but still does not have the sound power for heavy styles that the Peavey. We can even safely say that Peavy makes some of the best metal amps in the world. So in this guide, we'll talk about what makes Peavey amps so good, what they're best for, why they're inexpensive, and give you the top 3 best Peavey amps to buy.
Why Are Peavey Amps So Good?
Before moving on to the best peavey lead guitar amps, we would like to talk about what makes this brand different from other amp manufacturers on the market. In fact, this brand is distinguished by several main advantages, such as price, benefits and reliability. First of all, it is important to note that most often they are cheaper than alternatives, and moreover, they are durable. Thus, this is what makes them popular among those musicians who cannot afford to purchase a very expensive but high-quality amplifier. In other words, Peavey will be the brand that is inexpensive but lasts a long time. Their reliability also lies in the fact that you can literally drop the amplifier or damage it during transportation, but it will continue to work.
Thus, Peavey is not only a solid, but also a quality amplifier manufacturer that will offer you incredible reliability for its price. What's more, you don't have to pay thousands of dollars to get a decent sound, as this brand is also great at this task. So, if you chose peavey guitar amps, you are not mistaken.
What Are Peavey Amps Good For?
As already mentioned, Peavey is one of the best manufacturers of metal amplifiers in the world, so if you are a fan of this musical style, you should not have any doubts at all. However, in addition to this, this brand is good in that it has a huge selection of amplifiers suitable for different musical styles. With peavey guitar combo amps, you can achieve both classic metal sound and darker and sometimes even bluesy sound (for example, consider the Classic range). In this way, Peavey gives you access to a pure classic sound that is ideal for blues or blues rock.
Moreover, if you prefer country music, then pevey guitar amps will not leave you indifferent either. A huge number of famous country musicians use this particular brand, mainly because of the a pedal steel amp. In other words, while metal is what made Peavey amplifiers so popular, you still shouldn't forget their versatility.
Why Are Peavey Amps So Affordable?
Besides the fact that these amplifiers produce good sound and are reliable, they have another undeniable advantage over the competition – and this is the price. However, what makes good quality amplifiers so affordable?
First of all, we would like to say that most of the production is in China and this is what helps to reduce the cost of amplifiers. So it goes without saying that amps that are made in the USA have a higher price tag. In addition to all this, Peavey does not have such popularity as for example Marshall or Fender, so it has a lower price, but is not inferior to such hyped brands in quality.
Top Best Peavey Electric Guitar Amps
So, after we figured out why this brand of amps are so good, what they are best suited for and how much they cost, it's time to tell you about our top 3. These are not just good peavy guitar amps, these are the best models that will be your salvation if you are looking for an inexpensive high-quality amplifier.
Here are our top picks: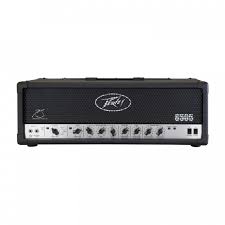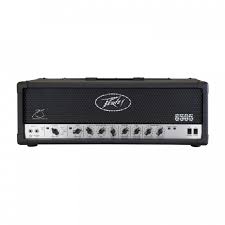 1)Peavey 6505
We'll start our top guitar amps peavey with the legendary 6505, which became popular back in the 90s. Its uniqueness lies in the fact that it was created in collaboration with the legendary guitarist Eddie Van Halen and at that time was called 5150.
Eddie himself used this brand until he decided to create his own company, where he took the legendary name of this amplifier. That is why in 2005 Peavey renamed this model to 6505.
This amp has 120 watts and is capable of producing great sizzling sounds with high gain and insane volume. What's more, the advantage of this model is that you can get powerful distortion at any volume.
The 6505 also has a three band EQ, two channels, Resonance and Presence controls and also Crunch and Bright switches (for the rhythm channel). So, even if you play metal in a band, this amp will do the trick, but for home use, it can be not only incredibly loud, but also too big.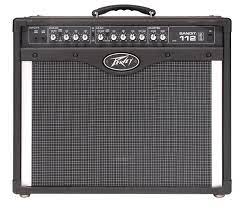 2)The Peavey Bandit 112
Another incredible model among the peavy guitar amps is the Peavey Bandit 112. Despite the fact that the 6505 is incredibly good and has almost no flaws, it is not suitable for every musician.
Thus, if you want to get the best quality for a small amount, then this particular model will be the best option for you. Not only is it affordable, it's powerful enough and offers great-sounding distortion.
We would like to note that we consider the Bandit 112 one of the most underrated amplifiers not only among peaevy guitar amps, but throughout the world. It's inexpensive, sounds fantastic, and gives you incredible power. In addition, as already mentioned, it is also quite reliable.
The Bandit is a great all-round amp that will not only be suitable for metal, but will also help you get a decent clean sound for rock and jazz. It has two channels (Clean and Lead with separate EQ for each) and nice spring reverb. Also this amplifier is rated for 80 watts which is also enough if you play in a band.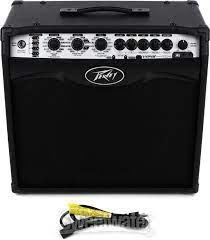 3) Vypyr VIP 2
Best of all, you've also heard of Marshall amps at least once, which is why the Marshall Code 50 is also on our list of the best guitar amps with headphone out.
Marshall has a huge number of amps that are still popular, but this series allows you to choose from different preamp and amp models with the best performance. Despite the digital sound, the sound quality will pleasantly surprise you, and warm tones will remind you of the unforgettable sound of Marshall.
Speaking of headphones, this amp has an eight inch jack on the top panel, which is convenient enough to give you easy access (it's located right next to the on and off switch).
So, if you love Marshall sound then the Marshall Code 50 is a great option that also gives you the option to plug in headphones. What's more, in terms of tone, this amp is one of the best on the market, especially for people who need a headphone jack, who work in large rooms and often record music.
Final Word
Many people think that Peavey is inferior in quality to other more popular amplifier brands, but this is not the case. Just because this brand of amp isn't as marketable as others doesn't mean they're inferior in any way. In fact, quite the contrary, most Peavey amplifiers are excellent, from the sound they offer to their value and reliability. So, buying a Peavey amp might be your best bet, especially if you're a heavy music fan. However, do not forget about the versatility of this brand, as Peavey amplifiers do a great job with other musical genres. Don't dismiss Peavey amps just because they're less popular. It is this brand that will provide you with reliability, good quality and save a huge amount of money.