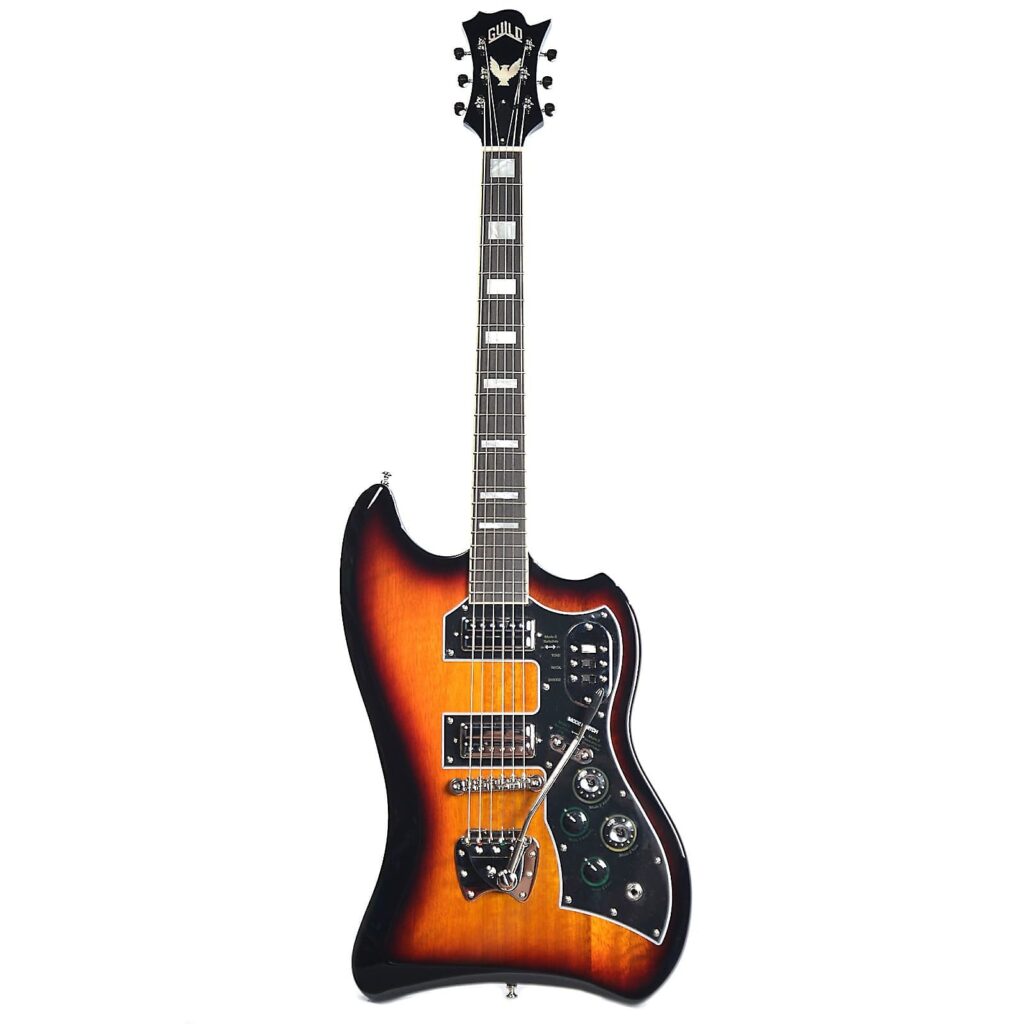 First things first, the tone is fantastic! The pickups are some of the best passive humbuckers I have ever used, they compare well with many active pickups. They are very quiet too… every element in these 3 volume controls has something nice to offer tonally speaking… until you flatten them all out that is! At that point, you get nothing but hiss. I know the new line of Guilds are active/passive now, mine is not. So there you have it… 5 way switch=great tone in all positions except flat-out hissing noise in the lower ones…
I also love the neck. Very comfortable with a nice radius to walk up and down on. The frets were well finished when I got it, but after gigging every night for 2 weeks they were pretty sharp! I filed them down ever so slightly until they were smooth. Now the only complaint I have about the neck is simply my personal preference regarding thickness, width, and depth of profile. Some necks sit very high at the last fret before bending into the body… this one doesn't which means I cannot get my hand around it well enough to pull much of vibrato out of it. I don't play in the style where you need extreme bends and such or anything, so it really isn't an issue for me… But if I ever have a chance to swap the neck on another S-200 Tbird…
I actually traded a great little Yamaha acoustic guitar for this baby. That is how much I love playing it! The only problem with that was that if I had attended a local dealer instead of buying from an individual, they would have set up the new instrument just as they do all their others at no extra charge…. but since I didn't, they refuse to work on it for me. So I have to do the best I can tuning and setting up my self, which admittedly takes a little more time but is well worth it to me when you hear how much better she sounds…
The electronics are actually really good too! The pots are smooth and quiet… if they were just a tad higher quality so they wouldn't suck tone in the last 1/4 turn before max volume or push-pull switching from one position to another, this instrument would be close to perfect in my opinion….
I did put strap locks on her right away because…..well that's what we guitar players do:) No point in having a nice instrument like this and then letting it get broken at a gig because of poor strap placement.
This instrument is now available with those great new G&L pickups as well. The Big Block… I love G&Ls and now after trying out one of these new pickups, I am almost tempted to trade this one in for a new S-200 Tbird with that pickup!!!
If you are looking for a guitar that will give you the classic "Gibson" sound with a little more crunch, playability and speed on fingerboard edge, then be sure to try this fine example. You won't regret it!
Thanks so much for reading my review blog folks 🙂 Until next time……