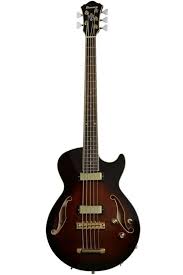 Ibanez AGB205 Electric Bass: An In-Depth Review
The world of bass guitars is filled with a variety of options, each offering unique features and qualities. Among those is the Ibanez AGB205, a 5-string bass guitar that has garnered considerable attention and praise from enthusiasts and professionals alike. This article will provide an in-depth review of the Ibanez AGB205, exploring its design, sound, playability, and overall value.
Design and Construction
The Ibanez AGB205 is a part of the Artcore series, boasting a fully hollow body with a thin structure and slim neck. It's characterized by a comfortable single-cut body made of quality materials. The 30.3″ scale length increases playing comfort, tone, and natural low-end resonance, creating a balanced sound that complements various music genres.
One of the most striking aspects of the AGB205 is its aesthetic appeal. Available in finishes like Dark Violin Sunburst and Tobacco Burst Low Gloss, this bass guitar exudes a sense of elegance and sophistication. Its semi-hollow body not only contributes to its tonal qualities but also adds to its visual charm.
Sound and Tone
The Ibanez AGB205 offers a unique blend of electric bass feel and rich, woody acoustic tone. This combination results from its semi-hollow construction and the quality of its components. The bass has been praised for its amazing tone and the broad palette of sounds it can produce. Whether you're looking for a warm, resonant tone or a sharper, more defined sound, the AGB205 can deliver.
As a 5-string bass, the AGB205 provides an extra low B string, expanding the instrument's range and versatility. The decreased string spacing makes the neck easier to navigate than many 5-strings on the market, making it accessible to players of different skill levels.
Playability
Beyond its sound and aesthetics, the Ibanez AGB205 shines in terms of playability. The short scale and slim neck make it easy to play, even for those with smaller hands. Despite being a short-scale bass, it uses long-scale strings, allowing players to achieve any tone they want.
Reviews often mention the comfort and pleasure of playing the AGB205. It has been described as a "blast to play", with the ergonomics fitting many players perfectly. There are minor blemishes such as tiny dings under the strings and a scratch between the F hole and the edge of the bass, but these do not impact the sound or playability of the instrument.
Overall Value
To sum it up, the Ibanez AGB205 is a high-quality instrument that offers great value for its price. It blends comfort, style, and a wide range of tonal possibilities into a single, elegant package. The bass is reliable and flexible, catering to musicians of all skill levels and musical styles.
Whether you're a beginner looking for your first 5-string bass or a seasoned player seeking a new addition to your collection, the Ibanez AGB205 is worth considering. With its blend of design, sound, and playability, it's no surprise that this bass has earned a place in the hearts of many musicians.