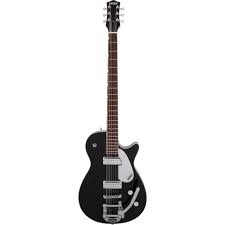 Gretsch 5260T Electromatic Jet Baritone: A Comprehensive Review
The Gretsch 5260T Electromatic Jet Baritone electric guitar is a unique instrument with a sound that sets it apart from other guitars in the market. With its deep and resonant tones, this baritone guitar has become a favorite of musicians across various genres. In this comprehensive review, we will delve into the features, sound quality, and performance of the Gretsch 5260T Electromatic Jet Baritone to help you decide if this guitar is the right choice for you.
A Brief History of Gretsch Guitars
Before we explore the 5260T Electromatic Jet Baritone, it's essential to understand the legacy of Gretsch guitars. Founded in 1883 by Friedrich Gretsch, the company has been producing high-quality musical instruments for over a century. Known for their craftsmanship and attention to detail, Gretsch guitars have been played by some of the most iconic musicians in history, including George Harrison, Brian Setzer, and Chet Atkins.
Design and Construction
The Gretsch 5260T Electromatic Jet Baritone boasts a sleek and stylish design that is both aesthetically pleasing and comfortable to play. The guitar features a single-cutaway chambered mahogany body with an arched maple top, which gives it a rich and resonant sound. The body is finished in a classic black or gold sparkle finish, providing a timeless look that complements its vintage-inspired design.
The neck of the 5260T is also made from mahogany and features a comfortable "U"-shaped profile with a 29.75-inch scale length. This longer scale length, combined with the medium jumbo frets on the rosewood fingerboard, allows for better string tension and easy playability. The guitar also features a Bigsby B50 tailpiece, which adds a touch of vibrato to its sound while maintaining excellent tuning stability.
Electronics and Hardware
The Gretsch 5260T Electromatic Jet Baritone is equipped with two Gretsch Mini Humbucker pickups, which are designed to deliver a powerful and well-balanced tone. These pickups have a high output, making them perfect for both clean and overdriven sounds. The guitar features a three-way pickup selector switch, allowing you to choose between the neck, bridge, or combined pickups for a versatile range of tones.
The guitar also comes with a set of die-cast tuning machines that provide excellent tuning stability. The Adjusto-Matic bridge ensures accurate intonation, while the Bigsby B50 tailpiece allows for subtle vibrato effects without compromising tuning stability.
Sound and Performance
The Gretsch 5260T Electromatic Jet Baritone truly shines when it comes to sound quality and performance. Its longer scale length and chambered body design give it a deep, resonant tone that is perfect for a variety of musical styles, including rock, blues, jazz, and even country.
The Gretsch Mini Humbuckers deliver a well-balanced and powerful sound that can be easily adjusted using the volume, tone, and three-way pickup selector switch. The guitar's versatility makes it suitable for both rhythm and lead playing, with a broad range of tones that can be tailored to suit your personal taste.
When played clean, the 5260T produces a warm and full-bodied sound with excellent clarity and sustain. The guitar's natural resonance and sustain are further enhanced by the chambered mahogany body and arched maple top. When played with overdrive or distortion, the guitar takes on a growling, aggressive character that is perfect for rock and blues styles.
The Bigsby B50 tailpiece adds an extra layer of depth and expression to the guitar's sound, allowing for subtle vibrato effects that can add a touch of vintage charm to your playing. The guitar's excellent tuning stability, combined with the precise intonation offered by the Adjusto-Matic bridge, ensures that your performance will always be pitch-perfect.
Pros and Cons
Pros
Unique baritone sound with deep, resonant tones
Versatile range of tones suitable for various genres
High-quality construction and materials
Comfortable "U"-shaped neck profile and longer scale length
Bigsby B50 tailpiece adds vibrato and enhances tuning stability
Cons
May not be suitable for players who prefer a traditional guitar sound
Slightly heavier than other electric guitars due to the chambered body
Conclusion
The Gretsch 5260T Electromatic Jet Baritone is an exceptional guitar that offers a unique sound and playing experience. Its deep, resonant tones and versatile range of sounds make it suitable for various genres, while its high-quality construction and attention to detail ensure that it will stand the test of time. Whether you're a seasoned musician looking to expand your tonal palette or a beginner seeking a distinctive instrument to learn on, the Gretsch 5260T Electromatic Jet Baritone is an excellent choice that is sure to impress.