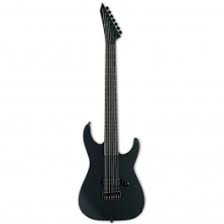 ESP LTD M-7HT Electric Guitar Review
The ESP LTD M-7HT is a 7-string electric guitar that has been making waves in the world of heavy and progressive music. This versatile instrument is designed for musicians who are looking to expand their sonic horizons and explore new tonal possibilities. In this comprehensive review, we will delve into the features, playability, sound, and overall value of the M-7HT, so you can decide if it's the right choice for your musical journey.
Features
Construction and Design
The ESP LTD M-7HT boasts a sleek and modern design that appeals to a wide range of players, particularly those who are fans of metal and hard rock genres. The guitar features a solid mahogany body with a stunning flamed maple top, which not only adds visual appeal but also contributes to the instrument's tonal characteristics.
The neck is constructed from a 3-piece maple/purple heart combination, which provides stability and resistance to warping. The neck-through-body design ensures maximum sustain and resonance, as there is no bolt-on joint to inhibit string vibration transfer.
The fingerboard is made from Macassar ebony, which is known for its smooth feel and clear, crisp tone. With 24 extra-jumbo stainless steel frets, the M-7HT offers a wide range for players to explore, and the glow-in-the-dark side dot inlays make it easy to navigate the fretboard during low-light stage performances.
Hardware
The hardware on the M-7HT is top-notch, ensuring reliable performance and tuning stability. The guitar is equipped with a Hipshot fixed bridge, which provides a comfortable playing surface and allows for precise intonation adjustments. The string-through-body design further enhances sustain and resonance.
For tuning stability, the M-7HT features high-quality LTD locking tuners, which ensure your strings stay in tune even during the most aggressive playing styles. The guitar also includes a convenient spoke nut hot rod truss rod, allowing for easy neck adjustments without the need for special tools.
Electronics
The ESP LTD M-7HT comes loaded with Fishman Fluence Modern active pickups, which are widely regarded as some of the best pickups available for extended-range guitars. These pickups offer a wide range of tonal options, from clean and articulate to aggressive and high-gain. The volume and tone knobs also feature push-pull functionality, allowing players to switch between two distinct voicings for even more versatility.
Playability
One of the standout features of the M-7HT is its playability. The guitar's thin-U neck profile is comfortable and fast, making it easy to navigate the extended range of the 7-string instrument. The extra-jumbo stainless steel frets and 13.77″ (350mm) fingerboard radius further contribute to the guitar's smooth playability, allowing for effortless bends and vibrato.
The Hipshot fixed bridge and string-through-body design ensure that the M-7HT has excellent sustain and resonance, and the locking tuners keep the guitar in tune even during heavy playing sessions. Overall, the M-7HT is a joy to play, and its ergonomic design makes it suitable for long practice sessions or live performances.
Sound
The sound of the ESP LTD M-7HT is where this guitar truly shines. The combination of the mahogany body, flamed maple top, and Fishman Fluence Modern pickups provides a wide range of tonal possibilities. The guitar can handle everything from clean, articulate tones to aggressive, high-gain sounds with ease.
The push-pull functionality on the volume and tone knobs allows you to switch between two distinct voicings, further expanding the guitar's tonal palette. Whether you're playing jazz, blues, rock, or metal, the M-7HT has the versatility to cover all your sonic needs.
Overall Value
Considering its top-notch construction, high-quality hardware, versatile electronics, and exceptional playability, the ESP LTD M-7HT offers excellent value for the price. While it may be a more significant investment than some entry-level 7-string guitars, the M-7HT is built to last and will serve you well for years to come.
If you're a serious musician looking to expand your tonal horizons and explore new sonic possibilities, the ESP LTD M-7HT is a fantastic choice. Its sleek design, premium features, and outstanding sound make it an excellent addition to any guitarist's collection.
Conclusion
The ESP LTD M-7HT is an exceptional 7-string electric guitar that offers a perfect balance of form and function. Its sleek design, premium construction, and versatile electronics make it an ideal choice for musicians looking to explore extended-range playing styles. With its comfortable playability and wide range of tones, the M-7HT is a valuable addition to any guitarist's arsenal.
Whether you're a seasoned 7-string player or just starting to explore the world of extended-range guitars, the ESP LTD M-7HT is a solid investment that will help you unlock new creative possibilities and elevate your playing to new heights.