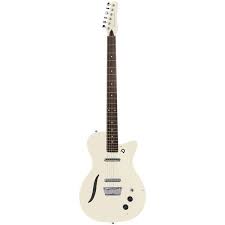 Danelectro Vintage Baritone Electric Guitar: A Comprehensive Review
The world of electric guitars is vast and varied, with countless manufacturers producing a wide array of instruments to cater to different tastes, styles, and preferences. Among these many options, the Danelectro Vintage Baritone electric guitar stands out as a unique and versatile choice for musicians looking to expand their tonal palette. In this comprehensive review, we will delve into the features, sound quality, and overall performance of the Danelectro Vintage Baritone to help you decide if this instrument is the right fit for your musical needs.
Introduction to Danelectro
Danelectro is an American manufacturer of musical instruments and accessories, founded in 1947 by Nathan Daniel. The company has a rich history of producing affordable yet innovative instruments, with a particular focus on electric guitars and basses. Their products have been used by many iconic musicians, including Jimi Hendrix, Jimmy Page, and Eric Clapton. Today, Danelectro continues to be a popular choice among both professional and amateur musicians alike, thanks to their distinctive designs and commitment to quality.
Overview of the Danelectro Vintage Baritone
The Danelectro Vintage Baritone electric guitar is a modern reissue of the classic Danelectro baritone models from the 1950s and 1960s. This instrument is designed to provide players with a unique alternative to standard electric guitars, offering a lower pitch range and distinct tonal characteristics. The Vintage Baritone features a double-cutaway body shape, a 29.75-inch scale length, and a set of two Danelectro Lipstick pickups. It is available in a variety of eye-catching finishes, including Black, Aqua, and Red Metallic.
Construction and Design
The Danelectro Vintage Baritone boasts a lightweight, semi-hollow body made from a combination of Masonite and poplar wood. This construction not only contributes to the guitar's distinctive tone but also makes it comfortable to play for extended periods. The bolt-on maple neck features a smooth, satin finish and a comfortable "C" shape profile, while the 24-fret pau ferro fingerboard offers a sleek playing surface with a 14-inch radius.
The guitar's hardware includes a fully adjustable Danelectro bridge with individual saddles for precise intonation, as well as vintage-style tuners that provide stable tuning and a classic aesthetic. The dual Lipstick pickups are controlled via a three-way selector switch, allowing players to choose between neck, bridge, or combined pickup configurations. Additionally, the guitar is equipped with master volume and tone controls for further sound shaping.
Sound and Performance
The most notable aspect of the Danelectro Vintage Baritone electric guitar is its unique tonal range. With a scale length of 29.75 inches and standard baritone tuning (B-E-A-D-F#-B), this instrument produces deep, resonant lows and clear, bell-like highs that are perfect for a variety of musical styles. The guitar's semi-hollow construction and Masonite/poplar body contribute to its distinctive tone, offering a warm, balanced sound with a hint of natural reverb.
The Danelectro Lipstick pickups are another key factor in the Vintage Baritone's sonic character. These single-coil pickups are known for their bright, jangly tone and excellent clarity, making them well-suited for clean and overdriven sounds alike. When played through a clean amplifier, the Vintage Baritone delivers a crisp, articulate sound with plenty of chime and shimmer. With added overdrive or distortion, the guitar takes on a more aggressive character, retaining its clarity while providing a satisfying growl in the lower frequencies.
One of the standout features of the Danelectro Vintage Baritone is its versatility. While the instrument's extended range and unique voice make it a natural fit for genres such as surf rock, country, and jazz, it can also be used effectively in rock, blues, and even heavy metal contexts. Experimenting with different pickup settings, playing techniques, and effects can yield a wide array of tonal possibilities, making this guitar a valuable addition to any musician's arsenal.
Pros and Cons
Pros:
Unique tonal range and distinct sound
Lightweight, comfortable design
Versatile enough for various musical styles
Affordable price point
Cons:
Some players may find the extended scale length and baritone tuning challenging to adapt to
Not suitable for those seeking a traditional electric guitar sound
Conclusion
The Danelectro Vintage Baritone electric guitar is an excellent option for musicians looking to explore new sonic territories and expand their tonal palette. Its unique construction, versatile pickups, and extended range make it a highly adaptable instrument that can be used in a variety of musical contexts. While it may not be the right choice for everyone, those who are willing to embrace its distinctive character will find it to be a rewarding and inspiring instrument.