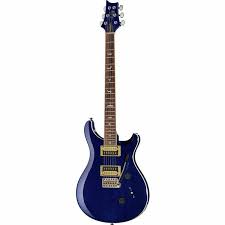 PRS SE Standard 24 Electric Guitar: A Comprehensive Review
The PRS SE Standard 24 is an affordable, yet high-quality electric guitar that has been making waves in the music industry since its introduction. Known for its exceptional build quality, playability, and impressive tonal versatility, the SE Standard 24 has become a go-to choice for both amateur and professional guitarists alike. In this comprehensive review, we will delve into the features, build quality, sound, and overall value of this outstanding instrument.
Features and Specifications
The PRS SE Standard 24 boasts a range of features that make it stand out from other guitars in its price range. Some of its key features include:
Mahogany body and neck
Rosewood fretboard with 24 frets
PRS patented tremolo bridge
PRS-designed tuners
85/15 "S" humbucking pickups
Volume and push/pull tone controls with a 3-way blade switch
"Wide Thin" neck profile
25-inch scale length
Nickel hardware and bird inlays
These features combine to create a guitar that offers excellent playability, tonal range, and durability.
Build Quality and Design
When it comes to build quality, the PRS SE Standard 24 does not disappoint. The guitar's solid mahogany body and neck give it a sturdy and reliable feel while also contributing to its warm and resonant tone. The double-cutaway design allows for easy access to all 24 frets on the rosewood fretboard, making it perfect for players who enjoy playing lead lines and solos.
The "Wide Thin" neck profile feels comfortable and fast, allowing for smooth transitions between chords and effortless bends. The PRS patented tremolo bridge offers excellent tuning stability, even during aggressive whammy bar use, while the PRS-designed tuners ensure that your guitar stays in tune throughout your playing sessions.
Aesthetically, the PRS SE Standard 24 is a beautiful instrument with its classic PRS body shape and eye-catching bird inlays on the fretboard. The guitar is available in several finishes, including Tobacco Sunburst, Vintage Cherry, and Trampas Green, allowing players to choose the look that best suits their style.
Sound and Tonal Versatility
The heart of any electric guitar is its pickups, and the PRS SE Standard 24 comes equipped with a pair of 85/15 "S" humbucking pickups. These pickups were designed to capture the clarity and tonal range of PRS's original 85/15 pickups but at a more affordable price point. The result is an incredibly versatile guitar that can handle a wide variety of musical styles and genres.
The bridge pickup offers a powerful and punchy tone, perfect for rock and metal riffs, while the neck pickup provides a warm and smooth sound that works well for blues, jazz, and clean passages. By using the 3-way blade switch and push/pull tone control, players can easily switch between humbucking and single-coil sounds, further expanding the guitar's tonal palette.
One of the standout features of the PRS SE Standard 24 is its impressive sustain. The guitar's mahogany construction and set-neck design create a natural resonance that allows notes to ring out for an extended period, making it ideal for lead work and expressive solos.
Playability
The playability of the PRS SE Standard 24 is top-notch, thanks in large part to its comfortable neck profile and well-dressed frets. The 25-inch scale length strikes a nice balance between the familiar feel of a Fender Stratocaster (25.5-inch) and the shorter Gibson scale (24.75-inch), providing a comfortable playing experience for players of all hand sizes.
The guitar's double-cutaway design and contoured body ensure that it sits comfortably against the player's body, reducing fatigue during long practice sessions or performances. Additionally, the PRS tremolo bridge allows for smooth and accurate pitch bends without negatively affecting the guitar's tuning stability.
Value for Money
Considering its build quality, sound, and playability, the PRS SE Standard 24 offers excellent value for money. While there are certainly cheaper guitars on the market, the SE Standard 24 stands out as an affordable instrument that doesn't compromise on quality or performance.
For beginners looking to invest in a high-quality instrument that will grow with them as their skills develop, the PRS SE Standard 24 is a fantastic option. Likewise, experienced players seeking a reliable and versatile workhorse guitar for gigging and recording will find much to love in the SE Standard 24.
Final Thoughts
The PRS SE Standard 24 is a testament to the fact that you don't need to spend a fortune to get a high-quality electric guitar. With its beautiful design, exceptional build quality, and versatile tonal range, the SE Standard 24 offers an impressive package at an affordable price point. Whether you're a beginner looking for your first electric guitar or a seasoned pro in need of a reliable gigging instrument, the PRS SE Standard 24 is an excellent choice that won't disappoint.