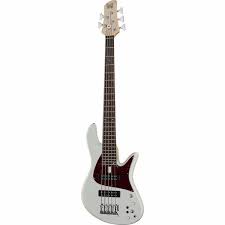 Fodera Emperor 5 Standard Classic: A Masterpiece in Bass Guitar Craftsmanship
In the realm of bass guitars, the Fodera Emperor 5 Standard Classic is a name that resonates with quality, craftsmanship, and unparalleled performance. This boutique bass guitar has been making waves in the music industry for its unique design and flawless sound. Here's a comprehensive review of this remarkable instrument.
Aesthetic Appeal
The Fodera Emperor 5 Standard Classic is a masterpiece in design aesthetics. It features a select ash body with a spectacular Maple Burl top, which adds an exquisite touch to its overall appearance. The quality of the maple, the tight grain and the figuring are some of the best seen in the industry. The beauty of this bass guitar isn't restricted to its body alone. The quarter-sawn 3-piece hard rock maple neck adds a sense of elegance and refinement to the instrument.
The designers at Fodera have paid attention to every minute detail, from the choice of materials to the finishing touches, ensuring that the Emperor 5 Standard Classic is not just a musical instrument, but a piece of art that commands attention.
Superior Craftsmanship
Fodera is renowned for its meticulous craftsmanship, and the Emperor 5 Standard Classic is no exception. Each component of this bass guitar has been crafted with precision and care. The instrument's design ensures a well-balanced feel, rewarding good technique and highlighting sloppy playing.
The neck-through construction provides a seamless transition from the neck to the body, allowing for smooth movement across the fretboard. The 24 large frets are perfectly aligned and polished, providing an effortless playing experience. The attention to detail in its construction is evident in the playability and performance of the Emperor 5 Standard Classic.
Sound Quality
When it comes to sound, the Fodera Emperor 5 Standard Classic is simply outstanding. It is a naturally woody sounding bass, yet the onboard electronics make it versatile for all situations. This bass guitar delivers a rich, full, and resonant sound, regardless of the genre you're playing.
Whether you're performing a jazz piece, laying down some blues, or rocking out, this bass guitar delivers consistently excellent sound. The pickups offer a wide range of tonal possibilities, ensuring that you can find the perfect sound for any musical situation.
Performance
The Fodera Emperor 5 Standard Classic is known for its unrivaled performance. The playability of this instrument is second to none, offering smooth and effortless action across the fretboard. Whether you're a seasoned professional or an aspiring musician, this bass will certainly help elevate your performance to the next level.
The instrument's balance, combined with its comfortable neck and smooth action, makes it a joy to play for extended periods. This makes it an excellent choice for studio sessions or live performances.
Value for Money
While the Fodera Emperor 5 Standard Classic may be on the pricier side, it offers excellent value for money. The superior craftsmanship, stunning aesthetics, and exceptional sound quality are worth every penny spent on this instrument. It's a long-term investment that will continue to deliver outstanding performance for years to come.
Final Verdict
In conclusion, the Fodera Emperor 5 Standard Classic is a testament to over three decades of dedication to excellence in bass guitar craftsmanship. It is more than just a musical instrument; it is a work of art that combines stunning aesthetics with exceptional sound and performance.
From the beautiful Maple Burl top to the versatile sound, the Fodera Emperor 5 Standard Classic is a bass guitar that truly stands out in the crowd. If you're looking for a high-quality instrument that delivers in every aspect, the Fodera Emperor 5 Standard Classic should definitely be on your list.