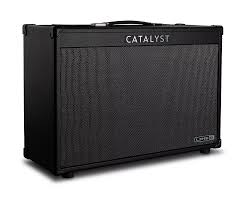 Exploring the Line 6 Catalyst 200: The Ultimate Review
Are you looking for the ultimate high-powered amp that can offer you a crisp and clear sound for your next gig? Look no further than the Line 6 Catalyst 200. This powerful amplifier is designed for intermediate to advanced guitarists and is packed with a range of features that will take your tone and music to the next level. Whether you're practicing at home or performing on stage, the Line 6 Catalyst 200 is an excellent choice for any guitarist. Read on to discover all the pros and cons of this powerful amplifier.

Design and Build Quality
The first thing to note about the Line 6 Catalyst 200 is its stylish and sleek design. With its black matte finish and metal grille, this amp is both sophisticated and sturdy. The layout of the controls is user-friendly and easy to navigate, making it simple to dial in the perfect tone. The LED lights located on the top panel of the amp add to its appeal and give it a unique and modern look.

Sound Quality
The Line 6 Catalyst 200 boasts a total output of 200 watts, making it powerful enough to handle even the largest venues. It is perfect for musicians who crave a crisp and clean sound with minimal distortion. With its six programmable channels, this amplifier offers a wide range of tonal options that can be customized to your individual needs. It also features various effects, including reverb, chorus, and delay, making it an all-in-one amplifier that can handle any style of music.

Price
The Line 6 Catalyst 200 is reasonably pricey compared to other similar models, but its feature-packed configuration makes it an excellent buy. It offers a comprehensive range of customization channels and effects found in few other amps in its class.

Pros:
– The Line 6 Catalyst 200 is incredibly versatile and can replicate a range of different amps, making it ideal for gigs and recording.
– Its six programmable channels allow you to quickly switch between tones, saving you time and hassle.
– The LED lights enable quick and easy controls, especially during low-light conditions.
– It delivers a rich and full sound, with deep bass and well-defined highs.

Cons:
– The amplifier is heavy and can be difficult to transport due to its weight and size.
– It may take some time for beginners to get used to the controls and programming channels.
– While it is a great amplifier, it may be a little pricey compared to other models on the market.


Conclusion:

The Line 6 Catalyst 200 is a top-tier amplifier for intermediate to highly skilled guitarists. Its modern and stylish design makes it a perfect choice for professionals, and its ability to provide a wide variety of guitar tones and effects make it a must-have for avid music lovers. While bulky, The Line 6 Catalyst 200's ease of operation and feature-packed configuration make it a great investment for anyone looking for a versatile amp with a crystal clear sound.