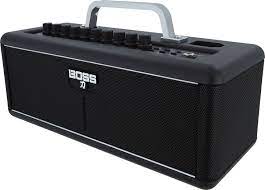 Boss Katana Air Wireless Guitar Amp Review
Guitar players all over the world are praising the Boss Katana Air Wireless guitar amp for its unparalleled sound quality and versatility. From rich, authentic tones to powerful effects, this amp has it all. As such, it's no surprise that many people are seeking detailed information about this product. If you're in the market for an amp upgrade and are considering the Boss Katana Air, this review is for you.

Design and Features:
The Boss Katana Air has a sleek, compact design that makes it highly portable. Weighing in at only five pounds, it's easy to carry with you wherever you go. It also offers up to 30 watts of power, making it perfect for small to medium performances. The amp features a wireless Bluetooth connection and can be paired with your smartphone or tablet to play tracks via Bluetooth. The amp also comes with an onboard guitar tuner, and a 3-band EQ, which allows guitarists to adjust their sound to their preference, making it a perfect fit for almost any genre.

Sound Quality
The Boss Katana Air's sound is its most significant selling point. With its advanced technology, the amp delivers a superior sound quality that's unmatched by many other products on the market. The amp is perfect for different genres, and it also produces well-balanced tones with crystal clear sound, perfect for solos. You can use it as a practice amp to get your timing right and also in small gigs.

Effects:
The Boss Katana Air comes equipped with a wide variety of built-in effects, making it an all-in-one product that eliminates the need for external pedals. This means users enjoy a plethora of effects without needing to spend extra money on effects pedals. The effects range from reverb, delay, chorus, gain, distortion, and overdrive. With quality control that's second to none, the Boss Katana Air also has the capability to produce top-notch sounds in any playing style ranging from Jazz, rock to metal.

Pros:
The Boss Katana Air has several advantages that have endeared it to many guitar players. Firstly, it has a unique and sleek design that's appealing, making it perfect for gigs, practice, or performances. Secondly, it comes with numerous built-in effects, which means users are spoilt for choice, and it eliminates the need to buy external pedals. The Boss Katana Air is a powerhouse that's ideal for smaller gigs and perfect for practice and recording in the studio. Last but not least, it offers a wireless Bluetooth connection that's highly convenient.

Cons:
While the Boss Katana Air has superior sound quality, it comes with specific drawbacks. The amp's software interface may be challenging to navigate for individuals who are not tech-savvy. Despite its wireless capability, there can be latency or connectivity issues. The amp is also not suitable for significant performances that require higher output.


Conclusion:

Overall, the Boss Katana Air Wireless Guitar Amp stands out as one of the most innovative products in the industry. Providing crystal clear sound and numerous built-in effects without the need for external pedals, it's an all-in-one product that every guitarist should consider. With a few setbacks like navigating the interface and not being suitable for large gigs, the pros outweigh the cons. The Boss Katana Air is not just a fantastic practice amp, but it's also a perfect choice for gigs and recording in the studio. We recommend that guitar players add the Boss Katana Air wireless guitar amp to their music gear collection.