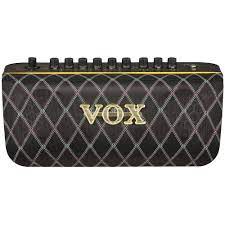 VOX Adio Air GT Review: A Powerful, Versatile, and Portable Amplifier
Are you looking for a versatile and powerful amplifier that can provide great sound quality and portability? Look no further than the VOX Adio Air GT. This amplifier is designed for guitar players who want to have excellent sound quality without having to lug around a heavy and cumbersome amplifier. The VOX Adio Air GT is highly versatile and features a range of effects, amp models, and connectivity options, making it a perfect choice for musicians of all levels. In this article, we will provide an in-depth review of the VOX Adio Air GT, highlighting its pros and cons and key features.

Design and Build Quality:
The VOX Adio Air GT has a compact and sleek design, making it easy to carry around and store when not in use. It is also lightweight, weighing around 2.9 Kg, and has two sturdy handles for portability. The Amplifier is encased with lightweight yet durable ABS material, which ensures its durability.

Sound Quality
The VOX Adio Air GT delivers excellent sound quality, thanks to its innovation and technological advancements. It has 50-watt power capacity and is equipped with dual 3″ speakers to give you the best possible sound. The amplifier features a wide range of amp models, including clean, crunch, and high-gain models. Additionally, you can access and modify several effects such as delay, reverb, chorus, and flanger through the VOX Adio GT App compatible with smartphones or tablets.

Connectivity:
The VOX Adio Air GT provides several connectivity options, making it a versatile amplifier. It has Bluetooth compatibility, which enables you to broadcast music and backing tracks directly from your smartphone or tablet. You can also connect your guitar or bass through the input, and using the audio output options such as the headphone jack, you can play your music without disturbing others.

Pros:
While the VOX Adio Air GT is a solid option for an amplifier, users must be aware of both its benefits and limitations. Some pros include its portability, versatile connectivity options, impressive sound quality, and innovative features through the VOX Adio GT App.

Cons:
Some cons, however, include the price range which starts at a relatively high price tag and its size, which some users may find a bit small for their needs.

Conclusion:

In conclusion, the VOX Adio Air GT is a perfect amplifier for guitar players who want a delicate balance of power, versatility, and portability. It's perfect for practice sessions, live performances, or recording in the studio. With its innovative features, wide range of amp models and effects, and Bluetooth connectivity, it brings an advanced and dynamic sound for any musician. While it's a bit pricier than some amplifiers available, the superior quality and capabilities make it a worthwhile investment. So why not give it a try? See for yourself why the VOX Adio Air GT comes so highly recommended and take your guitar playing to the next level!