TOP Best Vintage Guitar Amps
If you're browsing sites for selling vintage guitar amps, it's likely that modern amps don't impress you as much as older models. In fact, lately the old school sound has become more and more popular, so there are a huge number of queries on the Internet such as "vintage guitar amps for sale", "vintage tube guitar amps for sale" and "old guitar amps for sale". However, if you have dealt only with modern models, you are probably wondering how to choose used vintage guitar amps and which models you should pay attention to.
First of all, we would like to say that a vintage guitar amplifier is an amplifier that was made before the mid-1970s. These old guitar amps are very popular among collectors and musicians who value a unique sound. If you do not know where to find old guitar amps, then we recommend that you pay attention to online stores and auctions. However, before buying, you should know that prices for rare guitar amps can range from hundreds to several thousand dollars. Thus, finding vintage cheap guitar amps will be quite difficult, as the price often increases due to age, condition, rarity and other factors. Want to explore the top best vintage amps guitars? Keep reading and we will introduce you to models that were legends of their time and still provide a unique vintage sound for old school lovers around the world.
Top Vintage Electric Guitar Amps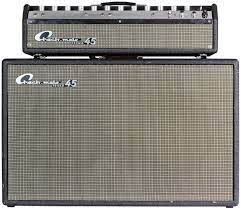 1)Teisco Checkmate 45
We decided to start our top antique guitar amps with a lesser-known model, which, nevertheless, will not leave you indifferent. Teisco Checkmate 45 This is a small combo amplifier that was released back in 1965 and was one of Teisco's first large amplifiers made for the American market.
Later it was subjected to some modifications, turned into a more common version of the Checkmate 50 1966, and then it turned to the Checkmate 25.  This model still worth a look, especially if you're looking for a clean vintage sound. What's more, the Checkmate 45 is one of the best models ever made by Teisco.
Speaking of construction, the Teisco Checkmate 45 works in a pair of 6L6 power tubes and will provide you with reasonably good volume (although this will also depend on your guitar). In addition, this amplifier has an "E" oscillator tuner switch to help you tune your guitar.
Not to mention the amp's dual channels with two inputs each – reverb and vibrato. Thus, you can experiment with channels and get a huge number of different timbres. So if you're looking for old 60's guitar amps with a traditional vintage sound, we suggest you get the Teisco Checkmate 45.
2)Yamaha TA-60
Another amazing amp with a futuristic design that just can't be left out of our top vintage style guitar amps is the Yamaha TA-60, built in the late 60s and early 70s. Nowadays, a lot of musicians complain that all amplifiers have the same type of repeating design, and that is why this model will be the best option for them, as it is absolutely unique.
Everything about it is unique, from weird speakers to the wedge shape and the ethereal tones. The design was completely new for the time as the engineers wanted to keep the look of the amplifier as fresh as possible and combine this with a low center of gravity. Also not to mention that the wedge shape was created to support Yamaha's flat Flexion speaker.
Speaking about the design of this amplifier, it is worth mentioning that the Yamaha TA-60 weighs approximately 46 pounds and therefore belongs to fairly heavy vintage guitar amps.
However, due to its overall size, it delivers 60W of power, so it reaches some serious volume and can fill a large room with its crazy sound. Also noteworthy is the tone of this amplifier, which is as open, spacious and light as possible.
Yamaha TA-60 has two channels and dual "High-Low" inputs. So, if you love unique retro guitar amps with an unusual shape and design, then you should definitely pay attention to the Yamaha TA-60.
Fans of old guitar tube amps are in luck, because the model we are going to talk about will be a real godsend for them. McKinney 1260 was released back in 1948 and is perhaps the oldest in our top.
You probably haven't heard of this brand name, so it's important to note that Valco produced its guitars and amplifiers under many different names, and McKinney was one of them.
Speaking of the McKinney 1260, it is important to mention that it is historically important as it was one of the first Valco amplifiers to use powerful 6L6 tubes and was therefore a first class amplifier of its day.
Speaking about the McKinney 1260 as one of the best vintage guitar tube amps, one cannot fail to note its excellent sound. If you are looking for guitar vintage tube amps for the ultimate in unique vintage tone, then the McKinney 1260 is the one for you as it is authentic in every way.
First of all, it has a combination of old overdrive and power. Also, it is worth mentioning that it has two channels with a volume control for each, as well as a general tone control.
Moreover, as already mentioned, it is quite loud, as it is equipped with a 12" inch speaker. The McKinney 1260 is undoubtedly in the top of the best rare guitar tube amps, so check it out if you want to get the most old vintage sound.
4)Airline 9013
Another model that takes pride of place in our top vintage tube guitar amps is the Airline 9013 which is also an example of a multi-brand amp. It was first released in 1962 and was manufactured by Danelectro.
The Airline 9013 has about 15 watts of power, which is often enough to fill a room with a pleasantly warm sound. It is important to note that this amp was sold as an inexpensive model for only $70, so it has its drawbacks.
In order to keep the price down, Danelectro used particleboard and pressed paper for the cabinet, which means that the amplifier is not the most reliable and does not tolerate transportation well. However, this design also has the advantage of weighing only 26 pounds.
The Airline 9013 is powered by a fleet of 6V6 power tubes and the deep tremolo runs through a 6AU6 which creates a fantastic effect. While this model may not blow you away with its power, it has an incredible OverDrive that will appeal to most musicians.
This model is as authentic as possible and has four inputs, so you can seamlessly switch between channels with a cable for even more aggressive sound. Also not to mention is that the Airline 9013 has decent enough speakers to deliver that vintage authentic sound. Looking for vintage looking guitar amps with fantastic overdrive? Feel free to purchase Airline 9013.
5)Harmony 420
If you are looking for vintage electronics guitar amps for bass guitar, then the Harmony 420 will be your best choice. This model was also created by Valco and is the star of its time as it has a solid-state rectifier and separate bass and treble controls.
In addition, this model has an incredibly vintage cabinet design with controls on top of the amplifier. It should also be noted that the Harmony 420 has an excellent Jensen C15P speaker for that time, which will help you produce the most old vintage sound.
We would also like to tell you that in the 1960s, a huge number of companies tried to create a decent bass guitar amplifier and this model was no exception. It delivers a really clean, sweet sound and also works well with pedals, which is why it's often listed as one of the top vintags guitar amps.
It is also impossible not to mention that this amplifier is made of wood and is much more reliable than, for example, Danelectro amplifiers. Harmony 420 travels well and will be a good option for musicians who are constantly on the road.
This model can also be safely classified as vintage guitar amps and power, since in 1966 it was sold as an amplifier that provides excellent power with minimal distortion, which is true, since the Harmony 420 used a pair of 6L6 tubes for the output.
So, if your goal is to find vintage all tube guitar amps with good power, then you should not hesitate to purchase the Harmony 420.